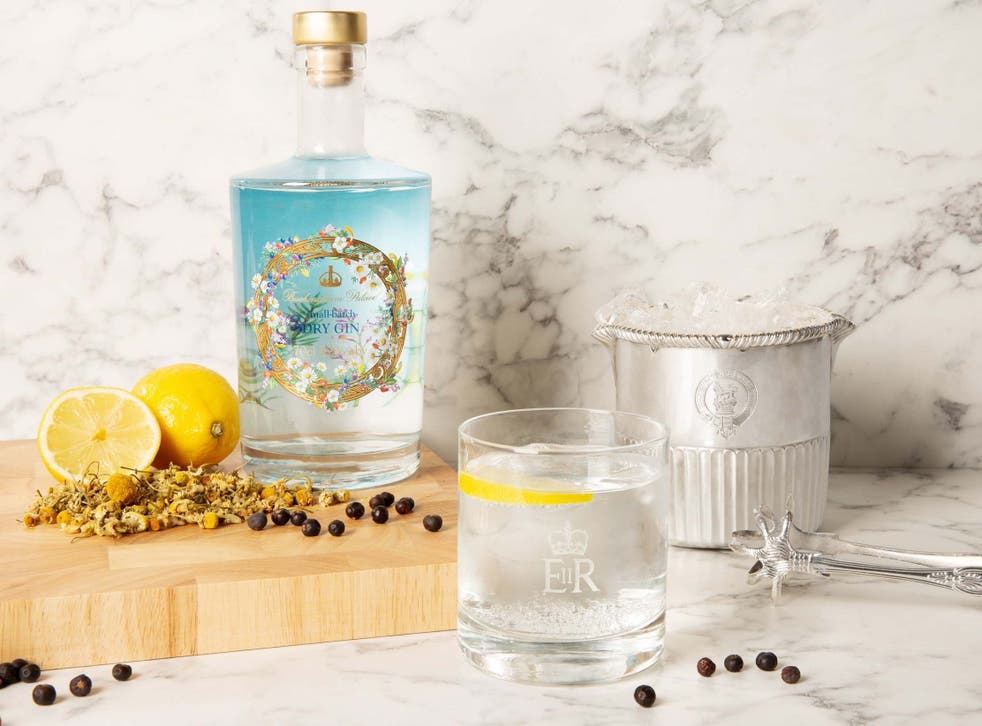 Buckingham Palace launches own-brand gin made from ingredients grown in Queen's garden
Profits from sales of the gin are being donated to the Royal Collection Trust
Sabrina Barr
Wednesday 15 July 2020 08:12 Comments
Among Queen Elizabeth II's many famous passions, from horseriding to raising corgis, the monarch is also well-known for her love of gin.
Taking inspiration from the Queen's favourite beverage, Buckingham Palace has released an official gin, infusing the spirit with ingredients from the gardens of the Queen's London residence.
The gin, which has been launched by the Royal Collection Trust, features several ingredients selected from the Palace gardens, including hawthorn berries, lemon verbena, mulberry leaves and bay leaves.
Infused with citrus and herbal notes, the gin costs £40 for a 70cl bottle and is 42 per cent ABV.
On the Royal Collection Trust's shop website, it describes the gin as "the perfect summer thirst-quencher", stating that the "recommended serving method is to pour a measure of the gin into an ice-filled short tumbler before topping up with tonic and garnishing with a slice of lemon".
The gin comes in a clear and turquoise glass bottle embossed with a coronet and a ring of flowers.
For some added regal flair, the bottle comes with a gold-coloured stopper, and also features a sketch of Buckingham Palace on the back.
In addition to being launched in the Royal Collection Trust shops, the gin will be served at future events at Buckingham Palace.
All profits from sales of the gin will go towards the Trust, which looks after the Royal Collection art collection and oversees all public openings of the Queen's official residences.
The Trust has experienced financial difficulties throughout the coronavirus pandemic.
While royal sites including Windsor Castle, the Palace of Holyroodhouse and the Royal Mews at Buckingham Palace are set to reopen from 23 July, the organisation has taken out a £22m loan after predicting losses of £30m for the next year.
The Trust is also seeking voluntary redundancies among its staff, which consists of 650 employees.
In June, the Queen issued a message of support for businesses in the UK as lockdown restrictions continued to ease.
The monarch said: "As many organisations around the country are reopening, I send my warmest best wishes and support to business communities throughout the United Kingdom, Commonwealth and across the world."
The 94-year-old added that "as patron of the British Chambers of Commerce", she feels "great pride to see the contribution you and your members are making to help firms, champion trade and rebuild communities".
Register for free to continue reading
Registration is a free and easy way to support our truly independent journalism
By registering, you will also enjoy limited access to Premium articles, exclusive newsletters, commenting, and virtual events with our leading journalists
Already have an account? sign in
Register for free to continue reading
Registration is a free and easy way to support our truly independent journalism
By registering, you will also enjoy limited access to Premium articles, exclusive newsletters, commenting, and virtual events with our leading journalists
Already have an account? sign in
Join our new commenting forum
Join thought-provoking conversations, follow other Independent readers and see their replies