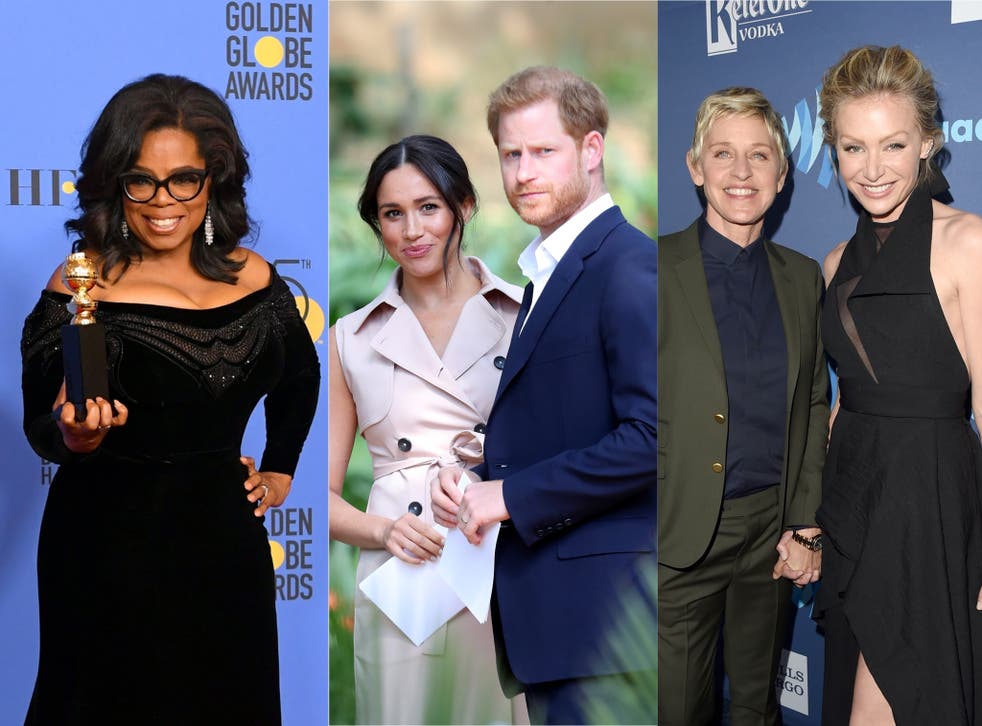 Meghan and Harry: Celebrities who also live in Santa Barbara, from Oprah to Ellen
A spokesperson for the Duke and Duchess of Sussex confirmed they set up their permanent home in Santa Barbara
On Wednesday 12 August, a day after the publication of Finding Freedom, an unofficial biography on the Duke and Duchess of Sussex, it was confirmed that the couple have moved from Los Angeles to a permanent home in Santa Barbara, California.
A spokesperson for the couple told The Independent in a statement that the Sussexes "moved into their family home in July of this year", adding: "They have settled into the quiet privacy of their community since their arrival and hope that this will be respected for their neighbours, as well as for them as a family."
As for their neighbours, it seems the duke and duchess have joined a host of celebrities who live in the seaside city on the Californian coast.
According to Visit California, some of the stars who live in the area include Kevin Costner, Jennifer Lopez and Tom Cruise. One can only imagine the star-studded beach barbecues.
Here are some of the biggest names who are in the Duke and Duchess of Sussex's new neighbourhood.
Oprah Winfrey
In November 2019, it was reported that Oprah Winfrey had bought an estate in Montecito, a community in Santa Barbara, that had previously been owned by actor Jeff Bridges.
The media mogul reportedly bought the property for $6.85m (£5.25m), to add to the homes already in her roster.
Winfrey also owns an estate dubbed the "Promised Land", which is reportedly valued at around $100m (£76.7m) and is also situated in Montecito.
The talk show host has a close relationship with the Duke and Duchess of Sussex, having attended their wedding in Windsor in May 2018.
She also gifted their son Archie with an expansive book collection when he was born, with each book featuring a sticker that read "Archie's Book Club".
Ellen DeGeneres and Portia de Rossi
Earlier this year, it was revealed that talk show host Ellen DeGeneres and her wife, actor Portia de Rossi, had bought three properties in Montecito, having gained a reputation for their shared interest in real estate.
Their most recent purchase, which reportedly cost more than $3.6m (£2.76m), featured "English Tudor buildings that date to the mid-1700s", Variety reported.
In the new unofficial biography of the Duke and Duchess of Sussex, which their spokesperson stressed they had no involvement in, one of the anecdotes recalled the time Meghan met DeGeneres in a rescue shelter in Los Angeles, before the talk show host knew who the then-actor was.
Despite being unaware of her identity at the time, DeGeneres reportedly encouraged Meghan to take home the dog she was cuddling, which she did.
Prince Harry and Meghan Markle – in pictures

Show all 55
Ashton Kutcher and Mila Kunis
In 2017, Architectural Digest stated that Ashton Kutcher and Mila Kunis, who starred alongside each other in That '70s Show, had bought a house close to Santa Barbara for $10m (£7.6).
The property reportedly boasts six bedrooms and six bathrooms, while being just 15 minutes away from Santa Barbara and Montecito by car.
Kutcher and Kunis, who started dating in 2012, have two children together.
They became engaged in February 2014 before marrying in July the following year.
Natalie Portman
In February 2019, lifestyle blog Apartment Therapy detailed the ins and outs of Natalie Portman's latest real estate acquisition, also in Motecito, which reportedly cost the actor $6.5m (£5m).
Designed by architect Barton Meyers, the property was described as boasting four bedrooms and five bathrooms, in addition to being ideal for "indoor/outdoor living".
It reportedly features a swimming pool and a "rock garden", while also having a spacious area outside where guests can be entertained by a fireplace.
Portman has two children with her husband, dancer and choreographer Benjamin Millepied, who she met on the set of her Oscar-winning film Black Swan.
Join our new commenting forum
Join thought-provoking conversations, follow other Independent readers and see their replies