Spice Girl Geri Horner 'so proud' of King Charles as she gives him a hug and kiss
The singer praised the new monarch during an event at Buckingham Palace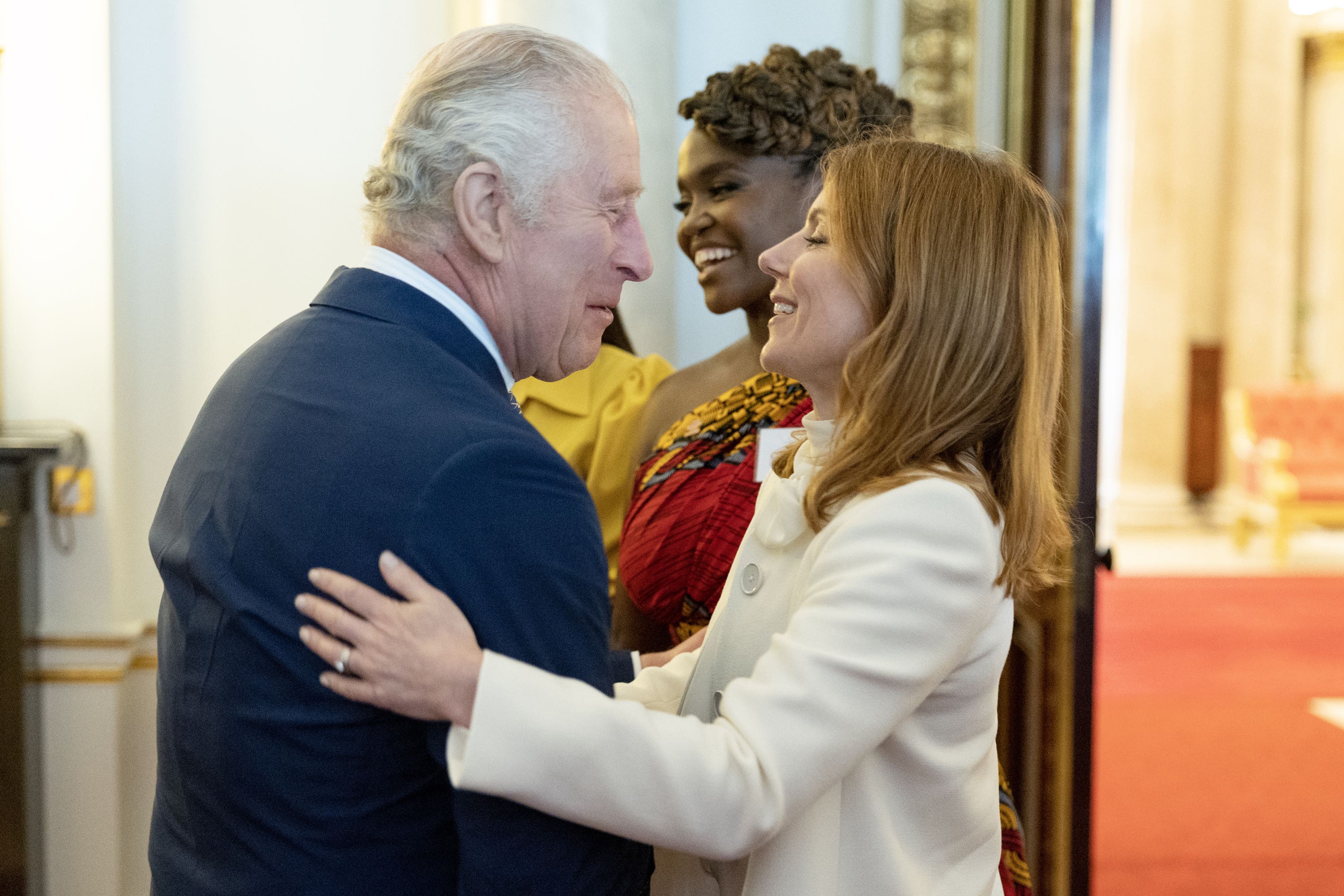 Former Spice Girl Geri Horner gave King Charles III a hug, a kiss and an encouraging pep talk during a Prince's Trust event on Tuesday (16 May).
In a throwback to her days with her girl group, Horner planted a kiss on the newly crowned monarch's cheek and hugged him at a Buckingham Palace reception celebrating trust award winners.
She then told him "I'm so proud of you" and "You're a very modern king", and also whispered something into his ear.
Charles explained to those watching: "I've known her for a very long time."
Horner did not divulge what she whispered to the King, who was crowned on 6 May, but said: "Everyone's doing the best they can, no matter what position you are in we all need support and encouragement.
"I think the Prince's Trust is testimony of that, and it works when we just lift each other up."
This Morning presenter Holly Willoughby left the show early to attend the palace event by herself, as reports continued of a rift with co-host and fellow Prince's Trust ambassador Phillip Schofield.
Willoughby was all smiles as she joined other celebrity trust ambassadors in presenting the young award winners to Charles.
At one point the King was left amazed when he took part in a magic trick performed by magician Dynamo, whose big break came after he was awarded a Prince's Trust grant.
Horner met the King with Oti Mabuse, a former Strictly Come Dancing professional, and introduced Rising Star winner Funmilola Sosanya.
The former Spice Girl said about Charles: "I just think he's a modern king, and when he was 28 years old he started the Prince's Trust. He could have been out partying, instead he created this amazing organisation – a modern king that believed in investing in the potential and possibility of people."
Charles invited those recognised during Tuesday's Prince's Trust awards to the palace along with the celebrities who presented the honours, including Hollywood star Stanley Tucci, British actor Stephen Graham, Edward Enninful, editor-in-chief of British Vogue, musician and producer Nile Rodgers and the event's hosts Ant and Dec.
The annual Prince's Trust awards ceremony recognises young people who have succeeded against the odds, improved their chances in life and had a positive impact on their local community.
Willoughby looked relaxed as she chatted with Charles alongside Tucci and Motaz Amer, the winner of the Young Change Maker award.
Amer is supporting others as a young trust ambassador after completing the organisation's Team programme after his family left behind the conflict in their home country of Yemen to make a new life in Northern Ireland.
Tucci praised him as "extraordinary" and revealed the King is a fan of his Searching For Italy show: "Seems like His Majesty likes it too, so I'll have to do another series, but probably not till next year."
Dynamo amazed the King with his trick which saw a piece of paper, signed by Charles and held in his hand, switch places with another signed and gripped by the magician when the pair bumped fists.
Charles laughed as he opened his hand to reveal the magician's handwriting on the note, and Rodgers who was watching, clapped.
Dynamo said: "He had a big Cheshire grin, almost, on his face. He's met lots of people but I feel for that one moment there was a glimmer of magic behind his eyes that just came through."
Speaking about the support he received from the Prince's Trust, the magician said: "I got £2,800, I bought a camcorder and a laptop and that's when I started filming my magic, and that obviously went on to the internet and helped get me my first TV shows. Without that I don't think I would be here."