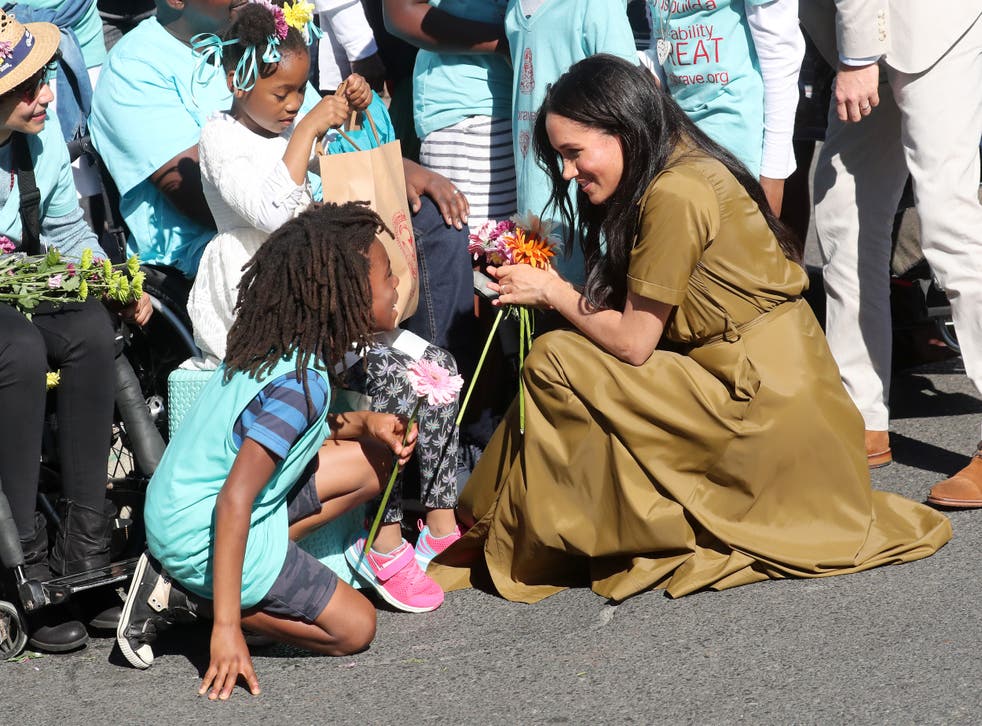 Meghan: Regular people recall meeting the Duchess ahead of Oprah interview
The couple may have shied away from the press, but Meghan Markle clearly left her mark on the individuals she met
Josh Marcus
San Francisco
Sunday 07 March 2021 22:57 Comments
Everyday people have been sharing their experiences meeting Meghan Markle ahead of the Duchess of Sussex and Prince Harry's hotly anticipated sit-down interview with Oprah Winfrey.
While the couple hasn't done a joint interview in years, they both keep a busy schedule of public appearances and charitable work, so they've managed to meet plenty of regular people directly, without media mediation.
"Meghan Markle is one of the kindest, most generous, thoughtful and caring people I've had the pleasure of looking up to," said one Twitter user. "Seeing people be so awfully evil and racist towards her breaks my heart. This day was one of the best of my life and I'll hold it in my heart forever."
Many talked about her kindness, and said the harsh treatment she's received in the media wasn't deserved.
Follow Harry and Meghan Oprah interview live: Latest news and updates
"Retweeting about the time I met Meghan Markle and Prince Harry in light of their interview with Oprah airing later today," wrote @shenazkhan. "Please do not believe any of the vicious lies printed about #MeghanMarkle in the press."
A former college classmate added: "Since no one asked, I feel I must break my silence and stand in solidarity with the cast of 'Suits'. I met Meghan Markle briefly in college and she was very nice."
Last year, the Duchess visited the Robert Clack Upper School in Dagenham for International Women's Day, a decision Meghan said was inspired by the history of the area, where a sewing machinist's strike at Ford helped inspire Britain's Equal Pay Act in 1970.
Aker Okoye, 16, in additional to going viral for saying, "She really is beautiful, innit," as he shared the stage with Meghan, he later told ITV how touched he was by the visit.
"I really am inspired that the duchess of Sussex would come down and be with us and talk about how much it means, the day of International Women's Day, how much it means to us and how much it means to her."
In another exchange that went viral, Meghan left eight-year-old Amara Nenguke of Cape Town, South Africa crying tears of joy, after telling her, "You can be anything you want," during a visit.
"It was incredible, she is so nice," Ms Nenguke said. "She goes to other countries. I feel like that's her home, and she's home with those other people, and I like that about her."
"I'm going to say, that if you feel as if you're never going to meet someone you really want to meet, just believe in yourself, you can always have dreams," she added.
Her former sorority sisters at Northwestern University, where she studied theatre and international relations, remember Meghan as warm and dignified.
"We just wanted to be sure that we secured her interest in our sorority," said Coulter Bump, who graduated a year before Markle, told the Chicago Tribune. "Myself and most of my sisters agreed that she just is a really lovely person. She is respectful and polite. She always had this manner to her of being dignified and poised, just very appropriate in every circumstance. A person like that is what I wanted to ensure we had in our house and luckily, she liked us back."
Register for free to continue reading
Registration is a free and easy way to support our truly independent journalism
By registering, you will also enjoy limited access to Premium articles, exclusive newsletters, commenting, and virtual events with our leading journalists
Already have an account? sign in
Join our new commenting forum
Join thought-provoking conversations, follow other Independent readers and see their replies