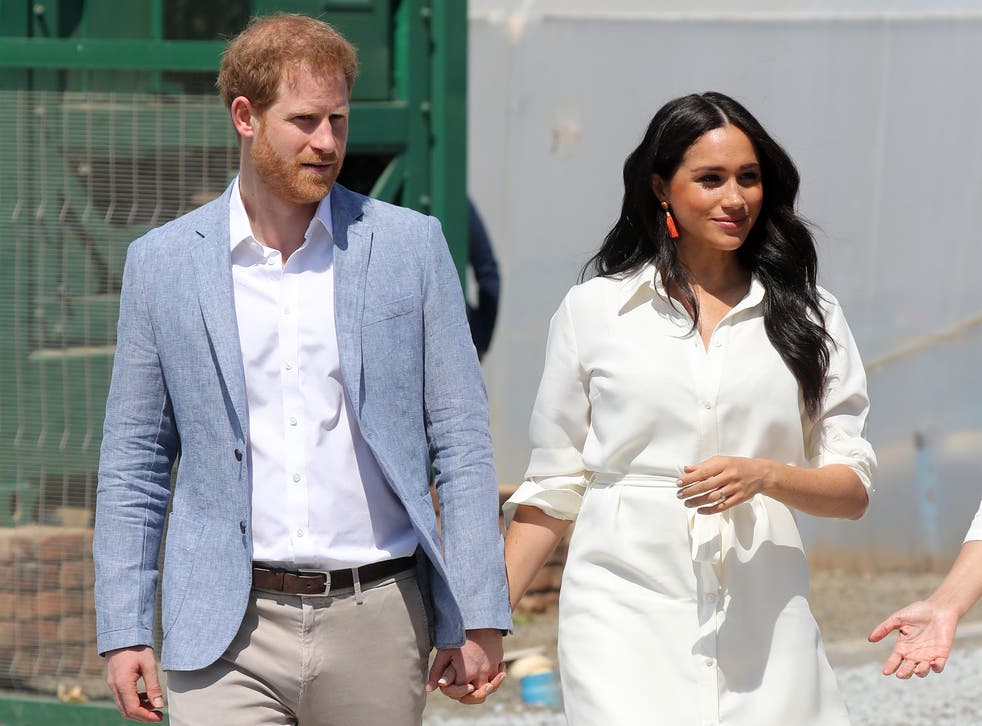 Queen 'planned for Meghan Markle and Prince Harry to live in Africa', new book claims
The Queen 'had heard and read much of Harry and Meghan's wish to live an 'ordinary' existence', historian says
Queen Elizabeth II allegedly planned on having the Duke and Duchess of Sussex live in Africa for a short period of time before they announced their decision to step down as senior royals, a new book about the royal family has claimed.
Historian Robert Lacey, a historical consultant on Netflix's hit period drama The Crown, has written a new book titled Battle of Brothers about the royal family and Prince William and Prince Harry's relationship.
In the book, which is being serialised by The Daily Mail before its release on 15 October, Lacey claims that the Queen came up with an idea for Meghan and Prince Harry to live in Africa for a year or two, having been aware of their desire to lead an "ordinary" life.
The author states that the Queen discussed the plan with senior courtier Sir Christopher Geidt and Sir David Manning, a former British ambassador to the US who previously worked for the joint households of the Duke and Duchess of Sussex and the Duke and Duchess of Cambridge.
"The big idea was to get Harry and Meghan out of the country for a decent spell. It would give everyone a breather," Lacey writes.
"The Queen wanted to offer both honour and responsibility to the couple by handing them some role in her beloved British Commonwealth of Nations – a highly personal token of trust."
The author states that the monarch "had heard and read much of Harry and Meghan's wish to live an 'ordinary' existence", drawing parallels with the early years of her marriage when the Duke of Edinburgh, a naval officer, was stationed in Malta.
"Well, she could recall such a period in her own life — her 'Malta Moments' between 1949 and 1951, when Philip was serving as a naval officer on the Mediterranean island and she would fly out to stay with him," Lacey says.
Royal Wedding - Prince Harry marries Meghan Markle in pictures

Show all 90
"In Malta, Elizabeth had tasted 'normal' life as a young naval officer's wife, not a king's daughter. It had set her up well to come back home and do her duty."
According to Lacey, South Africa was considered as a possible location, "and the couple themselves seemed interested by the notion", he adds.
"Their relationship had taken flower in Africa after all, so maybe it, or somewhere else in the Commonwealth, might provide their next step. Johannesburg could be their Malta," he writes.
During a recent interview to mark the start of Black History Month, the Duke and Duchess of Sussex spoke out about the structural racism that continues to exist in Britain, with Prince Harry saying that "the world that we know has been created by white people for white people".
Speaking to The Evening Standard from their home in Santa Barbara, California, the duke said that he "wasn't aware of so many of the issues and so many of the problems within the UK and also globally as well".
When contacted by The Independent, a representative for the Duke and Duchess of Sussex declined to comment.
The Independent has contacted Buckingham Palace for comment.
Join our new commenting forum
Join thought-provoking conversations, follow other Independent readers and see their replies