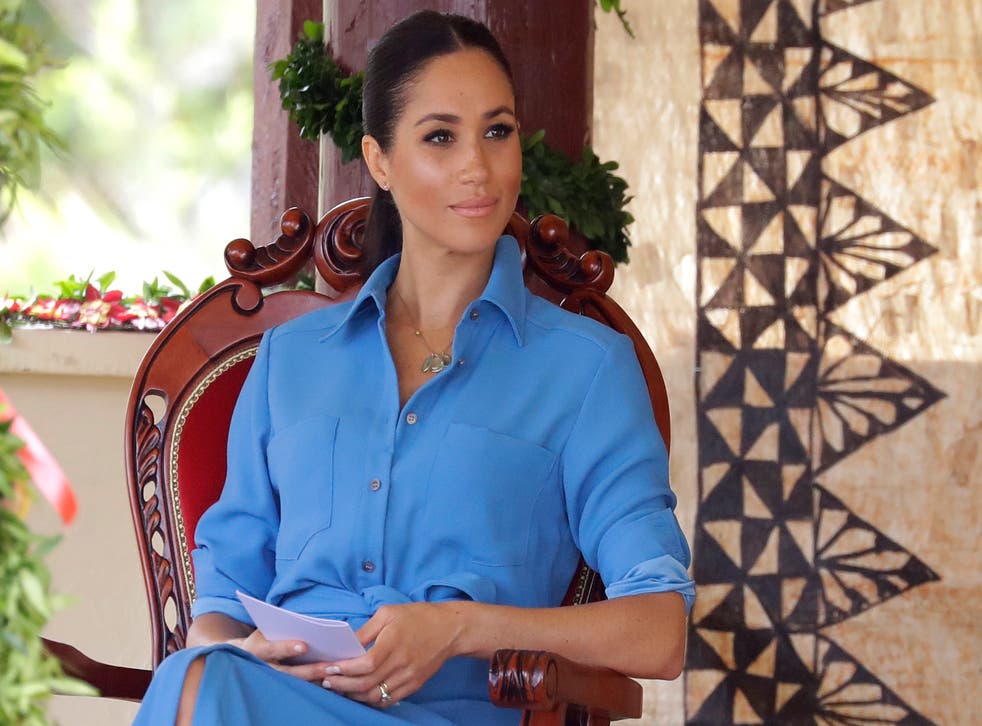 Meghan Markle explains why she will be voting in 2020 election: 'I know what it's like to have a voice, and also what it's like to feel voiceless'
Duchess joined 99 other influential women in sharing reason for voting 
Meghan Markle has revealed she plans to vote in the upcoming US presidential election in November.
Speaking with Marie Claire, the Duchess of Sussex opened up about her reasons for exercising her right to vote.
"I know what it's like to have a voice, and also what it's like to feel voiceless," the 39-year-old said. "I also know that so many men and women have put their lives on the line for us to be heard.
"And that opportunity, that fundamental right, is in our ability to exercise our right to vote and to make all of our voices heard."
The duchess also shared a "favourite" quote from New Zealand suffragist Kate Sheppard, which she said her and her husband Prince Harry have "referred to often".
"One of my favourite quotes, and one that my husband and I have referred to often, is from Kate Sheppard, a leader in the suffragist movement in New Zealand, who said: 'Do not think your single vote does not matter much. The rain that refreshes the parched ground is made up of single drops,'" Meghan, who was born in the United States, told the outlet. "That is why I vote."
The duchess was among 100 influential women, including Hillary Clinton and Oprah Winfrey, Michelle Obama and Alexandria Ocasio-Cortez, who opened up about why they would be exercising their right to vote for the outlet's digital August issue.
This is not the first time Meghan has been outspoken about the importance of voting in elections.
During a visit to New Zealand in 2018, the duchess delivered a speech about women's suffrage in commemoration of the 125th anniversary of women achieving the right to vote in the country.
"Women's suffrage is about feminism, but feminism is about fairness. Suffrage is not simply about the right to vote, but also about what that represents: the basic and fundamental human right of being able to participate in the choices for your future and that of your community," Meghan said at the time.
Typically, members of the royal family do not vote in an effort to stay neutral, despite there being no law against it.
The royal family's website states: "As Head of State The Queen has to remain strictly neutral with respect to political matters. By convention, The Queen does not vote or stand for election, however Her Majesty does have important ceremonial and formal roles in relation to the government of the UK."
Join our new commenting forum
Join thought-provoking conversations, follow other Independent readers and see their replies