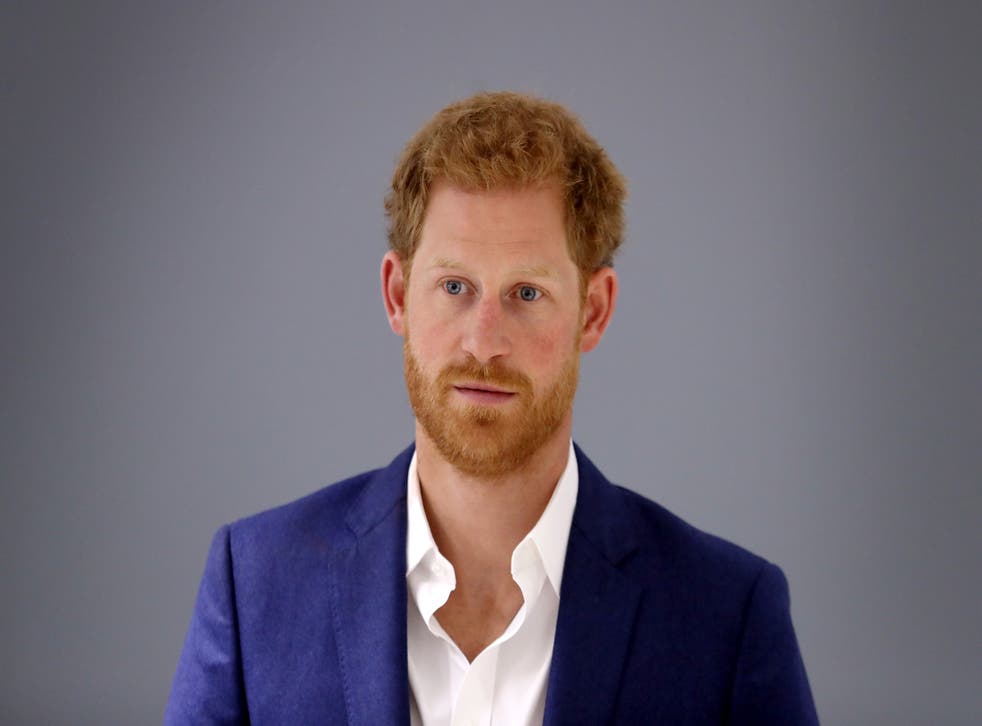 What will Prince Harry be doing for BetterUp and how much could he make?
Duke of Sussex says he hopes to 'help people develop their inner strength, resilience, and confidence' in new role
Chelsea Ritschel
New York
Tuesday 23 March 2021 15:35 Comments
Leer en Español
Prince Harry will be taking on a new role as the chief impact officer of BetterUp Inc after stepping down from his position as a senior member of the royal family.
On Tuesday, it was first reported by the Wall Street Journal that the Duke of Sussex's position within the Silicon Valley startup, which focuses on mental health, would be announced later the same day.
Started in 2013, BetterUp is a coaching service that combines class coaching, AI technology, and behaviour science experts to "deliver change at scale -improving individual resilience, adaptability, and effectiveness," according to the company's About Us page, which notes that the results are "helping people live more meaningful, vibrant lives".
As of February, the company, which includes a network of more than 2,000 coaches, was valued at $1.73bn.
From the requirements of his new role to his introduction to the BetterUp CEO, this is everything to know about the duke's newest endeavour.
What will Prince Harry be doing for BetterUp?
As chief impact officer, the duke will reportedly have "input into initiatives including product strategy decisions and charitable contributions, and advocate publicly on topics related to mental health," the WSJ reports. 
Read more:
While Prince Harry is not expected to manage employees or have direct reports, he will likely spend time at the company's headquarters in San Francisco, BetterUp CEO Alexi Robichaux told WSJ, and appear at meetings and special company events.
Robichaux also said that Prince Harry's unique background, which includes his military experience, would be beneficial to the role, telling the outlet the duke "comes from a very different background" than other executives in the company.
Of the decision to take the job, the duke told the outlet: "I intend to help create impact in people's lives.
"Proactive coaching provides endless possibilities for personal development, increased awareness, and an all-round better life."
In a joint blog post published on the company's website, Prince Harry said that he joined the company after finding working with a BetterUp coach "invaluable" and that he has also shared access to the company with his and Meghan Markle's entire Archewell team.
As for his description of the new role, the duke said he will be focused on four areas: driving advocacy and awareness for mental health, guiding the company's social mission and impact, influencing the vision of BetterUp and expanding BetterUp's global community.
"As BetterUp's first Chief Impact Officer, my goal is to lift up critical dialogues around mental health, build supportive and compassionate communities, and foster an environment for honest and vulnerable conversations. And my hope is to help people develop their inner strength, resilience, and confidence," he wrote.
How did Prince Harry and Robichaux meet?
According to Robichaux, he and the Duke of Sussex were introduced through a mutual friend and began to discuss Prince Harry's potential joining of the company last fall.
In the joint blog post, the Duke of Sussex said of their relationship: "When I first met Alexi, we instantly recognised a shared passion for helping others realise their full potential. As our conversations continued, it became even more clear that we hold a similar philosophy on mental health: that we must proactively take care of our minds.
"In addition to this shared philosophy, what caught my attention about BetterUp was that the company's mission to unlock the potential in people everywhere necessitates innovation, impact, and integrity.
"Their team has been delivering on that work for years. I was also impressed by the scale and opportunity for impact – the ability to change millions of people's lives for the better, through a combination of human connection, leading technology, and behavioural science."
The Duke and Duchess of Sussex stepped down from their roles as senior members of the royal family in January 2020 before settling down in California, where they have since taken on a number of new business opportunities, including deals with Spotify and Netflix.
Will Prince Harry be paid for the role and how much will he make?
While Robichaux did confirm that Harry will be compensated for the role, he declined to tell the WSJ how much he would be paid, but stated that he would be joining the company as an "officer of the corporation".
According to the WSJ, chief impact officer is a title more commonly found in the "nonprofit realm," however, the outlet notes that companies such as SalesForce have hired for the role.
In New York, chief impact officers make an average salary of $87,639 a year, according to ZipRecruiter, with the number decreasing to $68,835 in California.
Earlier this month, Prince Harry revealed during his interview with Oprah Winfrey he and Meghan had been living on what his mother, the late Princess Diana, left him in her inheritance after the couple announced their intention to become financially independent from the royal family.
Both William and Harry were left sums of $8.9m each by their mother the princess of Wales in her will, following her death in a car crash in 1997.
What has Prince Harry said about mental health?
Prince Harry has long been an outspoken proponent of mental health awareness, with the Duke of Sussex previously speaking out about his own struggles with mental health.
Most recently, the duke told Winfrey that he had frequently sought out help during his and his wife's time with the royal family, telling the former TV host that he was "desperate".
"I was desperate. I went to all the places I thought I should go to ask for help; we both did, separately and together," he revealed.
Harry has also previously revealed that he has been receiving therapy to help deal with the trauma of losing his mother.
In addition to speaking publicly about his own battles, the duke has also advocated for mental health awareness through the creation of the Invictus Games, a sporting event that sees individuals in the armed services who are wounded, injured or sick compete in several different sports.
Of his latest endeavour, Harry told the WSJ that he wants to "move away from the idea that you have to feel broken before reaching out for help".
"This is about acknowledging that it isn't so much what is wrong with us, but more about what has happened to us over the course of life," he said "Often because of societal barriers, financial difficulty, or stigma, too many people aren't able to focus on their mental health until they're forced to. I want us to move away from the idea that you have to feel broken before reaching out for help."
According to Robichaux, "as a member of the BetterUp executive team, Prince Harry will expand on the work he's been doing for years, as he educates and inspires our community and champions the importance of focusing on preventative mental fitness and human potential worldwide".
Register for free to continue reading
Registration is a free and easy way to support our truly independent journalism
By registering, you will also enjoy limited access to Premium articles, exclusive newsletters, commenting, and virtual events with our leading journalists
Already have an account? sign in
Join our new commenting forum
Join thought-provoking conversations, follow other Independent readers and see their replies