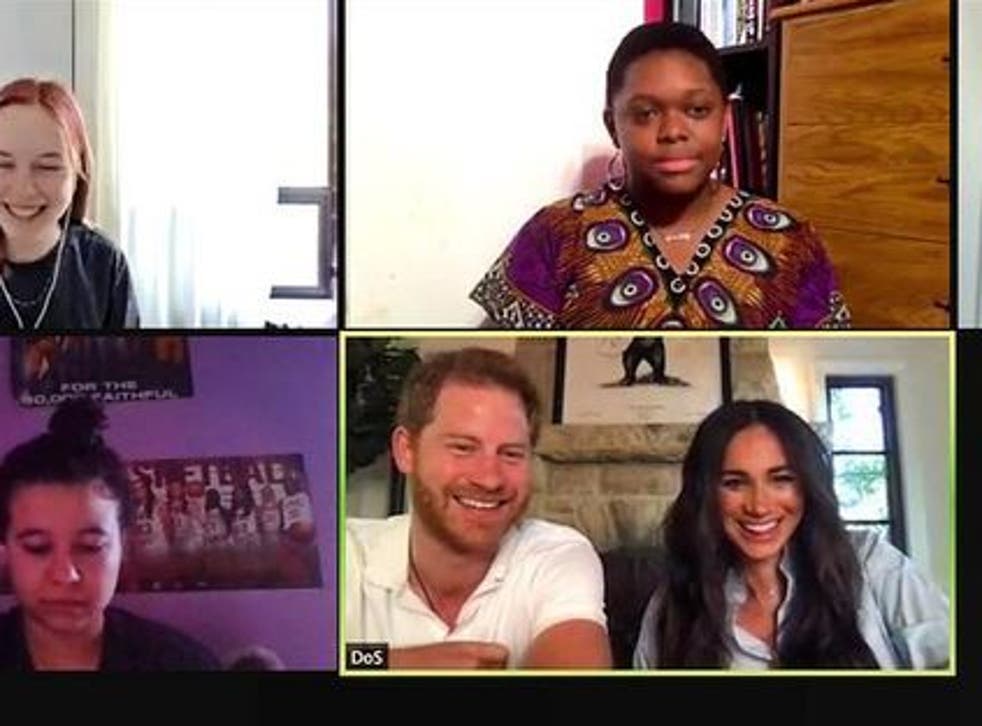 Prince Harry and Meghan Markle make surprise appearance in Black History Month poetry class
Couple joined virtual poetry session with Los Angeles-based organisation that uses poetry to 'increase literacy, empower youth, and inspire communities'
The Duke and Duchess of Sussex made a surprise appearance during a virtual poetry class over the weekend, hosted in honour of Black History Month.
The class was organised by Get Lit - Words Ignite! which is a youth group based in Los Angeles that uses poetry to "increase literacy, empower youth, and inspire communities", according to its website.
On Monday, the group shared a screengrab of its Black History Month class on Instagram.
There are 14 participants on the Zoom call, including Harry and Meghan, who are pictured together at their home in Santa Barbara, California.
In the corresponding caption, Get Lit explained how the couple joined their session and Meghan even shared some of her favourite poetry quotes, though they did not specify what these were.
"We've saved the best for last! Guess who surprised our poetry class this weekend?!" the caption read.
"It was the best weekend EVER! Prince Harry and Meghan, The Duke and Duchess of Sussex, were magic and kind and interested in poetry!
"The Duchess even shared some of her favorite poetry lines. We are so grateful for their visit in honor of Black History Month [sic]."
The organisation concluded that having Harry and Meghan join their class will go down as the "most epic experience in Get Lit history!!!"
Meghan has previously shared some of her favouruite poems with the public, including those by Maya Angelou and Matt Haig's "A Note from the Beach", which she chose to be included in the special issue of British Vogue that she guest-edited in 2019.
Since stepping down from their roles in the royal family, Harry and Meghan have made several appearances on Zoom to support various charitable causes.
In October, the couple spoke to activist Malala Yousafzai as part of International Day of the Girl, and were asked how they'd been spending their time during the Covid-19 outbreak.
After teasing that they'd spent most of it on Zoom calls, Harry and Meghan said they had been with their "little one" and explained that lockdown increased the amount of quality time they can spend with their one-year-old.
"We were both their for his first steps, his first run, his first fall… everything," said Harry.
Join our new commenting forum
Join thought-provoking conversations, follow other Independent readers and see their replies