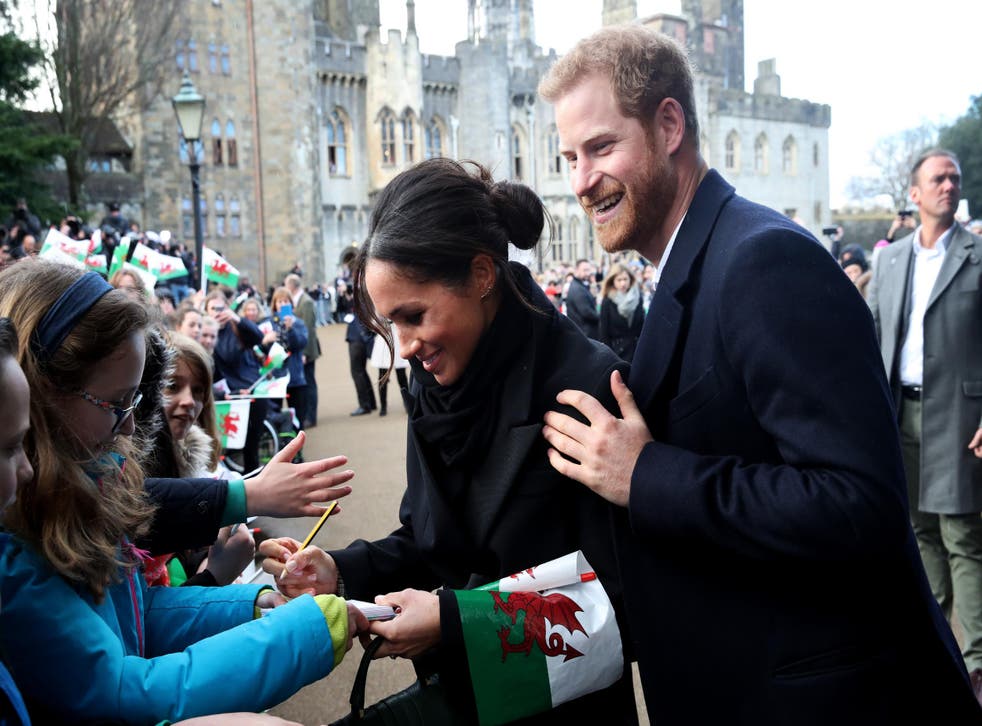 Harry and Meghan: Which patronages are they losing?
On 19 February the royals confirmed Harry and Meghan will not be returning as working members of the family
Sophie Gallagher
Friday 24 January 2020 12:55 Comments
Harry and Meghan have confirmed they will not return to be senior members of the royal family - after first stepping down for a transition period in March 2020, and moving to California.
On 19 February, the royal family issued a statement, saying: "The Duke and Duchess of Sussex have confirmed to Her Majesty The Queen that they will not be returning as working members of The Royal Family.
"Following conversations with The Duke, The Queen has written confirming that in stepping away from the work of The Royal Family it is not possible to continue with the responsibilities and duties that come with a life of public service. The honorary military appointments and Royal patronages held by The Duke and Duchess will therefore be returned to Her Majesty, before being redistributed among working members of The Royal Family.
 "While all are saddened by their decision, The Duke and Duchess remain much loved members of the family."
The Duke and Duchess also issued a statement, suggesting they would be continuing with some service in the UK: "As evidenced by their work over the past year, The Duke and Duchess of Sussex remain committed to their duty and service to the U.K. and around the world, and have offered their continued support to the organisations they have represented regardless of official role. We can all live a life of service. Service is universal."
So what does this mean in terms of charities and patronages?
What are patronages and charity associations?
Members of the British royal family have long had links with hundreds of charities, professional bodies and organisations, as well as associations with the military. Some of these charities are household names while others are smaller, private bodies working in local or specialist areas.
This link can either be an official patronage or a similar position that sees them amplify the work of the charities.
They are usually chosen based on the interests of the individual. Prince Harry has slowly acquired his patronages over the years, such as the rugby football union, while Meghan Markle's affiliations were based around culture and fashion, and were all announced in January 2019.
Which did the Duke of Sussex have?
African Parks
African Parks manages the rehabilitation of 16 national parks, covering over 12 million hectares, across Africa.
The national parks are in 10 countries including Benin, Central African Republic, the Democratic Republic of Congo, Malawi, Mozambique, the Republic of Congo, Rwanda, Zambia and Zimbabwe.
Dolen Cymru
Dolen Cymru is a charity that links Wales and Lesotho.
Founded in 1985, the charity works with young people and women's organisations to promote education.
Henry van Straubenzee Memorial Fund
Prince Harry was a joint patron of the Henry van Straubenzee memorial fund with the Duke of Cambridge.
The charity aims to lift children out of poverty through education in the south-eastern region of Uganda.
Invictus Games
The foundation works with wounded, injured and ill servicemen and women, as well as veterans, and hosts an annual Games.
The Invictus Games in Toronto was the location of Meghan and Harry's first official outing together.
Rhino Conservation
The charity monitors and protects black and white rhinos, as well as rescuing them from poaching hotspots across southern Africa to be moved to the safety of Botswana.
Sentebale
Sentebale is a charity providing support to children and young people in Lesotho.
It was at a Sentebale charity dinner that Harry gave his speech saying there was "no other option" but for his family to step down.
Silverstone heritage/Motorsport World
The Duke first joined Silverstone heritage in 2016.
The project "brings to life" the extensive heritage of Silverstone and British motor racing for an estimated half a million visitors a year.
Royal Foundation of the Duke and Duchess of Cambridge
Although the royal foundation is run by his brother and sister-in-law, Prince Harry was one of the co-founding members of the charity, which says it "unites people to tackle today's biggest challenges".
On the foundation's website it says: "We use our passion and unique influence to change mind-sets to make a lasting difference on the issues that matter to us and to society."
Wellchild
The duke has been a patron of Wellchild since before he became a parent.
The charity supports chronically sick children and their families.
What is Prince Harry confirmed to be losing?
Rugby Football Union and Rugby Football League
The Rugby Football Union tweeted on Friday: "Prince Harry will be stepping down from his role as RFU Patron. We would like to thank Prince Harry for his time and commitment to the RFU both in his position as patron and vice patron.
"The RFU has greatly valued his contribution to promoting and supporting the game."
This will include his work with rugby in schools and the injured players foundation.
Military titles
Harry will also lose his position as Honorary Air Commandant at RAF Honington, Captain General of the Marines and Commodore-in-Chief of Small Ships and Diving taken away along with his HRH title.
London Marathon Trust
The vision of the London Marathon Trust is a society in which everyone is physically active.
Harry is no longer a patron of the LMT - the contract came to an end in January and it was decided it would not be renewed.
Which did the Duchess of Sussex have?
Mayhew
The Mayhew animal welfare charity work to improve life for dogs, cats and people in the community.
Days after leaving for Canada, Meghan shared photographs on the Sussex Royal Instagram of her visit to Mayhew.
Smartworks
Meghan has been an official patron of Smartworks since January 2019, but raised their profile when she involved them in her guest-editorship of British Vogue in July last year.
Smartworks supports women with the clothes and confidence they lack for interviews and on the first day of a new job. The charity released a statement welcoming Meghan and saying: "The duchess is a natural coach and our clients were inspired and helped by her."
What is Meghan confirmed to be losing?
Association of Commonwealth Universities
The inter-university network comprises around 500 academic institutions around the Commonwealth.
Royal National Theatre
The Royal National Theatre was Meghan's fourth charity in the UK, which performs a wide range of contemporary and earlier drama.
Queen's Commonwealth Trust
Both Harry and Meghan will also lose their roles as respective president and vice president of the Queen's Commonwealth Trust.
Register for free to continue reading
Registration is a free and easy way to support our truly independent journalism
By registering, you will also enjoy limited access to Premium articles, exclusive newsletters, commenting, and virtual events with our leading journalists
Already have an account? sign in
Join our new commenting forum
Join thought-provoking conversations, follow other Independent readers and see their replies