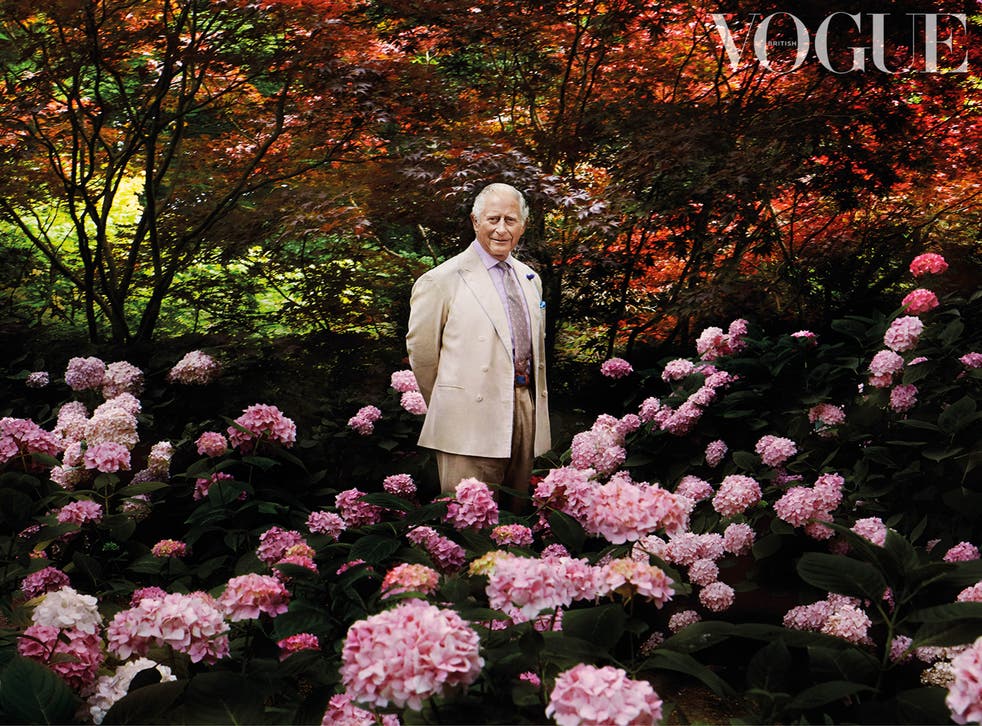 Prince Charles says we must tackle the 'extraordinary trend of throw-away clothing' in interview with British Vogue
The heir to the throne added that he prefers to get shoes 'or any item of clothing' repaired when faulty or worn, rather than throwing it away
Joanna Whitehead
Wednesday 04 November 2020 22:00 Comments
The Prince of Wales has championed sustainable fashion and spoken about his personal style in a frank new interview with Vogue editor-in-chief Edward Enninful.
Renowned for his double-breasted suits, the prince joked about his timeless dress sense.
When Enninful asked where his own "sense of style" came from, the prince seemed flattered.
"I thought I was like a stopped clock – I'm right twice every 24 hours," he joked.
"But...I'm very glad you think it has style. I mind about detail and colour combination."
Describing the British fashion textile sector as "of enormous importance", Charles said there were "huge opportunities" to challenge "this extraordinary trend of throw-away clothing or throw-away everything, frankly."
The heir to the throne added that he prefers to get shoes "or any item of clothing" repaired when faulty or worn, rather than throwing it away.
Charles went on to give the example of how he gave firms with royal warrants who supplied him goods the ultimatum to conform to a set of environmental requirements or lose their special status.
At first, he said there were "howls of protest", adding that they adapted eventually.
"So of course, they went away, looked at their supply chains, looked at the way they did things.
"Lo and behold, they came back and said, 'Well, actually, it's saved us money to do it in a better way'," he said.
The prince said he believed there were "huge opportunities" for people to set up businesses involved with "repair, maintenance and reuse", and revealed how he has tried to start a "thrift market" at his educational centre, Dumfries House, where things could be brought to be mended.
He said: "When I was a child, we used to take our shoes down to the cobbler in Scotland and would watch with fascination as he ripped the soles off and then put new soles on."
Charles added that consumers have "immense power" in their purchases and that "the best companies will lead the way, we hope, in demonstrating that if you follow the right principles of operation, not only are you moving more and more towards net zero but also you're removing pollution from supply chains."
The interview is accompanied by a new photograph taken by fashion photographer Nick Knight, who was commissioned to take the Queen's official 90th birthday picture, which also features Charles.
The December issue of British Vogue is available via digital download and on newsstands on Friday.
Register for free to continue reading
Registration is a free and easy way to support our truly independent journalism
By registering, you will also enjoy limited access to Premium articles, exclusive newsletters, commenting, and virtual events with our leading journalists
Already have an account? sign in
Join our new commenting forum
Join thought-provoking conversations, follow other Independent readers and see their replies