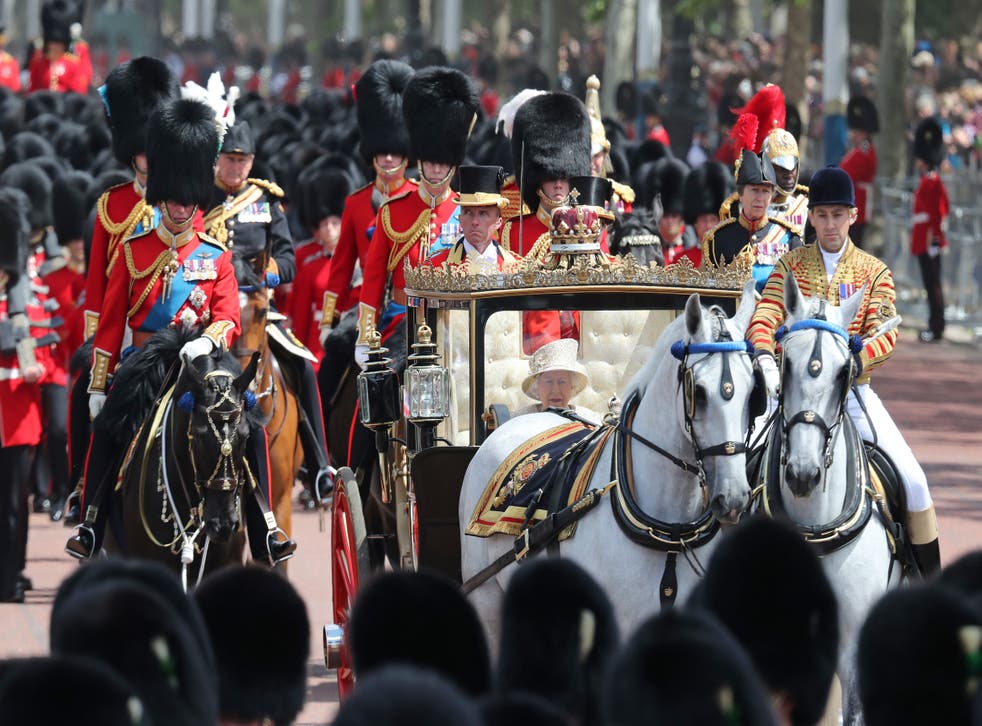 Trooping the Colour cancelled for second year in a row, Buckingham Palace says
Palace says possibility of hosting smaller parade in the quadrangle at Windsor Castle is 'being considered'
The Queen's official birthday parade, Trooping the Colour, has been cancelled for the second year in a row amid the ongoing Covid-19 pandemic, Buckingham Palace has announced.
In a statement, the Palace said that the celebration, which sees the entire royal family come together for a parade as thousands of well-wishers look on, will not go ahead this year in its "traditional form".
However, the family is considering celebrating the annual event on a smaller-scale, possibly in the quadrangle at Windsor Castle, the statement said, which would be similar to the way the Queen's official birthday was celebrated last year.
The Palace said: "Following consultation with Government and other relevant parties it has been agreed that The Queen's Official Birthday Parade, also known as Trooping the Colour, will not go ahead this year in its traditional form in central London. Options for an alternative Parade, in the quadrangle at Windsor Castle, are being considered.
According to the statement, the annual Garter service that takes place the Monday after Trooping the Colour will also not be held this year.
After last year's Trooping the Colour was cancelled, the monarch's birthday was celebrated in the quadrangle of Windsor Castle, where she watched as the 1st Battalion of the Welsh Guards performed.
Read more:
In addition to a smaller turnout overall, the celebration of the monarch's 94th birthday also proved to be unique as it featured the Queen by herself rather than surrounded by her entire family.
It was previously reported that if the Trooping the Colour celebration were to go ahead this year, the Duke and Duchess of Sussex would be in attendance, which would have marked the first public reunion for the royal family since Meghan and Harry stepped back from their roles as senior members of the royal family.
Typically, the June parade celebrating the British sovereign's birthday features more than1,400 parading soldiers, 200 horses and 400 musicians, according to the Palace.
Register for free to continue reading
Registration is a free and easy way to support our truly independent journalism
By registering, you will also enjoy limited access to Premium articles, exclusive newsletters, commenting, and virtual events with our leading journalists
Already have an account? sign in
Register for free to continue reading
Registration is a free and easy way to support our truly independent journalism
By registering, you will also enjoy limited access to Premium articles, exclusive newsletters, commenting, and virtual events with our leading journalists
Already have an account? sign in
Join our new commenting forum
Join thought-provoking conversations, follow other Independent readers and see their replies