Princess Eugenie's wedding: All the guests, from Demi Moore to Kate Moss
Celebrity guests included Robbie Williams, Ellie Goulding and Naomi Campbell
Celebrity guests arrive for Princess Eugenie's wedding
A host of celebrity guests are attending the wedding of Princess Eugenie.
A star-studded congregation of 800 people are currently in St George's Chapel watching the Queen's granddaughter wed tequila brand ambassador Jack Brooksbank in Windsor Castle's 15th century church.
The Queen and the Duke of Edinburgh and the Prince of Wales have joined the Duke and Duchess of Cambridge and the Duke and Duchess of Sussex among more than 40 members of the royal family gathering for the celebration.
All the guests at Princess Eugenie and Jack Brooksbank's wedding

Show all 34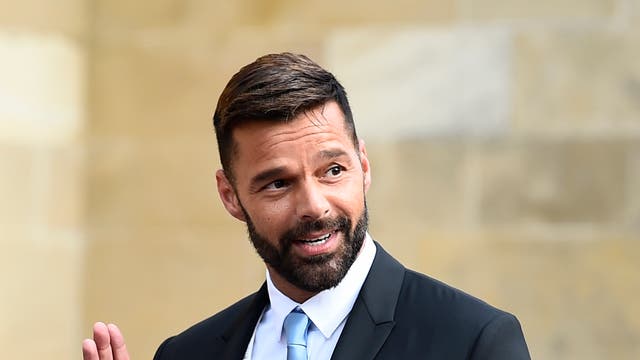 Among those sitting in VIP seats in the chapel are entertainer Robbie Williams, Hollywood actress Demi Moore and supermodel Naomi Campbell.
Former Take That singer Williams, who got a cheer from the crowds when he arrived in a limousine and waved back, is with his wife and fellow X Factor judge Ayda Field. Their six-year-old daughter Theodora is one of the bridesmaids.
Kate Moss, wearing a delicate monochrome polka dot outfit, took her seat on the front row of the seating plan which is designed to face into the aisle.
Singers James Blunt and Ellie Goulding arrived at the wedding in the same coach to join other guests including screenwriter and Downton Abbey creator Julian Fellowes, model Pixie Geldof, Prince Harry's ex Chelsy Davy, comedian Jimmy Carr and artist Tracey Emin.
Windsor was expected to escape the worst of Storm Callum, but conditions were very blustery as the guests arrived, with many holding on to their hats.
One man was even seen to gallantly chase after a fellow guest's hat as it blew off and rolled along the ground.
The gothic chapel was filled with autumnal flowers, chosen by Eugenie to evoke the rich and vibrant tones of the season.
The West Steps leading up to St George's were lined on each side with a carpet of stunning blooms, and Liquid Amber trees.
Two large trees framed the West Door, where Eugenie and Jack will appear after saying their vows.
In Windsor town, royals fan keen to catch a glimpse of the bride and groom noted it was quieter than for Harry and Meghan's high-profile nuptials at the same venue in May.
Kerry Evans, 54, from Lincolnshire, has been in the crowds of well-wishers at the past two royal weddings.
She said: "I wanted to be part of the wedding and the traditions because it's all part of being British.
"I thought there would be lots of people arriving but there aren't, I've been waiting and waiting."
Crowds of more than 100,000 lined the streets for Harry and Meghan's big day in May.
Princess Eugenie opens up about royal wedding ahead of ceremony
Prince George and Princess Charlotte have taken on the starring roles as page boy and bridesmaid, along with Zara and Mike Tindall's spirited four-year-old daughter Mia, and Peter and Autumn Phillips' daughters Savannah and Isla.
Robbie Williams and Ayda Field's six-year-old daughter Theodora, Eugenie's goddaughter Maud Windsor, and family friend Louis de Givenchy are also part of the gaggle of young helpers.
Criticism has already been levied at the estimated £2 million security bill, which falls to the taxpayer, for Eugenie's wedding.
The policing costs will have been increased by the 1km carriage ride the couple will make through the town after the ceremony.
But Eugenie, who is not a working royal, and Jack will not head up the Long Walk like Harry and Meghan, but take a shorter route back to the castle.
Proud father the Duke of York walked his 28-year-old daughter down the aisle.
Mother of the bride Sarah, Duchess of York - who spent years as an outcast from the royal family following her split from Andrew - is also taking centre stage.
Her former father-in-law Philip is said to have never forgiven "Fergie" for the scandal she caused when she was caught in the infamous "toe-sucking" incident, having her feet kissed by financial adviser John Bryan in 1992.
About 1,200 members of the public are in the castle's Lower Ward, with charity workers, local school children and royal household staff.
Additional reporting by the Press Assocation.
Join our new commenting forum
Join thought-provoking conversations, follow other Independent readers and see their replies