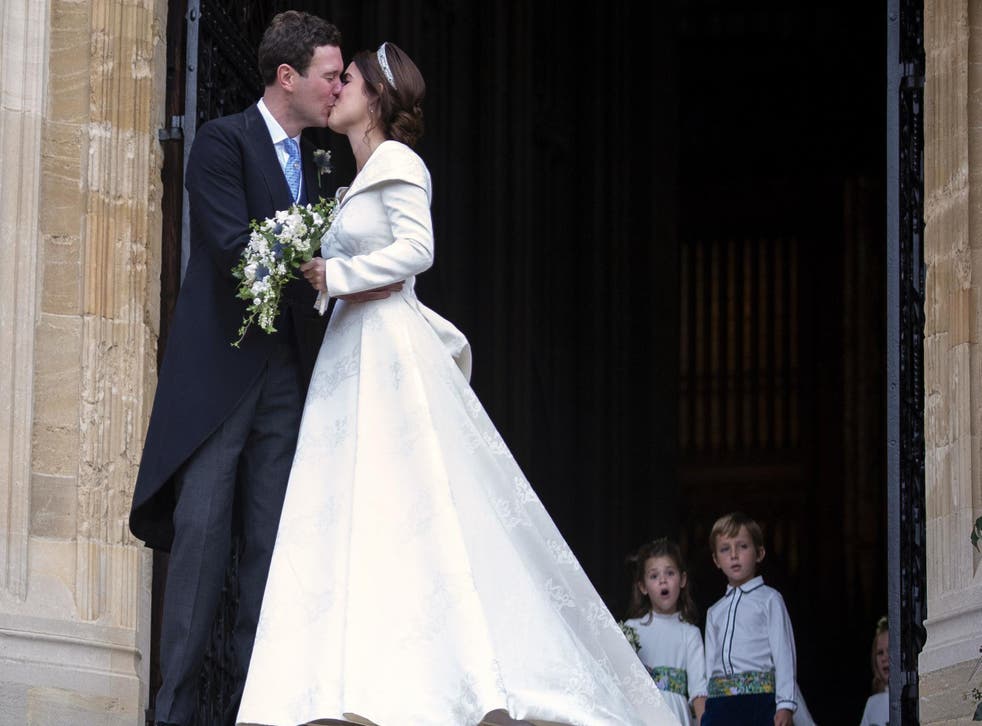 Royal Wedding: Twitter's favourite moments from marriage of Princess Eugenie and Jack Brooksbank
#RoyalWedding is still trending on Twitter
Princess Eugenie married Jack Brooksbank on Friday morning in a royal wedding filled with memorable moments - and people on Twitter were quick to point out their favourite parts of the day.
While the bride was the centre of attention, dressed in a gown by Peter Pilotto and Christopher De Vos and wearing the Greville Emerald Kokoshnik Tiara lent to her by the Queen, the weather, the extravagant outfits, and the details of the ceremony were also trending as people watched the nuptials from home.
Storm Callum​
The windy weather, a result of Storm Callum sweeping across the UK, added a humorous tone to the occasion - as guests were pictured fighting the 60mph gales as they made their way into St George's Chapel at Windsor Castle.
Most guests were able to handle the elements successfully - while others weren't as lucky.
Hats, an important outfit fixture worn by guests to royal weddings, went flying to the joy of those watching.
"Watching #royalwedding guests battle Mother Nature is quite entertaining," one person wrote on Twitter.
Another said: "Just seen a hat escaping up the road."
The pageboys and bridesmaids were also easy targets for the wind, with six-year-old Louis de Givenchy knocked over as he clambered the steps to the chapel.
Of the unfortunate mishap, one person tweeted: "PAGE BOY DOWN."
The hats
The wide variety of unique hats also captured Twitter's attention, with the memes and jokes coming frequently as guests arrived.
The mother-of-the-bride Sarah Ferguson's choice was compared to a golden snitch from the Harry Potter books almost as soon as she exited the car, while Cara Delevigne's full tuxedo look complete with a top hat also received a fair share of attention.
"Maybe it's me, but Fergie's hat looks like it came out of the Harry Potter prop closet…" one person pointed out.
Another said: "Yes, Fergie is wearing Harry Potter's Golden Snitch on her hat. This is going to get me through the day #royalwedding."
The bride's dress and scars
Apart from stunning in her white gown, the bride also received praise for choosing to wear a low-back design to show off her scars from a scoliosis operation when she was 12.
"I LOVE that Princess Eugenie had a low back dress to show off her scar - my five-year-old daughter has a scar on her back from an operation and I will show her later that even princesses have scars and they are nothing to be embarrassed of," one person wrote.
Another said: "Huge respect to Princess Eugenie for showing off her scars with a low back dress on her wedding day. Fantastic to see the new generation of royals working to highlight modern issues such as body confidence."
Eugenie, who advocates on behalf of other young people who suffer with the spinal issue, told ITV's This Morning before the wedding that she planned to show off her scars.
"I think you can change the way beauty is, and you can show people your scars and I think it's really special to stand up for that," she said.
The Duke and Duchess of Cambridge's PDA
The bride's royal relatives, Prince William and Kate Middleton, were also in attendance - and their rare public displays of affection for one another did not go unnoticed.
As the couple entered the church, William guided his wife by placing his hand on her back and they continued the PDA to the joy of viewers as they sat in their seats hand-in-hand.
"Kate and Wills holding hands. Very rare moment of PDA!" someone pointed out.
Another said of the couple who've been married for seven years: "Honestly the PDA game between these two is one of the things I love most about them."
The Great Gatsby
To honour her sister's marriage, Princess Beatrice read a passage from the literary classic - which many questioned, as the book is ultimately a tragic story of a conman who tricks people into thinking he is wealthy.
"The reading is nice but… do they know how Gatsby ends?" one person asked on Twitter.
Others agreed with another person writing: "That was really weird that Eugenie chose a wedding reading that compares her husband to Jay Gatsby. Did she finish the book? Because it doesn't end well for Gatsby."
Bride Princess Eugenie arrives for royal wedding
However, the reason Eugenie chose the passage was because it reminds her of her now-husband's smile and personality.
A photo of the wedding pamphlet explained: "It was soon after she and Jack had first met that Princess Eugenie read The Great Gatsby by F Scott Fitzgerald.
Royal wedding ceremonies: through the years in pictures

Show all 27
"One particular passage in which Jay Gatsby is described reminded her immediately of Jack. She decided that she wanted to eventually let Jack know how much those words had brought him to mind. That is why they have a special place (as the second reading) in today's wedding service."
Support free-thinking journalism and attend Independent events
Overall, the latest royal wedding was met with elation from both those in attendance and those watching, who couldn't help but be moved by the day.
Join our new commenting forum
Join thought-provoking conversations, follow other Independent readers and see their replies