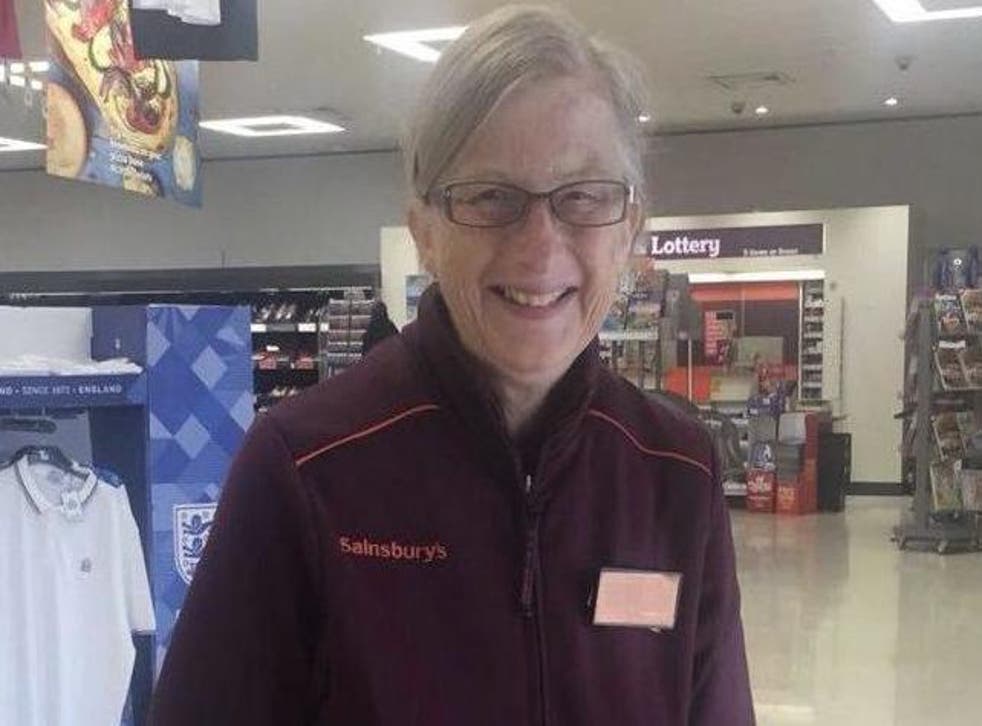 Sainsbury's praised for helping employee with Alzheimer's keep job
'They have gone above and beyond to make sure she's happy and feeling valued'
A son has thanked Sainsbury's for helping his mother keep her job while battling the effects of Alzheimer's disease.
In a now viral Twitter thread, Doron Salomon praised the supermarket for keeping his mother in employment despite the disease becoming progressively worse.
Salomon explains that prior to diagnosis, his mother worked as a bookmaker but that soon enough it became clear she was unable to do her job effectively.
In 2012, Salomon's mother was offered a position in a "lesser-skilled" job at Sainsbury's as part of their in-store picker team, doing shopping for online customers and he claims they have been "outstanding ever since."
Her bosses were made aware of every medical update and went to every effort to keep her employed, even going as far as creating a new role to suit her skills and needs as they changed.
When her condition became worse and she was no longer able to carry out her duties as a "picker", rather than letting her go the store gave her the task of cleaning tote boxes – something that staff already did as part of their job.
Salomon says the new role gave his mother a sense of "self-worth and pride."
"For context, Sainsbury's have seen my mum deteriorate to the point that every day for the last year or so she has gone into the store confused, as if she'd never been there before," Salomon wrote.
"They have always stood by her, going above and beyond to make sure she's happy and feeling valued."
In October 2017, Salomon's mother's occupational health assessment unfortunately showed that her Alzheimer's was advanced, meaning she was unemployable. But even then Sainsbury's did not give up on her.
The store kept on for a further six months before she was able to enjoy her last day at work on Saturday.
"My mum was emotional but relieved. Senior management have acted with compassion and handled everything with class and dignity," Salomon explained.
"This thread doesn't really do @sainsburys justice but I wanted to publicly thank them on behalf of my family.
"They have been a fabulous employer but more than that, on a human level, the people working at the Kenton store have shown sensitivity, kindness and care. Thank you."
Unsurprisingly, the heart warming thread was quickly liked and shared by thousands of people including Sainsbury's who said his mother's contribution was valued regardless of her condition.
"Doron's mum was a much loved colleague and an inspiration to all of us," a spokesperson from Sainsbury's told The Independent.
"We'd like to thank her for her years of service and wish her all the best for the future."
In addition, Alzheimer's Research UK praised Sainsbury's and thanked Salomon for encouraging people moved by the story to help fund its pioneering research.
"The experience outlined by Doron Salomon highlights the importance of helping people with dementia to remain an active part of their community, and the huge impact this can have on a person's quality of life," Hilary Evans, Chief Executive of Alzheimer's Research UK told The Independent.
"Employers can play a vital role in supporting people with dementia, and Sainsbury's should rightly be applauded for working with Doron's mum and family to help her remain at work for as long as possible.
"We're incredibly grateful to Doron for encouraging people to support Alzheimer's Research UK and help fund pioneering research. It's our mission to bring about the first life-changing treatment for dementia, but we rely on public support to be able to achieve that goal."
You can donate to Alzheimer's Research UK here.
Join our new commenting forum
Join thought-provoking conversations, follow other Independent readers and see their replies