The Independent's journalism is supported by our readers. When you purchase through links on our site, we may earn commission.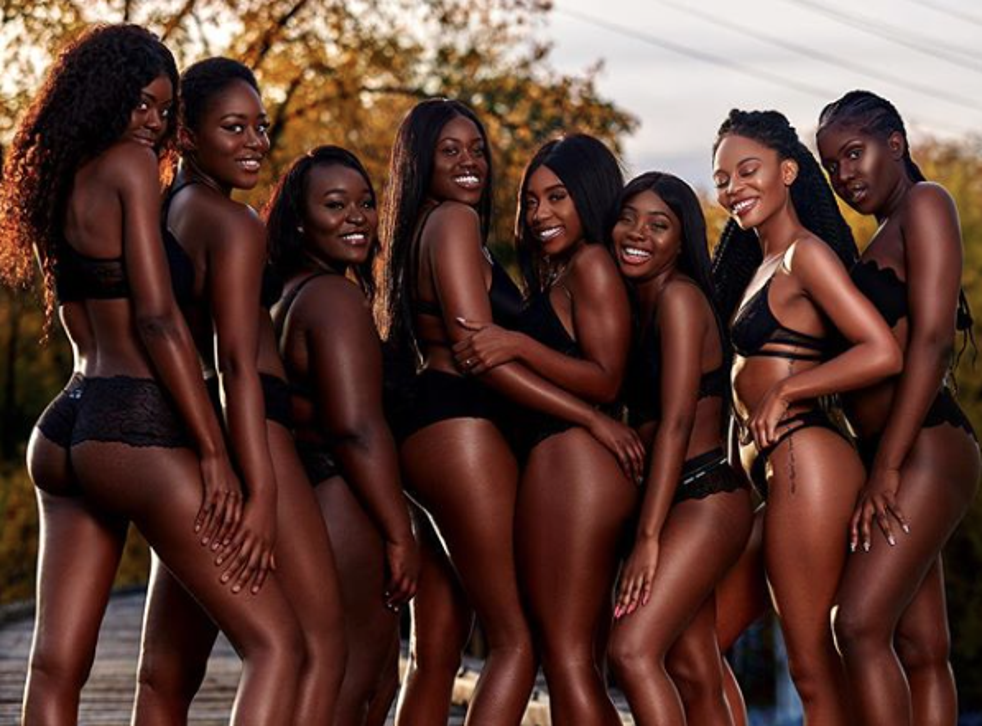 Student organises powerful photoshoot to celebrate the beauty of black women
'No matter your size or your colour, we are all beautiful'
Sarah Young
Sunday 05 November 2017 10:59 Comments
A nursing student has brought together a group of her friends to create a photoshoot that celebrates the beauty of black women.
Inspired by other images she had seen online, Sameria Gbieor wanted to organise one of her own in a bid to inspire women to love their unique bodies.
"I was scrolling down my Instagram page one day, and I saw this beautiful picture with four melanin sisters. And I said to myself, 'I want to do something like this, but with more girls,'" Gbieor, a mother of one, told Yahoo.
The 20-year-old quickly gathered a handful of her friends and contacted Tolulope Gangbo, a photographer she had been working with for nine months, to help bring her vision to life.
With seven other black women agreeing to take part, Gbieor admits that initially she hoped more would join in but many admitted they were too uncomfortable in their own skin.
However, this only inspired her more. Gbieor wanted to highlight all types of beauty, "promote black excellence" and convince women that, "No matter your size or your colour, we are all beautiful."
"What I wanted to get out there to my dark-skinned sisters is to love yourself," she said.
"Once you love yourself, amazing things start to happen."
Posing in black underwear, the eight young women represented a diverse range of body types, hair types and styles.
One of the models, Ahnna Anderson, 24, who sported dreadlocks revealed that she wanted "people to see the usual 'outcast' as beautiful – seeing dark women with natural hair and long twists being seen as beautiful and sexy."
Gbieor also revealed that one of the main reason she decided to work with Gangbo on the shoot is because he doesn't edit out 'imperfections' like stretch marks – an element that was vital to promoting her message of self-love.
Sharing the result on Gangbo's Instagram account, the photos have since been flooded with praise and admiration.
"Black is truly beautiful," one person wrote.
Another added, "Real bodies thank you. Make real women great again."
In response to the reaction, Gbieor added, "I am so grateful for all the support and reposts and retweets that these pictures have received.
"It means a lot to me knowing that people see what I see: eight beautiful, confident, and amazing girls."
Register for free to continue reading
Registration is a free and easy way to support our truly independent journalism
By registering, you will also enjoy limited access to Premium articles, exclusive newsletters, commenting, and virtual events with our leading journalists
Already have an account? sign in
Join our new commenting forum
Join thought-provoking conversations, follow other Independent readers and see their replies