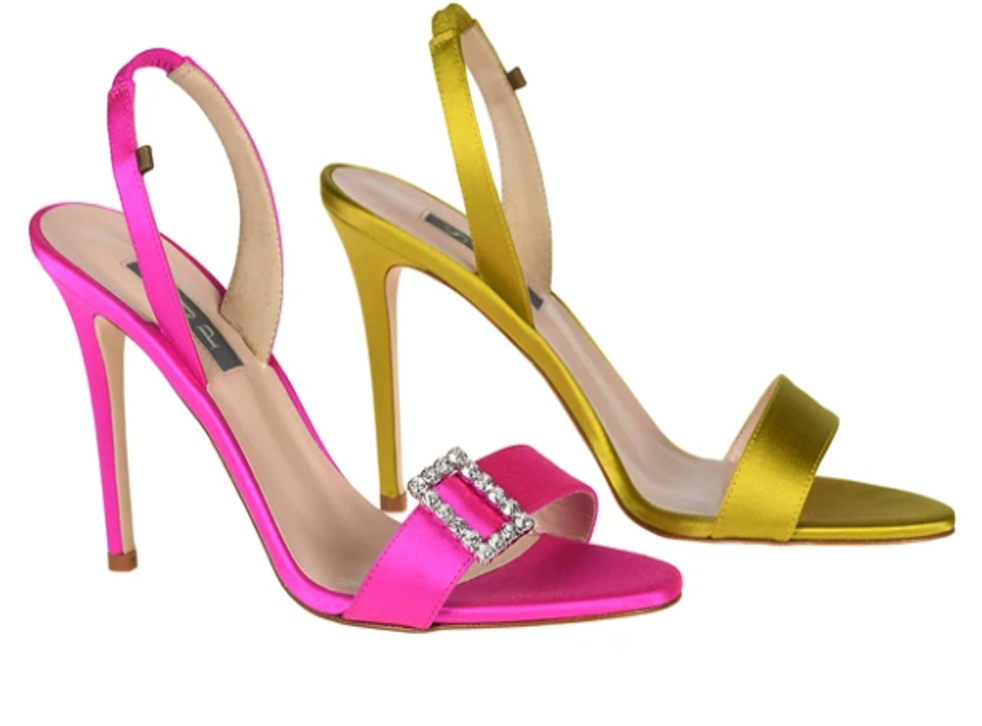 Sarah Jessica Parker releases mismatched heels in honour of Carrie Bradshaw
Fictional Bradshaw wore mismatched heels during season three of SATC 
Chelsea Ritschel
New York
Tuesday 25 February 2020 18:56 Comments
Sarah Jessica Parker is taking inspiration from Sex and the City with her shoe brand's latest style, Carrie Bradshaw's iconic mismatched heels.
On Monday, the actress revealed that she would be bringing back the favourite style in collaboration with the Every Outfit on Sex & the City Instagram.
"Going Rogue over at SJP Collection," Parker captioned a photo of herself in the bright pink ball gown and pink and yellow heels that she wore to the 8th annual New York City Ballet Fall Fashion Gala in September. "In collaboration with our friends at @everyoutfitonSATC, we're thrilled to announce the arrival of our highly anticipated mismatched sandal.
"A not-so-subtle nod to a certain very special lady's well documented footwear moment from many years ago."
According to Parker, 20 per cent of the proceeds from the sale of the mismatched shoes will be donated to Empowerment Plan, an "inspired Detroit-based organisation that provides employment and training to low-income individuals to manufacture sleeping bag coats for those in need".
The limited-edition design, which retails for $385, features a bright pink stiletto with a crystal embellishment on the strap and a matching bright yellow one.
"Purposely mismatched and highlighting our irresistible SJP Collection Candy and Rish satins, she's a not-so-subtle homage to a fun footwear moment from Sarah Jessica's past," the shoe's description reads.
On Instagram, the reaction to the mismatched shoes has been overwhelmingly positive.
"I just snagged these and I'm so happy I could cry," one person commented.
Another said: "I LOVE this beyond anything and everything."
Carrie Bradshaw first popularised the style during season three of the show, when she wore one blue and one pink shoe during a visit to Hollywood, California.
Parker later explained the iconic moment on Instagram in June 2019, writing: "We had two pairs of what I believe are Louboutin strappy sandals. Pat and I chose to do one of each. Perhaps because both were so delicious in colour and seemed in harmony with the dress but also because we simply loved doing one of each."
Those who are interested in purchasing the shoes should act fast, as certain sizes have already sold out.
Register for free to continue reading
Registration is a free and easy way to support our truly independent journalism
By registering, you will also enjoy limited access to Premium articles, exclusive newsletters, commenting, and virtual events with our leading journalists
Already have an account? sign in
Join our new commenting forum
Join thought-provoking conversations, follow other Independent readers and see their replies