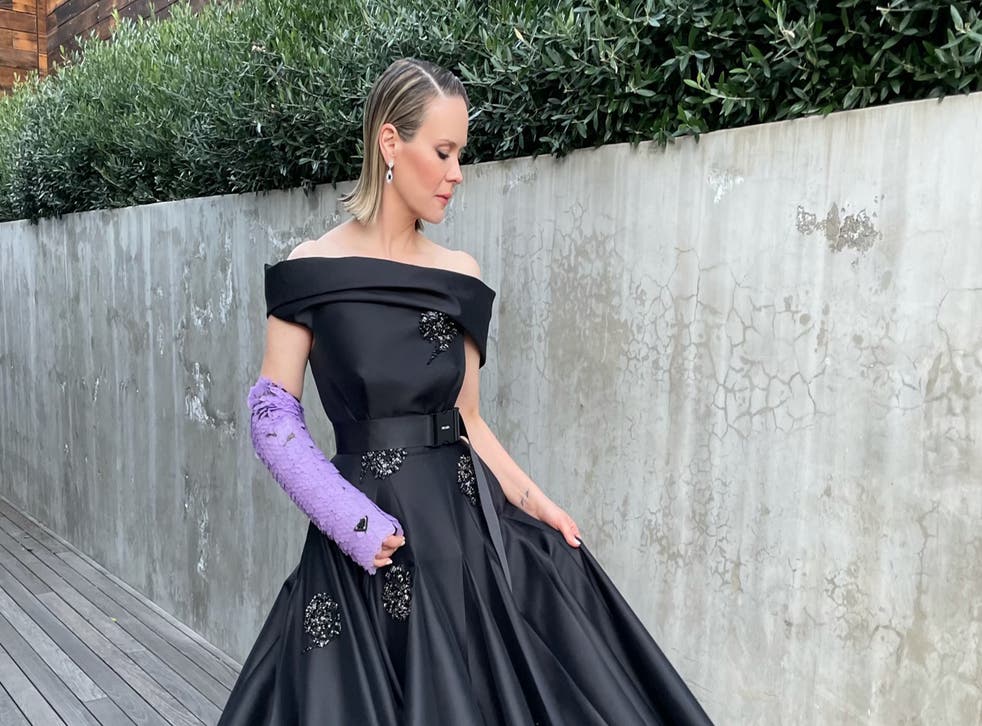 Sarah Paulson puts injured arm in a lilac Prada cast for the Golden Globes
The American Crime Story actor got creative with her awards look after an arm injury
Instead of potentially ruining her Golden Globes outfit with a bandage, Sarah Paulson made a feature of it, courtesy of Prada.
To accompany her classic off-the-shoulder black Prada gown with beaded detailing, sparkly Harry Winston earrings, and slick off-centre parted hair, the Italian label created a lilac sleeve with a triangle Prada logo.
Paulson's stylist Karla Welch posted photos of the Ratched star on Instagram, saying: "When you're Lady Paulson, you get a custom Prada cast to go with your custom Prada dress."
The star was nominated for Best Actress in a Drama TV series for her role as the nurse from One Flew Over the Cookoo's Nest in Ratched, but the award went to Emma Corrin for her role as Princess Diana in Netflix's The Crown.
This marks the fourth time Paulson has been nominated for a Golden Globe. The actor picked up a win in 2017 for Best Performance by an Actress in a Limited Series or a Motion Picture Made for Television, playing prosecutor Marcia Clark in American Crime Story: The People v. O.J. Simpson.
It's not known how Paulson injured her arm ahead of this year's ceremony, it's been speculated that she hurt it while filming the new season of American Crime Story. On Sunday before the awards, she shared an Instagram story with her followers showing her arm covered in a bandage with a cold pack, reading "So, this happened."
Holland Taylor, Paulson's partner tweeted a picture of the star up close on Sunday with the caption "No one more beautiful. No one."
Join our new commenting forum
Join thought-provoking conversations, follow other Independent readers and see their replies