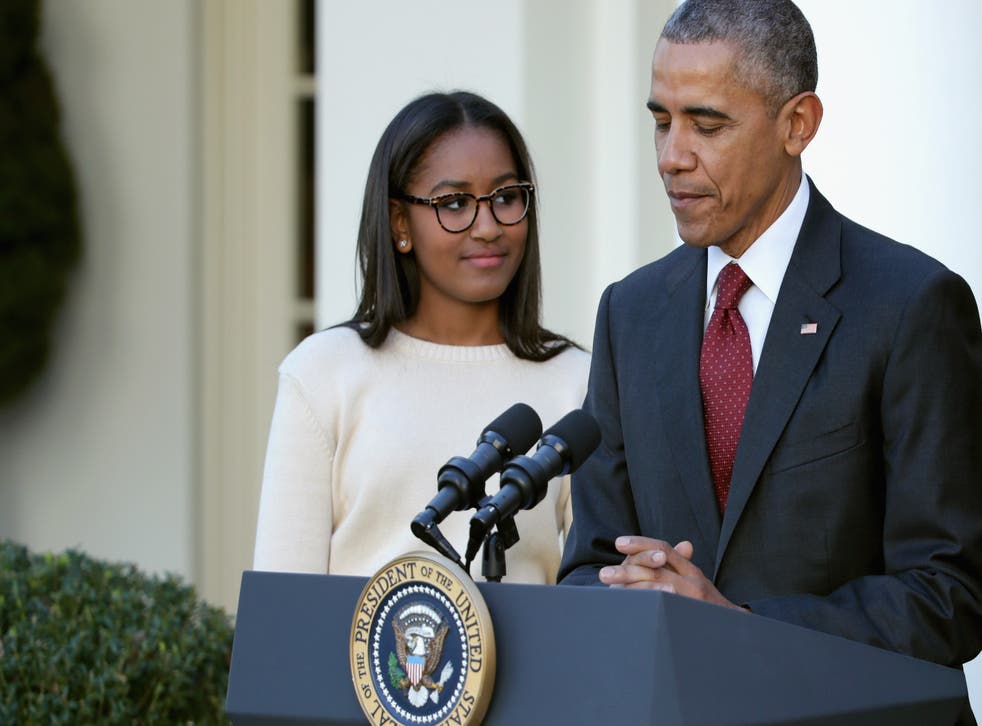 Sasha Obama trends on Twitter after viral TikTok: 'Proof that 2020 still can be great'
19-year-old was seen lip-synching with a friend to Moneyybagg Yo's Said Sum
Chelsea Ritschel
New York
Tuesday 27 October 2020 14:56 Comments
Sasha Obama has gone viral on social media after she featured in a friend's since-deleted TikTok.
Over the weekend, the 19-year-old was seen lip-synching with a friend to Moneybagg Yo's Said Sum remix featuring the City Girls rappers JT and Yung Miami.
The clip was later shared to Twitter, where people identified the former first daughter and expressed their happiness at seeing her having fun.
"Seeing that video of Sasha Obama on TikTok rapping City Girls just really warmed my heart," one person tweeted.
Another said: "Sasha Obama would be famous even if her dad wasn't Barack, we honour her always."
"I didn't know how much I needed that video of Sasha Obama. Literally my fav," another person wrote.
Rapper JT also shared her appreciation for the video, retweeting it with a heart-eyes emoji.
After the video went viral on Twitter, it was removed from Obama's friend's TikTok, along with other clips featuring the teenager and her friends dancing.
Obama, the youngest daughter of former president Barack Obama and wife Michelle Obama,  is currently a sophomore at the University of Michigan.
In May, the 19-year-old praised her mother during her Netflix documentary Becoming, in which she said: "I'm excited for her to be proud of what she's done.
"Because I think that that's the most important thing for a human to do, is be proud of themselves."
Currently, Sasha and her sister Malia, 22, are taking classes at home amid the coronavirus pandemic, according to their mother.
"My girls are studying from home," the former first lady explained during an Instagram Live conversation with Jennifer Lopez in September. "We're itching to get back to campus, but things are just confusing … not quite safe. I'm just glad that they're staying put, even if they're sick of me."
Register for free to continue reading
Registration is a free and easy way to support our truly independent journalism
By registering, you will also enjoy limited access to Premium articles, exclusive newsletters, commenting, and virtual events with our leading journalists
Already have an account? sign in
Join our new commenting forum
Join thought-provoking conversations, follow other Independent readers and see their replies