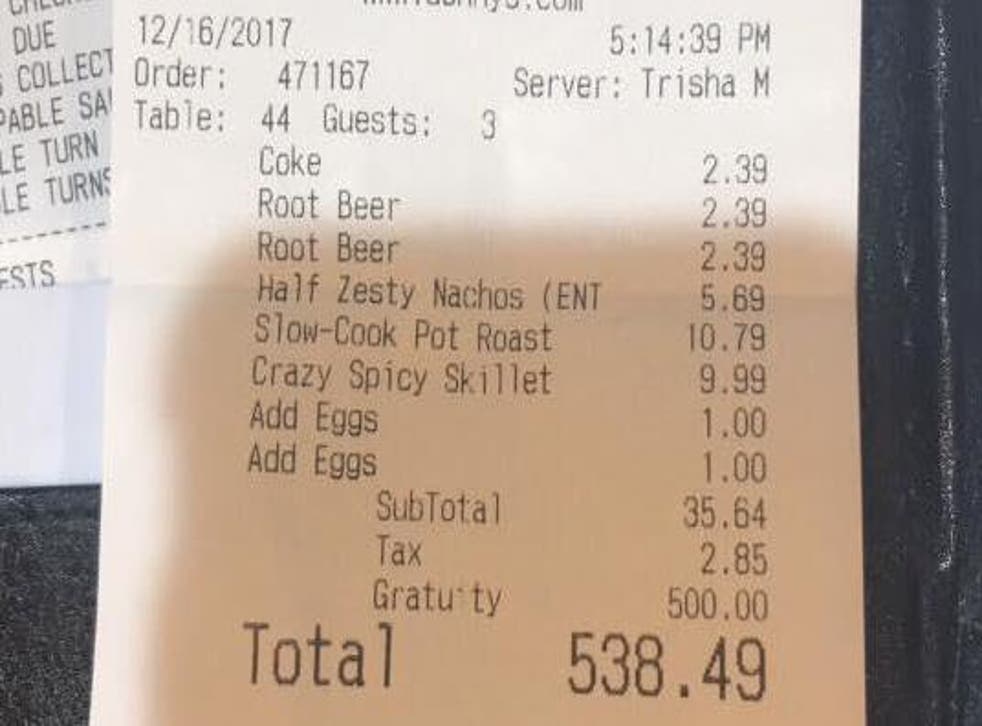 Single mother thanks stranger for generous $500 tip that 'saved Christmas'
'Good people do still exist'
A single mother of four has credited a stranger for saving Christmas for her and her children thanks to a $500 (£372) tip.
Trisha Murphy works up to 60 hours a week in multiple jobs, however, it was during a Saturday shift at diner Denny's, where she works as a waitress, that she snapped up the generous gift from a customer.
Based in Sullivan, Maine, Murphy was thrilled when she noticed the tip and shared her delight in a Facebook post that has since gone viral.
That morning had been a particularly stressful one for the hardworking mother, who is also studying to become a certified nursing assistant, reports CBS.
She had yet to do her Christmas shopping, she was running late to work and her car had just been towed, leaving her with a $735 (£548) bill.
"I went into work, racking my brain as to how I was going to pull this off," Murphy wrote, adding that she thought she would just pick up some extra shifts at the diner to pay for the bill.
However, she realised that would mean she'd have to pay for a babysitter to look after her children.
Putting on a brave face, Murphy dutifully waited on a table of three men who started asking her about her plans for the festive season.
She explained that she had four young children, aged six, nine, 11 and 13, all of whom were very much looking forward to Christmas.
The older of the three diners started joking with Murphy that he would be her Santa Claus.
When she gave him the bill, he told Murphy that she had to go with him to the till to pay.
She thought it was odd, given that the hostess usually does this, however, she obliged.
"When he put his card in, he had a huge, ear to ear smile," Murphy wrote.
"The receipt printed and I almost collapsed! I looked up at this grungy looking man, my face as white as snow, and tears in my eyes.
"He just smiled again and said 'merry Christmas dear', and almost danced out of the restaurant."
Murphy explained that the man soon returned to ensure she was okay and not too startled.
"I don't know this man's name, but I hope he realises that he literally saved Christmas for my children and I!
"Good people do still exist. Yesterday was the day I met Santa!"
Join our new commenting forum
Join thought-provoking conversations, follow other Independent readers and see their replies