The Independent's journalism is supported by our readers. When you purchase through links on our site, we may earn commission.
LIFESTYLE FEATURES
How to build a skincare routine whatever your skin type
Think of your skincare routine as a balanced diet, writes Madeleine Spencer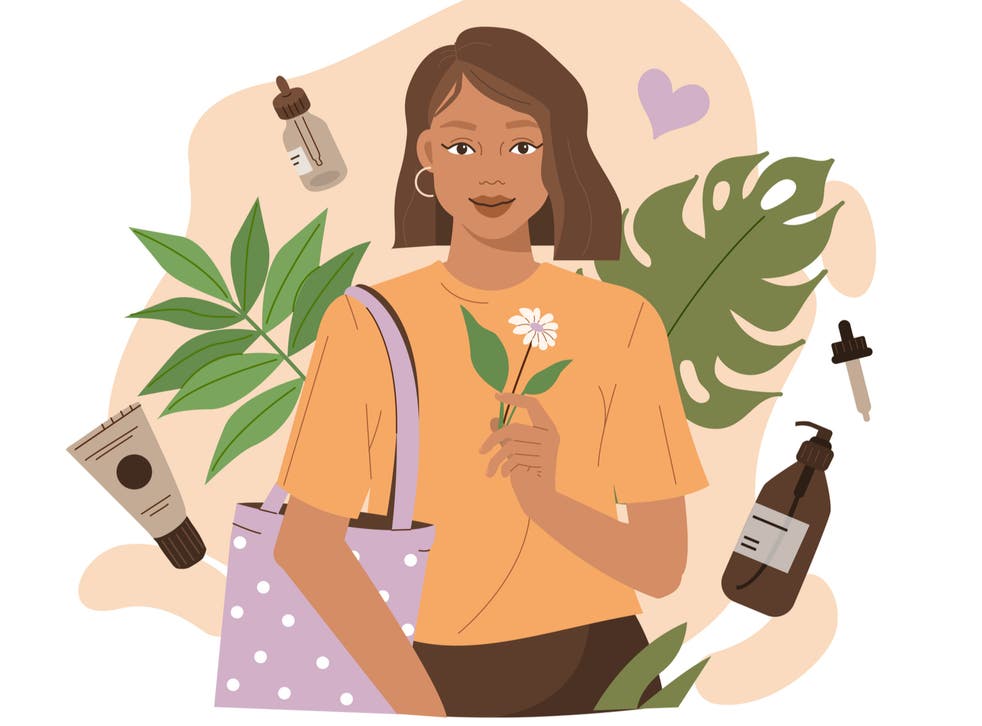 Building a skincare routine shouldn't be fraught with difficulty. If you boil it down, all your skin really needs is to be clean of dirt or pollutants it picks up, to be hydrated, and to be protected. But if you're a skin buff, it's hard not to want to complicate matters by incorporating products like vitamin E, retinol, hydrochloric acid, and so on.
We get it: modern skincare can be confusing because there is a proliferation of wisdom out there and an increasing number of companies jostling for your money, which means that what should be a relatively simple process has become incredibly complex.
That said, there is a sense that the tide is turning in favour of simplicity, with those in the know decrying lengthy routines packed with inflammatory actives.
Skin specialist Jasmine Vico is one such expert who believes the alphabet approach to skincare, where cupboards heave with products each designed to do different things, isn't the way to achieve great skin.
Read more:
"My belief has always been that less is more," she tells The Independent. "People overuse products way too much, and the perfect cream to answer prayers doesn't exist."
The most sensible and foolproof way to build your routine is to think of it in similar terms to a balanced diet. Get the fundamentals in place that work for your skin, and add the odd extra when it takes your fancy, or before a special occasion.
But remember that it is the daily routine combined with holistic measures that are the building blocks of a great complexion.
Consider the below guide as your Rosetta Stone of skincare, deciphering the noise and simplifying the process, for any skin type or issue, at any age.
Eye make-up remover: night
Your cleanser will often do the work of removing make-up, but if you're wearing waterproof mascara or a particularly heavy application of products, it might be worth considering a targeted eye make-up remover. Remember to be gentle: pressing the product on a cotton pad to your eyes and then wiping rather than pushing and pulling at the area.
Some to try: Peep Club Soothing Coconut Balm, £20, Woldandbadger.com, Clarins Instant Eye Makeup Remover, £17.85, johnlewis.com, Simple Kind To Eyes Eye Make-Up Remover, £1.85, Superdrug.com.
Cleanse: morning and night
The experts agree that much of choosing a cleanser should be based on preference. That said, using a cleanser daily that contains an acid is considered to be a big no no by those in the know.
"Using too many alpha hydroxy acids (AHAs) and beta hydroxy acids (BHAs) compromises the skin barrier and causes other problems," says Vico, while Clinical Aesthetician Pam Marshall agrees that "an acid cleanser is too much for skin daily - instead find something lipophilic [oil based] which can cleanse skin".
It is commonly accepted that you should tailor your cleansing routine to how much make-up you wear and your environment. As a rule of thumb, unless you find it doesn't work for your skin, it is advisable to cleanse once in the morning, and, once in the evening if you have been barefaced, but twice if you've been wearing make-up or have been in a city all day.
How you cleanse also has an impact. The best form: massage in your chosen cleanser, take a flannel or muslin steeped in warm water, wring it out, and remove the cleanser. Make sure you use a fresh flannel each time (especially if you have acne).
Some to try: Exuviance Gentle Cleansing Cream, £31, Mortarandmilk.com, Skinceuticals Gentle Cleanser, £28, Skincity.com, La Roche-Posay Effeclar H hydrating Cleansing Cream, £12.50, Lookfantastic.com, OSKIA Renaissance Cleansing Gel, 36, Lookfantastic.com, Elemis Pro-Collagen Cleansing Balm, £44, Lookfantastic.com.
Tone: morning and night
While treatment toners have enjoyed a few years of huge success, it's worth exercising caution while using them. "A treatment toner will generally contain an acid of some sort," says Marshall. "The aim of which is to slightly wound the skin, triggering a healing mechanism whereby more collagen and elastin is formed. This is great - provided you don't do it too often; wounds need to be left alone for a bit to heal."
If you want to use an acid toner, try to see it as a treatment rather than a daily essential, and steer clear if your skin is inflamed (i.e. you suffer from acne, eczema, or rosacea).
You could instead try Clinisoothe Skin Purifier, £14.95, Boots.com, which uses hypochlorous acid (a substance that occurs naturally in the body and is the same pH as skin, as well as being non-toxic and containing no alcohol) to soothe, calm, protect, and generally render skin more happy.
You can use it after cleansing morning and night - just spritz it directly onto skin, or apply to a cotton pad then to your face. It can also be used on the body if you have stings or ingrown hairs, and we like to slide a little bit across the screen of our phone nightly to make sure it's free of bacteria.
Serum: morning and night
Now that your skin is clean and ready to receive products, this is the bit where you can make an impact on your overall skin health. Cater this step to your skin type and concerns: if after hydration or some calming, try something containing hyaluronic acid and squalane, if you have pigmentation or dull skin, vitamin C and niacinamide are good ingredients.
You can also opt for an all-rounder if in doubt or if you would prefer to introduce an active every other or third day, which, according to Marshall, is a good way to go on a day-to-day basis. "Most people use too many serums that are too active - keep yours to something that will protect the barrier and hydrate, then a couple of times a week, add in actives."
Dr. Anjali Mahto suggests that in the case of vitamin C or vitamin A, that you try to "start slowly and introduce one active at a time. The key here is to use common sense; if your skin feels dry, tight, or sore, don't plod along for the sake of it - back off and give your skin a break".
Remember that you can zone your serum if need be, so if your T-zone is, say, spotty and your cheeks dehydrated, you could apply a different serum to each. Equally, if you're using an active, you can also add a more universal hydrating serum on top, if your skin doesn't react to that or feel overwhelmed with product.
Some to try: Emma Hardie Midas Touch Super Serum, £58, Lookfantastic.com, No7 Protect & Perfect Intense ADVANCED Serum, £20.80, Boots.com, Origins Plantscription Anti-Ageing Power Serum, £65, Lookfantastic.com, Medik8 Crystal Retinol 1Serum, £39, Lookfantastic.com, Exuviance AF Vitamin C20 Serum Capsules, £65, Mortarandmilk.com, Estee Lauder Advanced Night Repair Synchronized Multi-Recovery Complex, from £51, JohnLewis.com, Neostrata Bionic Face Serum, £48, Mortarandmilk.com, Exuviance Skinrise Bionic Tonic, £36, Mortarandmilk.com.
Moisturiser: morning and night
Moisturiser plays two roles: first, it provides a further buffer between your skin and the environment, reducing trans-epidermal [between the layers of the skin] water loss, and it also adds another layer of skincare, tucking in your serum, so to speak.
Marshall advises that you think of your skin condition when choosing - is it dry? Dehydrated? - and deciding on a moisturiser that feels right for that. Remember that you can also customise this step, applying a different moisturiser in the morning and at night, or by zoning different areas of your face.
Some to try: Embryolisse Lait-Creme Concentre Nourishing Moisturiser, £13, Boots.com, Exuviance Total Correct Hydrate, £71, Mortarandmilk.com, Clarions Hydra-Essential Cream, £33.30, Boots.com, Augustinus Bader The Cream, £205, Selfridges.com, CeraVe Facial Moisturising Lotion, £13, Lookfantastic.com.
SPF: morning (and reapplied throughout day if outdoors or sitting in direct sunlight)
If there is one thing every single skin guru agrees on, it is the importance of SPF. This is the case even during winter - UVA rays responsible for ageing still penetrate clouds, whatever the weather.
Dr. Mahto suggests always using a "broad-spectrum sunscreen, ideally SPF 30-50, with UVA and UVB protection, aiming for half a teaspoon to cover your face and neck". And if you find that your skin feels too overloaded if you apply this after moisturiser, skip the moisturiser, not the SPF.
Some to try: Saltee Face Daily Protection Formula SPF 50, £26.10, LibertyLondon.com, Alpha H Essential Daily Moisturiser SPF 50+, £23, Beautybay.com, Skinceuticals Ultra Facial UV Defense SPF 50, £41, Lookfantastic.com, Supergoop! Unseen Sunscreen, £30, CultBeauty.co.uk, Shiseido WetForce Expert Sun Aging Protection Cream, £34, Net-A-Porter.com.
Join our new commenting forum
Join thought-provoking conversations, follow other Independent readers and see their replies