40 secondary schools across England have banned pupils from wearing skirts
However critics argue that students should all have the option of wearing skirts or trousers, regardless of gender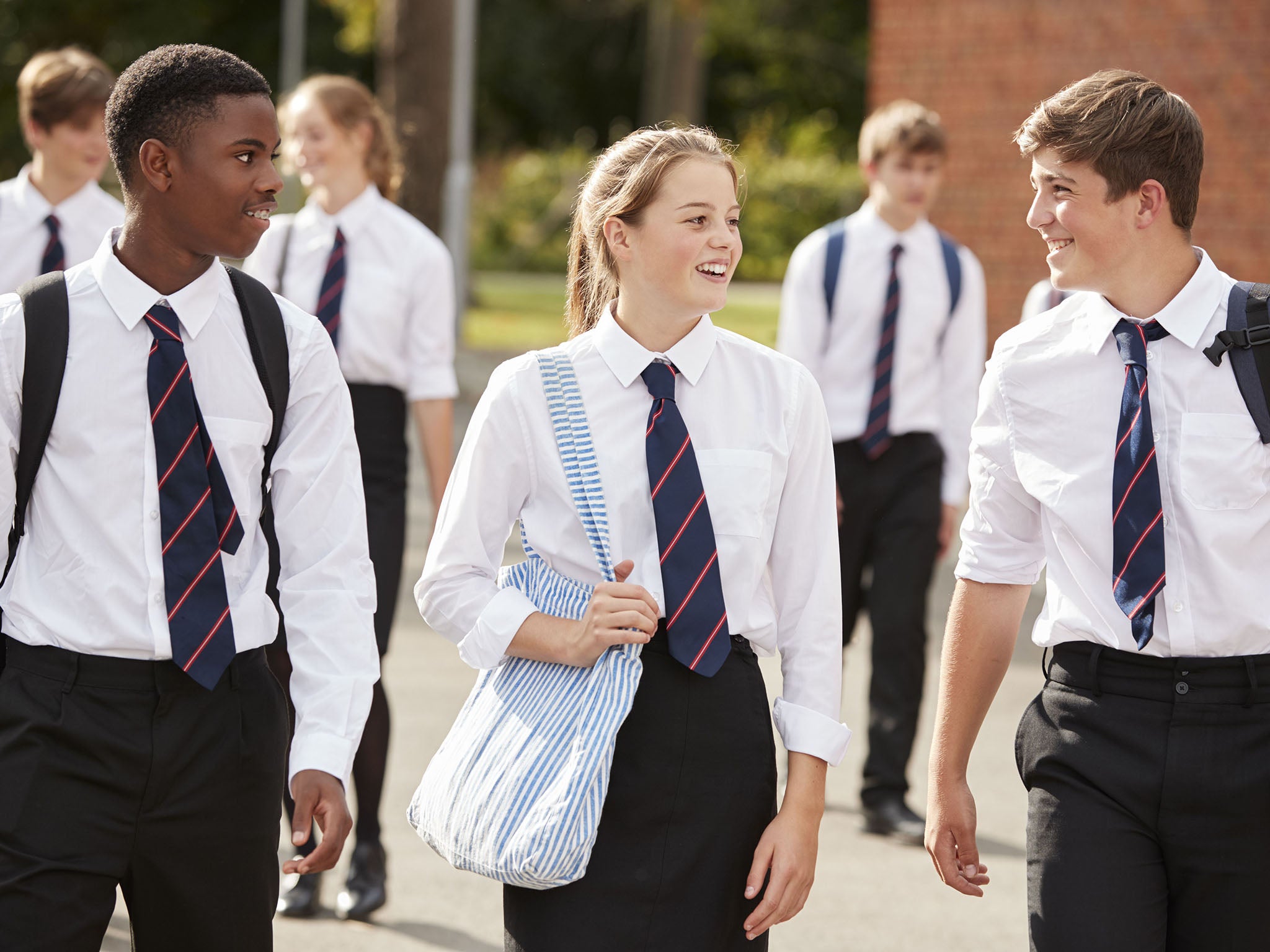 At least 40 secondary schools in England have banned girls from wearing skirts, an analysis of uniform policies across the country reveals.
Further schools are also considering the move to gender-neutral uniforms, which are more inclusive of transgender pupils.
One of the schools to have made the move last year is Priory School in Lewes, East Sussex, after pupils questioned why boys and girls should have to wear different clothing and stressed the importance of ensuring transgender students feel comfortable.
At Copleston High School in Ipswich, skirts feature on a list of unacceptable items of clothing alongside "skinny jeans and facial piercings," the Sunday Times reports. All pupils at the school must wear "plain grey trousers."
Meanwhile, at Woodhey High School in Bury, skirts have been banned because they can be "undignified and embarrassing" for staff and visitors when girls sit on the floor in assemblies and drama classes.
Eight secondary schools in Ipswich now ban skirts, meaning that the majority of girls attend "trouser-only" schools.
There are also bans in schools in Leeds, Grimsby and Bradford, where some schools with a high proportion of Muslim pupils do not allow skirts for modesty reasons.
However some critics of the decision argue that rather than forcing all pupils to wear trousers, students should all have the option of wearing skirts or trousers, regardless of gender.
"I think that trousers-only for everyone is a silly way to go — unless you are going to also offer the option of skirts-only for everyone," said American writer Naomi Wolf.
"I believe that if everyone is offered the option of both skirts and trousers, everyone can find his, her or their comfortable fit."
Last month, Chiltern Edge School in Oxfordshire banned boys from wearing shorts in summer but said they were free to wear skirts instead, and earlier this year the headteacher of leading boarding school Uppingham School in Rutland revealed boys were allowed to wear skirts.
At Phillips High School in Bury, a skirt ban is planned for new pupils joining the school in September 2018 and all pupils from the following year, but students have launched a petition against the move, gathering thousands of signatures.
They argue that: "We feel more confident wearing a skirt and school trousers are unflattering. Self-esteem issues are on the rise among teenagers, so making us unable to wear clothes we feel our best in will damage our mental health, and in turn our school performance."
The petition also argues that trousers are often more expensive than skirts.
"It is grossly inappropriate for staff members to sexualise and police the bodies of children in their care," it continues. "There is nothing offensive about a child's knee and lower thigh. If any teacher believes seeing a child's leg is in any way 'too sexual' they should be sacked immediately for gross misconduct."
The government is currently preparing to clarify the rights of transgender people in the Gender Recognition Act, with a consultation paper expected tomorrow.
Join our commenting forum
Join thought-provoking conversations, follow other Independent readers and see their replies