RSPCA urges people to cut straps on disposable masks to protect wildlife from getting caught
The charity has helped over 900 animals injured in incidents relating to litter since lockdown began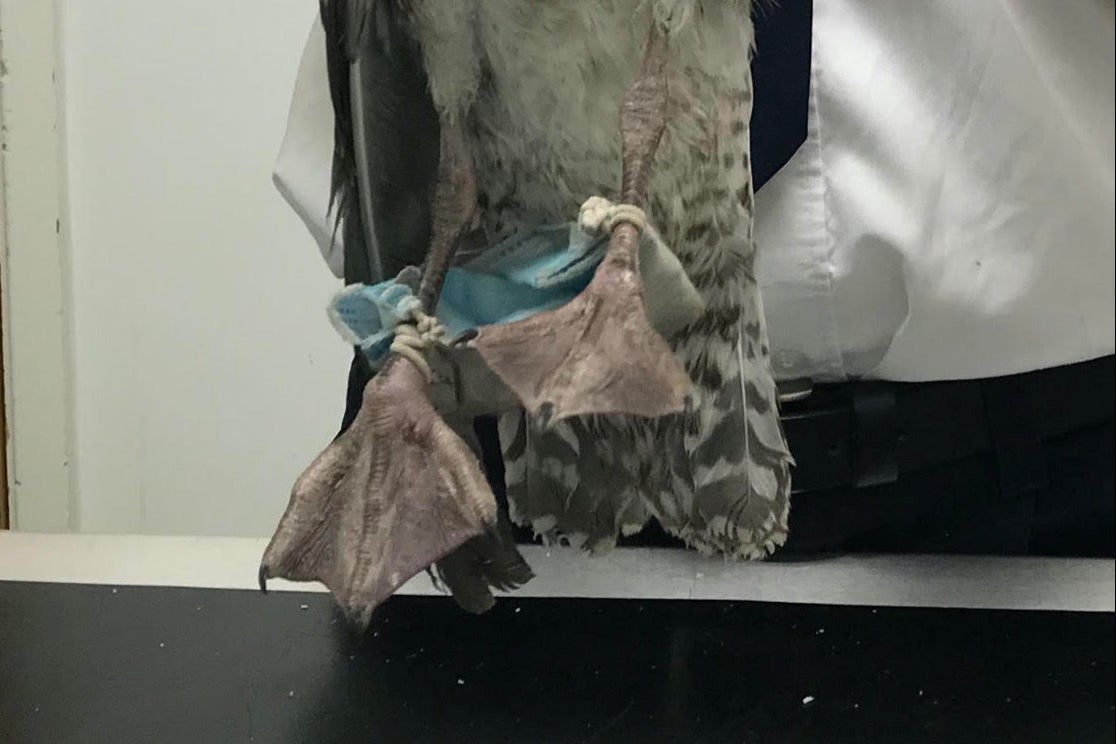 The RSPCA is appealing to the public to "snip the straps" of disposable masks after its staff have received an increasing number of reports of animals tangled in them.
Since lockdown started on 23 March, the charity says it has dealt with 938 incidents of animals caught in litter, including tin cans, elastic bands and plastic bottles.
The charity has made the call to coincide with Keep Britain Tidy's Great British September Clean, which runs to 27 September.
It reports that the most recent incident saw a gull in Chelmsford, Essex become entangled in a face mask wrapped so tightly around its leg that it had caused swelling. The bird has made a full recovery after being attended to by an officer from the charity.
The charity's chief executive Chris Sherwood compares the "snip the straps" drive to its initiative asking the public to cut plastic rings for cans.
"We are keen to get out the message that the same should be done for face masks too - as very sadly, animals are susceptible to getting tangled up in them", explains Sherwood.
"Now that face masks are the norm, and may be for some time to come, this message is more important than ever as thousands of these masks are being thrown away every day.
"We're concerned discarded face masks could become a significant hazard, particularly to wild animals and birds.
"Our RSPCA officers have had to rescue animals from getting tangled in face masks and we expect that this may go up as time goes on, so the best thing to do is to simply cut the elastic ear straps in half before throwing it away."
The RSPCA warns that plastic bag, broken glass, elastic bands and plastic gloves are also a risk to animals when not disposed of properly.
The charity's website advises recycling and reusing as much as possible to prevent injuries. Cleaning empty bottles and cans and cutting up plastic is also recommended in order to minimise the risk of injury to wildlife.
Political parties have warned of the further negative effects of masks on the environment, urging the government to encourage the use of reusable masks instead. 
The Green Party has urged ministers to advise the media to minimise showing them in order to prevent them becoming "normalised", reports The i.
Official guidance in England is to wear a reusable, washable mask when possible.
Disposable masks must be disposed of in bins as they contain the plastic polypropylene, which cannot be recycled.
Data company Restore estimates that people are using 125 billion masks a month globally. 
Research from the University College London Plastic Waste Innovation Hub team suggests that in the UK alone,  66,000 tonnes of plastic waste and 57,000 tonnes of plastic packaging will be generated if every person uses just one single-use mask a day for a year.