LIFESTYLE FEATURES
The pubs closing didn't stop us drinking, but our relationship with alcohol has changed
As the annual month-long sobriety pledge is over again, Olivia Petter examines how the UK can have a healthier attitude to drinking for the rest of the year
Wednesday 10 February 2021 07:32
comments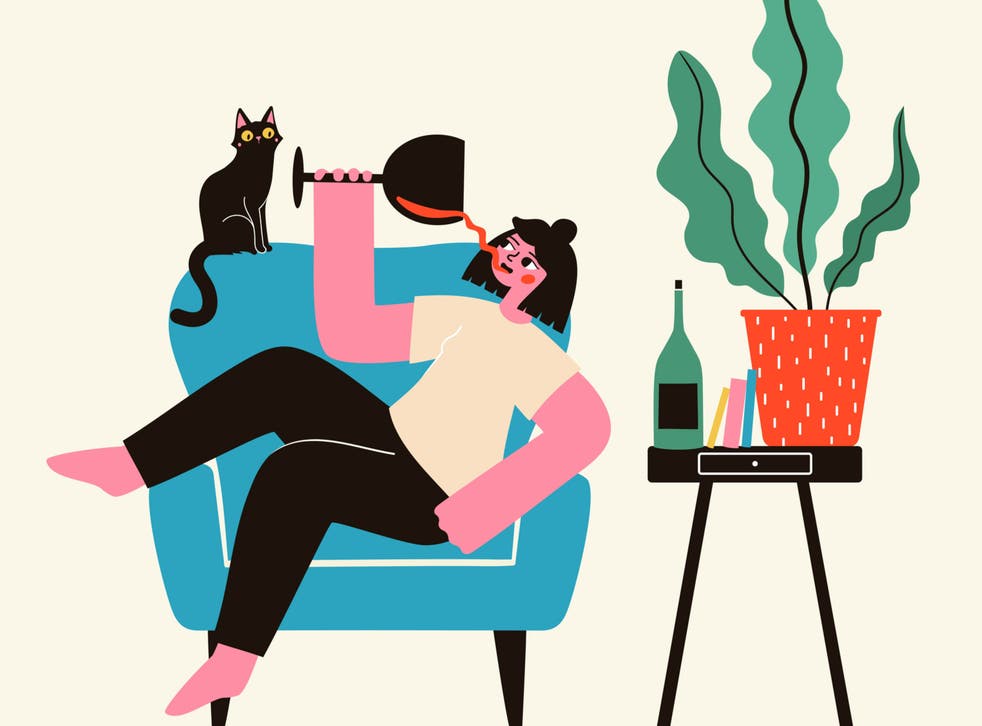 W
hen Boris Johnson announced that the UK would be going into another national lockdown on 6 January, everyone made the same joke. "Well, so much for Dry January," tweeted one person. "To hell with the Dry January!" added another, while memes bearing similar statements went viral. Even celebrities chimed in, with Piers Morgan, Philip Schofield, and The Saturdays' Frankie Bridge all teasing that, in light of the latest news, they would no longer be upholding the annual month-long sobriety pledge.
These comments might have been lighthearted, but they also illustrated something that is fundamentally true about Britain's relationship with alcohol – that in times of difficulty we cannot be expected to live without it or that it is a reward for coping with adversity. "In our society, alcohol is a go-to for numbing out from stuff we find hard to be with, so it makes sense that people use it to cope," says Ruby Warrington, author of the 2019 book Sober Curious. "Bravado about lockdown drinking also fits with our 'keep calm and carry on' stiff-upper-lip mentality, even though drinking as a way to cope in difficult times makes us much more likely to become seriously addicted". 
It's no wonder then that in the last year an increasing number of people have become concerned about the amount they drink. The charity Alcohol Change UK revealed that one in five people felt worried about how much they had been drinking since the pandemic began, while one in three admitted to drinking more in 2020 compared to 2019.
"For many people, 2020 was a year of increased stress and increased alcohol consumption," says Dr Richard Piper, chief executive of Alcohol Change UK. "With pubs closed for much of the year, a sharp rise in home drinking meant that many people found themselves drinking more heavily, more often, earlier in the day, and drinking to cope."
According to the charity Drinkaware, besides looking to reduce stress and anxiety, the most common reasons for people drinking more during periods of lockdown were having less structure to their day or week (a glass of wine to help you transition from work to leisure time?) having more time available without plans or just to relieve boredom. Other factors included job insecurity, negative mental health and increased caring responsibilities.
It's no secret that drinking more during periods of hardship only exacerbates the negative experiences you're trying to drown out, as well as potential mental and physical health issues. But, as Millie Gooch, author of The Sober Girl Society Handbook points out, we've been culturally conditioned to believe that the opposite is true – that alcohol is a positive that we deserve when everything else looks bleak. "Look at the mummy wine culture," she says, referring to the popular "wine mom" meme that depicts mothers drinking wine as a way of taking the edge of parenting.
"The issue is that if we do this, we never actually learn to cope or deal with negative emotions," she says. "We don't actually work through that stress and then feel more resilient for it next time. And, as we drink more, our tolerance also builds so we have to keep drinking more to get the same effect – and this is how your drinking can become more problematic."
Heavy drinking can also have physical consequences, of course. Dr Sarah Jarvis, Drinkaware's medical advisor, explains how excessive drinking can reduce your body's immune function, irritate your stomach, increase your chances of high blood pressure and potentially also cause liver issues. "It can also affect the condition of our skin and our concentration levels," she adds.
The irony is that before the pandemic, research suggested that British culture and attitudes towards alcohol were changing significantly, particularly among young people, with a 2018 BMC study finding that one in four people aged 16 to 24 classed themselves as "non-drinkers". 
Then there's the staggering rise of non-alcoholic beverages, a market currently spearheaded by brands like Seedlip and Cedar's Wild, which offer alcohol-free botanical spirits. Additionally, Google searches for terms like "alcohol-free" and "non-alcoholic" have been steadily increasing since 2004. But it's not just about more people cutting out alcohol altogether. The BMC study also found that 43 per cent of British women and 84 per cent of British men said that they simply wanted to drink less. Enter sober curiosity, a term coined by Warrington in 2018 to describe a shift towards sobriety without necessarily cutting out alcohol completely. 
"Younger generations are much more well-versed in what constitutes wellbeing," Warrington explains. "They're also much more open about mental health struggles, and are much more willing to ask for help if they need it." This could explain why they may not be as reliant on alcohol as an emotional crutch as previous generations.
Although its clear that any positive society-wide movements towards drinking less pre-pandemic might now have faced a serious bump in the road, there is still reason to be optimistic about the future.
Gooch, who runs a social media platform dedicated to celebrating sobriety, adds that millennials tend to be more conscious consumers. "We see this is the rise of veganism and sustainable fashion," she says. "We have more access to information and more access to being able to view people who are doing the same thing so we question it within ourselves. We are the generation that asks 'Are we doing this because we want to or is it because we've always done it?' and I think alcohol is just the next thing we're putting under the microscope."
If you've been reflecting on your own drinking in lockdown, there are many ways to go about experimenting with sober curiosity. One, Gooch suggests, is simply to be more mindful when deciding whether or not to have a drink. "Are you drinking because you want to have a glass of wine at dinner to celebrate a work promotion, or are you mindlessly downing gin and tonics because you're anxious about lockdown?" she says, adding that the latter puts you at risk of developing unhealthy habits down the line.
Using the Halt technique could help, too. "Halt is an acronym for hungry, angry, lonely, tired, which gets you to pause and assess whether it could actually be one of those emotions that are causing you to reach for something outside of yourself, such as alcohol," Gooch explains. "You might actually just need to take a nap or have a bath instead."
Dr Piper suggests planning ahead and sticking to the NHS guidance on drinking, which advises drinking no more than 14 units of alcohol a week, which is the equivalent to six pints of average-strength beers or 10 small glasses of low-strength wine. "Try planning your sober periods a week or a month at a time," he suggests. "Small chunks are more manageable. It might also help to think about your sobriety as something which you can always change – you're not sober forever, you just don't drink right now. You can change that whenever you feel like it."
There are many benefits to reducing, or completely cutting out alcohol, notes Dr Jarvis. Some of the more noticeable benefits include better sleep, improved mood, brighter skin, more energy, and increased productivity. "You might be really pleasantly surprised at how much better you can feel in the short and medium-term," she adds. "And of course, at the same time, by reducing or cutting out alcohol, you will improve your long-term health, something that we all know is more important now than ever before."
Alcoholics Anonymous helpline is open 24/7 on 0800 9177 650. If you would prefer, you can also email them at help@aamail.org or live chat via their website at www.alcoholics-anonymous.org.uk. 
Drinkline, a free, confidential helpline for people who are concerned about their drinking, or someone else's. Call 0300 123 1110 (weekdays 9am–8pm, weekends 11am–4pm).
Join our new commenting forum
Join thought-provoking conversations, follow other Independent readers and see their replies