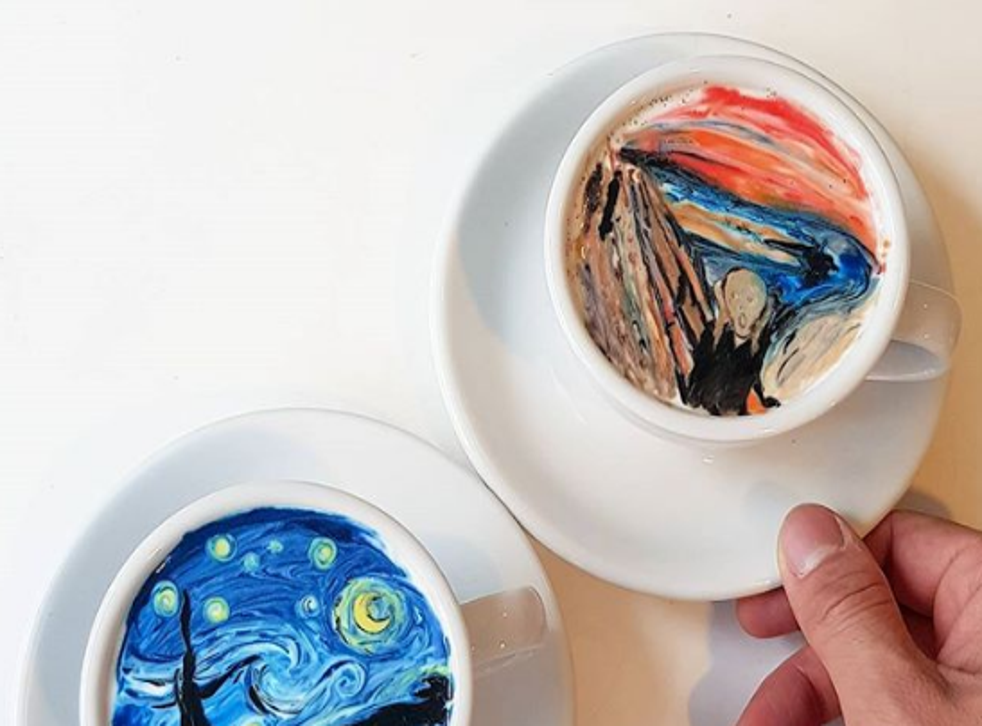 South Korean barista is recreating Vincent Van Gogh on lattes
South Korea is a new hub for the latte art scene with a per capita coffee consumption that has almost doubled since 1990. 
Beth Timmins
Thursday 27 July 2017 16:55 Comments
South Korean barista Lee Kang-bin is pioneering "CreamArt" by drawing intricate designs on the layer of steamed milk that sits atop a coffee.
Mr Kang-bin's astounding creations include miniature imitations of famous paintings such as Vincent Van Gogh's "The Starry Night" and "The Scream" by Edvard Munch.
Mr Kang-bin carefully etches the beautiful creations into the frothy layer on the top of a coffee using cream tinged with a palette of food dyes.
The delicate artistry takes him 15 minutes to complete and the coffees are sold for 10,000 won (£6.74) a cup at his shop "Café C. Through" in Seoul.
Disney favourites Bambi, Snow White and Winnie the Pooh also feature alongside startlingly realistic versions of Edgar Degas's dancers and Leonardo DiCaprio portraits.
"One time I drew 'The Starry Night' and it looked so special as the famous painting placed on top of coffee. After that, lots of people ordered that coffee," Mr Kang-bin told Reuters.
On Instagram 161,000 users follow his CreamArt and frequently request versions of their favourite art works.
Despite never formally learning how to draw, his masterful designs have earned him a judge's seat at latte art competitions around the world.
Mr Kang-bin has been brewing coffee since he was 17 years old. He began making coffee while completing his compulsory military service and decided to buy his own machine and open a café for other soldiers in his camp.
South Korea is a new hub for the latte art scene with per capita coffee consumption almost doubling since 1990, according to the International Coffee Organisation.
Recent customer Kim Su-Kyung told Reuters: "I heard (on TV) that this barista draws these kinds of famous paintings. I think he has very talented hands."
Register for free to continue reading
Registration is a free and easy way to support our truly independent journalism
By registering, you will also enjoy limited access to Premium articles, exclusive newsletters, commenting, and virtual events with our leading journalists
Already have an account? sign in
Join our new commenting forum
Join thought-provoking conversations, follow other Independent readers and see their replies