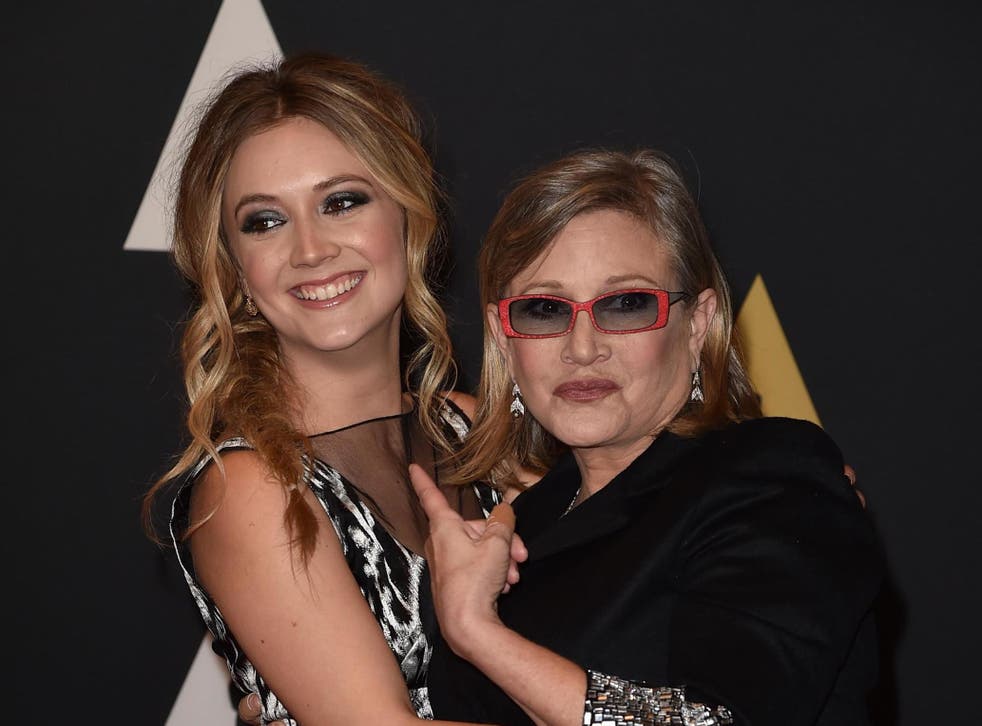 Billie Lourd pays homage to her late mother Carrie Fisher on Star Wars Day
'My heart goes out to everyone who has lost someone they loved during this beyond surreal time,' Lourd writes on Instagram
Sabrina Barr
Tuesday 05 May 2020 09:20 Comments
Billie Lourd has paid tribute to her late mother Carrie Fisher on Star Wars Day.
Every year, Star Wars fans across the world celebrate their love for the science-fiction franchise on 4 May, dubbed "May the Fourth" in reference to the well-known catchphrase "May the Force Be With You".
On the day of the global event, Lourd, who starred as Lieutenant Connix in the sequel trilogy, shared a photograph on Instagram of her mother in character as General Leia Organa.
Fisher passed away on 27 December 2016 at the age of 60 after suffering a cardiac arrest.
In her Instagram caption, Lourd expressed her condolences to those who have lost loved ones throughout the coronavirus pandemic.
"My heart goes out to everyone who has lost someone they loved during this beyond surreal time," the 27-year-old said.
Lourd also revealed on her Instagram Story that she spent Star Wars Day watching the third film in the original trilogy, sharing snapshots of scenes featuring her mother.
Several of Lourd's Instagram followers shared messages of support in honour of her mother in the comment section underneath her post.
"Your mother's looking down on all of us. She'd be very proud of you," one person wrote.
"I watched Star Wars for the first time last week and got extremely emotional. Your mother was beyond brilliant," another said.
Someone else thanked Lourd for her message, stating that 4 May is the one-year anniversary of their brother's death.
"I lost my mother in 2007 and miss her more with each passing day. But this virus is something so different," another Instagram user wrote.
"My daughter had it — three weeks of horror. Then we lost five people in two weeks. We are numb. Please be kind to yourself. Stay grounded. Calm and enjoy the simple beauty in this life. There are no guarantees."
Star Wars films – ranked worst to best

Show all 11
In December 2019, Star Wars sequel trilogy star Daisy Ridley opened up about what it was like to film scenes in the last film without Fisher, who appeared in the final instalment posthumously.
The actor told GQ that filming scenes in Fisher's absence "was definitely difficult".
"It was emotional doing it, because you're also weirdly picturing her," Ridley said.
"You're not picturing how the scene is going to be."
Register for free to continue reading
Registration is a free and easy way to support our truly independent journalism
By registering, you will also enjoy limited access to Premium articles, exclusive newsletters, commenting, and virtual events with our leading journalists
Already have an account? sign in
Join our new commenting forum
Join thought-provoking conversations, follow other Independent readers and see their replies