This photo shows what 28 years of sun damage does to your face
This is shocking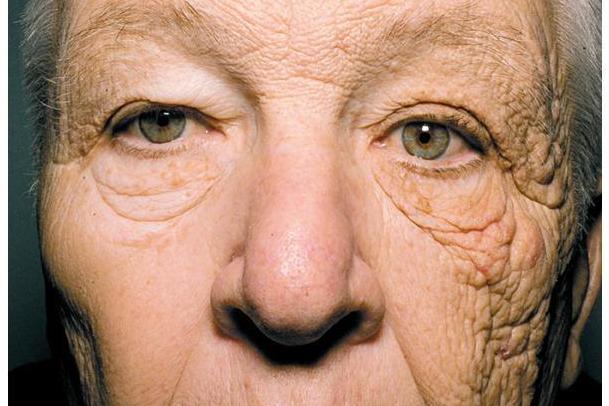 This picture of a truck driver - and the damage prolonged exposure to the sun did to the left side of his face - will make you never want to leave home again without smothering your face in SPF.
Published in the New England Journal of Medicine, the 69-year-old's portrait is notable because only one side of his face was exposed to the sun, due to the nature of his job. As a result, it's possible to see how his entire face could have looked if he'd worn sunscreen.
According to the publication, upon examination of the left side of his face, the findings were "consistent with the Favre-Racouchot syndrome of photodamaged skin, known as dermatoheliosis."
Essentially, the left side of the man's face appears severely wrinkled because, as a truck driver of 28 years, it was constantly exposed to Ultraviolet A (UVA) rays transmitted through the truck window, whereas the right side was covered - and relatively unharmed.
In this case, the man has unilateral dermatoheliosis - which means the skin on the left side of his face has gradually thickened from the sun exposure.
Congenital skin conditions presented in empowering photography exhibit
Show all 10
Capable of penetrating glass windows and clouds, unlike UVB rays, UVA rays "penetrate the epidermis and upper layers of the dermis," according to the journal, which published the findings in 2012.
The chronic exposure also resulted in the destruction of the skin's elastic fibres - which explains the deep wrinkles and an aged appearance.
Unfortunately, it is almost impossible to avoid UVA rays, as UVA rays account for "up to 95 percent of the UV radiation reaching the Earth's surface," according to Skincancer.org
And, while it was originally thought that ultraviolet B (UVB) rays are more commonly linked to higher rates of skin cancer, according to the publication, "UVA has also been shown to induce substantial DNA mutations and direct toxicity, leading to the formation of skin cancer."
Although the damage has already been done, doctors eventually recommended the use of sunscreen and topical retinoids to the man.
It was also recommended that he gets periodic monitoring for skin cancer, according to the journal.
Reminder: use sunscreen even when it's cloudy.
This article was originally published in January 2018
Join our commenting forum
Join thought-provoking conversations, follow other Independent readers and see their replies