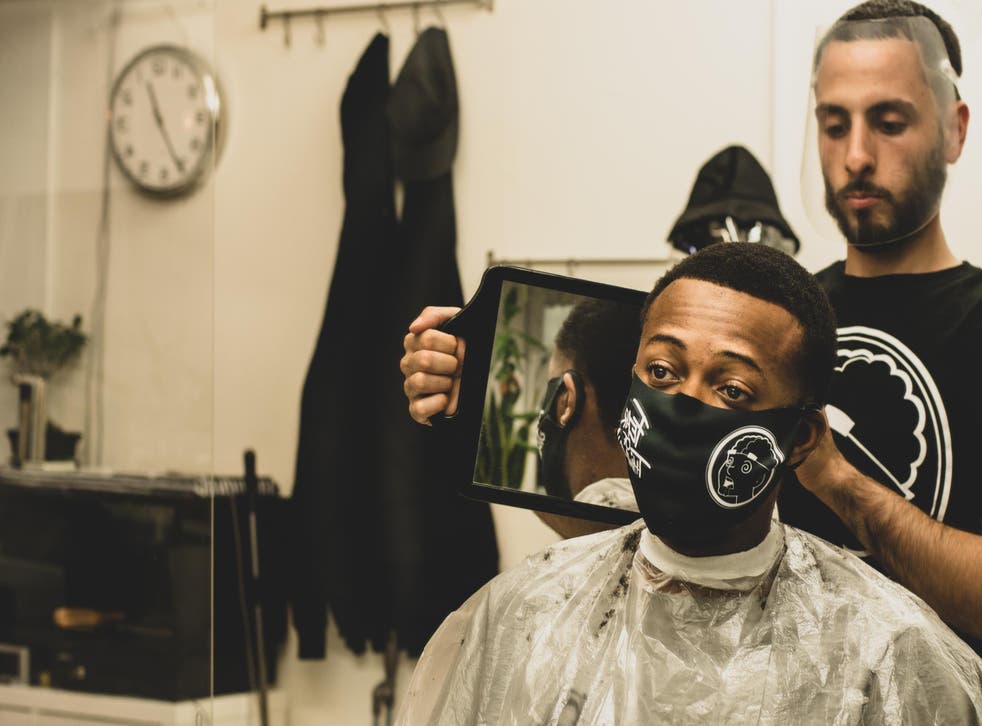 Super Saturday haircuts in pictures: Before and after shots
As hairdressers reopen across England, Chiara Brambilla spoke to several customers as they had their hair cut for the first time in months
Chiara Brambilla
Sunday 05 July 2020 15:18 Comments
Yeside Linney, a 70-year-old retired teacher, was a little flustered when she sat in the chair to get her hair cut for the first time after three months of lockdown. She had come for a wash and a braiding, for extensions and to get her new curls set at the earliest possible moment.
"I was desperate to come back and was a little nervous but, because I trust the salon, I trust my stylist to make sure they will treat my hair well," she told The Independent at Purely Natural Salon in Stratford, east London.
Yeside, like so many across England, headed straight for the hairdressers on "Super Saturday", the day the government gave the green light to barbers and salons to open their doors to eager clients under strict social distancing rules.
"It's all about being responsible so I am going to go away from here not only happy about my hair but also happy that I had a safe experience so I don't have anything niggling in the back of my mind," Yeside said.
Idris Barbering Co. in Tottenham, north London opened at midnight on Saturday to cater to its customers. It was dark outside but for the first time in months electric clippers hummed inside the shop and customers laughed and chatted in the two-seat barber shop.
Super Saturday haircuts in pictures: Before and after shots

Show all 15
Levi Robbins, a 29-year-old lab technician at Birkbeck University, said he was reticent about pubs, restaurants and salons opening so early, adding that PPE was crucial for everyone, not just hairdressers.
"Make sure you are thinking of others as well as yourself. But otherwise it's almost exactly the same as before. The only difference now is that you wear slightly more protection," he said.
Levi explained, like many others, he had been forced to make do with some "sketchy haircuts" in lockdown. "For the first time in my life, I thought I might try and see what I looked like with long hair. And that kind of went out the window really quickly," he said.
At Muse of London salon in Fitzrovia, Kate Knight, a 32-year-old recruiter, said she had been strategising over how and when to get her first hair appointment for months. She wasn't disappointed with the results when she finally got the chance to sit in the chair with her hairdresser Carly Price.
"I think when you are being in lockdown and you've got roots and you are looking in the mirror quite a lot because you are at home and you are in that space, it does get you down. To be able to have nice hair again and feel good about yourself, it is just amazing," Kate said.
"I wouldn't be scared," she said, addressing those who might be worried about going out to get their hair done. "People have been in lockdown for a long time. We need to be kind to ourselves."
Register for free to continue reading
Registration is a free and easy way to support our truly independent journalism
By registering, you will also enjoy limited access to Premium articles, exclusive newsletters, commenting, and virtual events with our leading journalists
Already have an account? sign in
Join our new commenting forum
Join thought-provoking conversations, follow other Independent readers and see their replies