Taiwan Gay Pride: Best pictures from the 2018 Taipei celebrations
Event takes place a month before referendum on same-sex marriage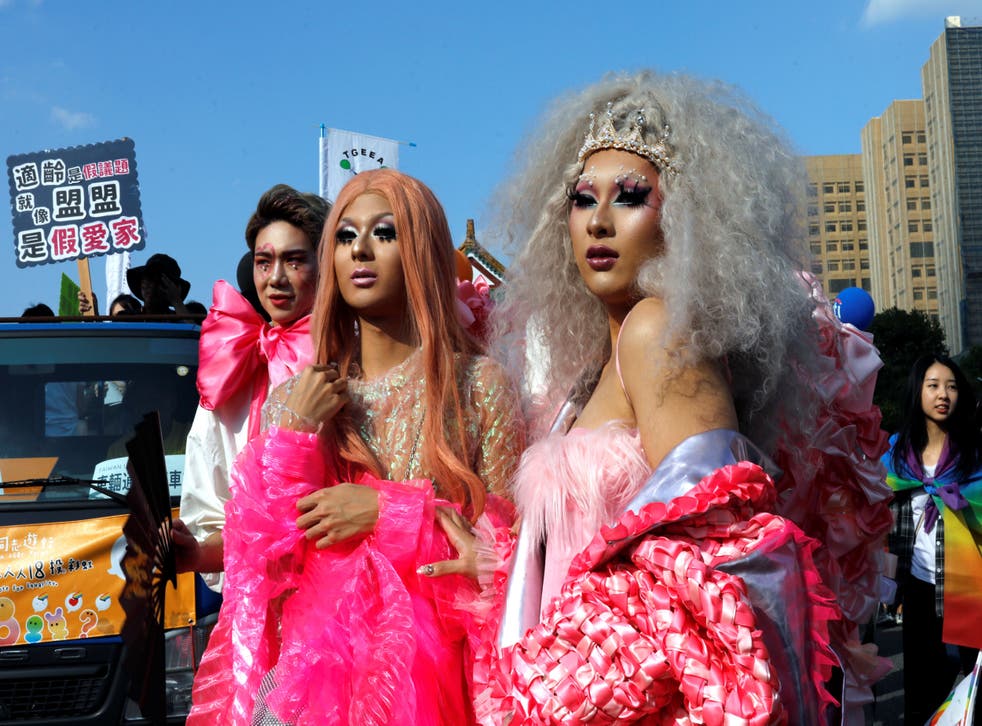 Thousands of people took to the streets of Taipei to march in the annual Taiwan Gay Pride Parade.
This year's LGBT+ event took place a month before a historic vote on same-sex marriage, which is due to take place in the country on November 24.
The government ruled that same-sex couples had a legal right to marry in May.
It said that the legalisation of same-sex marriage in the state would come into effect after two years.
In February this year, an organisation who oppose the notion of same-sex marriage proposed that a referendum be held on the issue.
In the list of questions devised by the group, they ask voters to answer whether they think marriage should be defined as being "between a man and a woman."
In response to the questions put forward by the organisation, a group who are in favour of same-sex marriage also put forward their own question to be included in the referendum.
Best pictures from the 2018 Taipei Gay Pride March in Taiwan

Show all 35
Their question asks whether votes think the Civil Code should be amended in order to allow same-sex couples to marry.
The referendum will ask voters to answer a total of 10 questions on topics including LGBT+ rights, same-sex marriage, nuclear power and coal power.
In order for a referendum to pass in Taiwan, at least 25 per cent of the voters must vote in favour of the question.
There were approximately 137,000 people at the Taipei Gay Pride Parade, according to the event's organisers.
Support free-thinking journalism and attend Independent events
Civil rights rights activist Chi Chia-wei was among those in attendance.
In 1986, Mr Chi became the first person in Taiwan to come out as gay on national television.
He made the announcement at a press conference, where he spoke about his sexuality and the importance of AIDS and HIV awareness and prevention.
The first pride march in Taiwan was held in 2003.
Register for free to continue reading
Registration is a free and easy way to support our truly independent journalism
By registering, you will also enjoy limited access to Premium articles, exclusive newsletters, commenting, and virtual events with our leading journalists
Already have an account? sign in
Register for free to continue reading
Registration is a free and easy way to support our truly independent journalism
By registering, you will also enjoy limited access to Premium articles, exclusive newsletters, commenting, and virtual events with our leading journalists
Already have an account? sign in
Join our new commenting forum
Join thought-provoking conversations, follow other Independent readers and see their replies