The Independent's journalism is supported by our readers. When you purchase through links on our site, we may earn commission.
How to take part in #TakeTheKnee campaign organised by Stand Up to Racism
Campaign takes inspiration from American football player Colin Kaepernick, who began a kneeling protest in 2016 in demonstration against racial inequality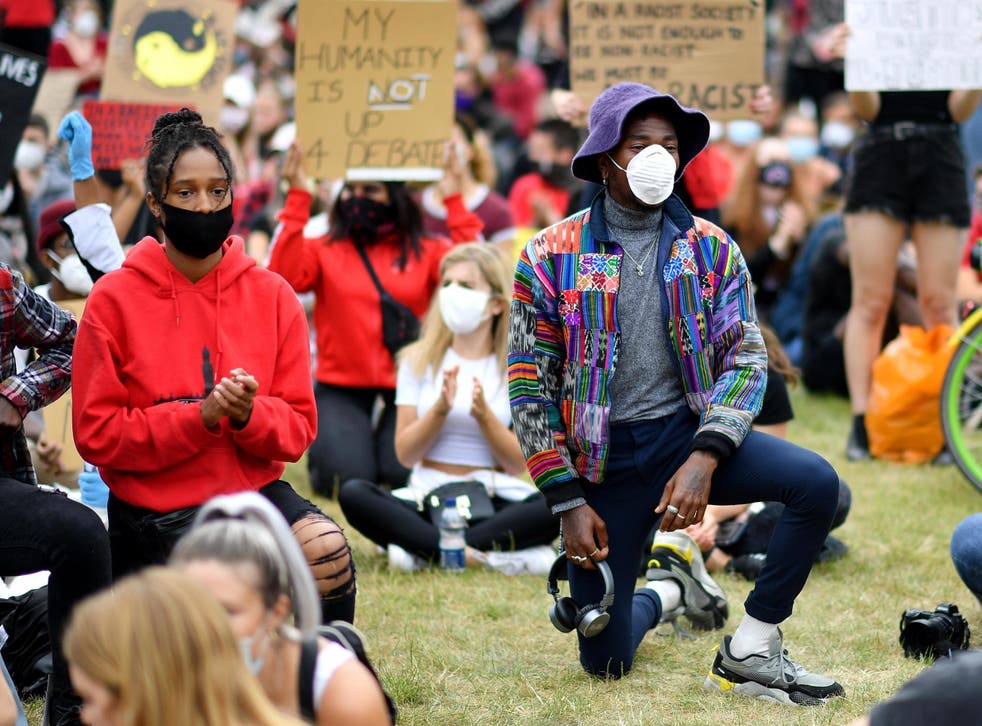 Ever since 46-year-old George Floyd was killed in Minneapolis on Monday 25 May, protests have taken place in the US and across the world in support of the Black Lives Matter movement, denouncing continued police brutality against black people.
In addition to protests, some supporters have also been taking part in social media campaigns as a show of their support.
On Tuesday 2 June, numerous Instagram users observed Blackout Tuesday, which saw them post a black square on their feeds as a show of solidarity.
However, the initiative also received criticism for making it harder for people to find Black Lives Matter resources and information on upcoming protests.
Stand Up to Racism (SUTR), an organisation which campaigns against racism, fascism, Islamophobia and antisemitism, has organised a campaign called "Take The Knee" to show support for those protesting in the aftermath of Mr Floyd's death.
How can you take part in the "Take The Knee" event?
SUTR is asking that those who take part in the initiative kneel on their doorsteps at 6pm on Wednesday 3 June.
The anti-racism campaign group is also encouraging participants to hold up signs that read "#JusticeforGeorgeFloyd" and "#BlackLivesMatter".
The organisation explained on its Facebook event that the purpose of the campaign is to also "highlight the disproportionate BAME deaths in the Covid-19 crisis in the UK".
"Wherever you are, at 6pm on Wednesday 3 June, #TakeTheKnee +/ hold a sign on your doorstep to say #BlackLivesMatter, #JusticeForGeorgeFloyd," the campaign group tweeted.
"The millions who stand against racism must be heard."
Where did the idea for the campaign come from?
SUTR said that the inspiration for the "Take The Knee" campaign came from American football player Colin Kaepernick.
In 2016, the athlete and activist began a kneeling protest at NFL matches when the US national anthem was being played, after initially carrying out his demonstration by sitting on the bench while other players stood up.
The aim of the protest was to raise awareness of racial inequality and police brutality against black people.
In August 2016, Kaepernick explained his decision to refrain from standing when the national anthem was played.
"I am not going to stand up to show pride in a flag for a country that oppresses black people and people of colour," he said.
"To me, this is bigger than football and it would be selfish on my part to look the other way. There are bodies in the street and people getting paid leave and getting away with murder."
Kaepernick's kneeling protest has since become a symbol of the Black Lives Matter movement.
Register for free to continue reading
Registration is a free and easy way to support our truly independent journalism
By registering, you will also enjoy limited access to Premium articles, exclusive newsletters, commenting, and virtual events with our leading journalists
Already have an account? sign in
Register for free to continue reading
Registration is a free and easy way to support our truly independent journalism
By registering, you will also enjoy limited access to Premium articles, exclusive newsletters, commenting, and virtual events with our leading journalists
Already have an account? sign in
Join our new commenting forum
Join thought-provoking conversations, follow other Independent readers and see their replies