Influencers ignore coronavirus to hold house party
Tana Mongeau apologises for attending parties during coronavirus pandemic: 'Such a careless and irresponsible action'
James Charles also apologises for his attendance and encourages followers to 'wear your masks' 
Tana Mongeau has apologised for her "careless and irresponsible" decision to attend a party amid the coronavirus pandemic after her fans criticised her behaviour.
On Sunday, the YouTube star addressed the backlash over her recent attendance at a large party in Los Angeles on Instagram, where she wrote: "Partying/going to any social gatherings during a global pandemic was such a careless and irresponsible action on my behalf.
"I fully hold myself accountable for this and will be staying inside. Actions like that don't deserve a platform and I want to fully apologise and be better than this. I'm sorry."
The 22-year-old's apology comes after she was called out by her fans for attending numerous California parties in which attendees could be seen not adhering to social distancing guidelines.
Last weekend, Mongeau was among many other influencers criticised for attending a party at the Hype House, a mansion in the Hollywood Hills where numerous TikTok personalities live.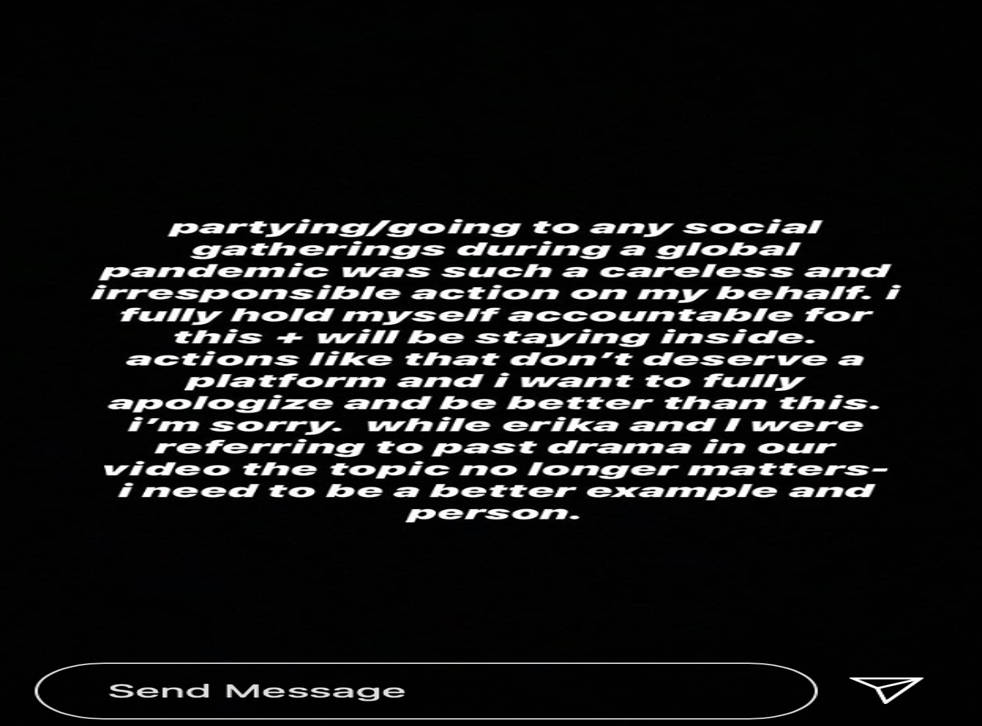 "If your favourite influencers are at huge house parties during a pandemic (& are dumb enough to post it on social media)... they are bad influences. Unfollow them," YouTuber Tyler Oakley tweeted shortly after the party, which saw many of those in attendance share videos and pictures from the gathering to their social media accounts.
In a follow-up tweet he added: "Hi @jamescharles @NikitaDragun @tanamongeau @larrayxo @charlidamelio @dixiedamelio & any others who have been partying in large groups – please consider social distancing, mask-wearing, & using your huge platforms to encourage responsibility during a worldwide pandemic."
However, despite the criticism, Mongeau continued to attend large gatherings, with her Instagram Story on Saturday showing her and YouTuber Erika Costell saying "listen, we don't f***ing care", while appearing to be at another party, according to a recording of the Story shared to Twitter.
In her statement, the YouTuber stressed that she and Costell were actually referring to "past drama", in the since-deleted video and not the pandemic.
"While Erika and I were referring to past drama in our video the topic no longer matters – I need to be a better example and person," she concluded.
Following Mongeau's apology, many on social media accused her of issuing the public statement only because she was called out by her fans.
"Tbh @tanamongeau's apology was a joke. You knew exactly what you were doing. Get real," one person tweeted.
Another said: "Reading @tanamongeau apology about going out and consistently partying during a pandemic. Girl you've said that apology so many times now. Actions > words."
"@tanamongeau you're only ever sorry when you get caught, also your apologies get worse every time and there's only so many times you can blame your age for doing stupid sh*t," someone else tweeted at the influencer.
Mongeau's apology comes after James Charles also released a public statement regarding his attendance at the Hype House party, which he said was a "selfish and stupid decision", according to BuzzFeed.
"Even though I have been wearing a mask in public and have tested negative multiple times, going to a party during a pandemic was a selfish and stupid decision," Charles wrote.
"People's safety and keeping Covid-19 contained is FAR more important than celebrating a friend's birthday and unsafe partying is not something I want to promote to my audience," he continued. "I recognise that with my platform comes responsibility, and I encourage you guys to be smarter than I was.
"Wear your masks and continue to social distance."
As of Thursday, California passed New York in the number of coronavirus cases, with the state reporting more than 450,000 confirmed cases.
Join our new commenting forum
Join thought-provoking conversations, follow other Independent readers and see their replies