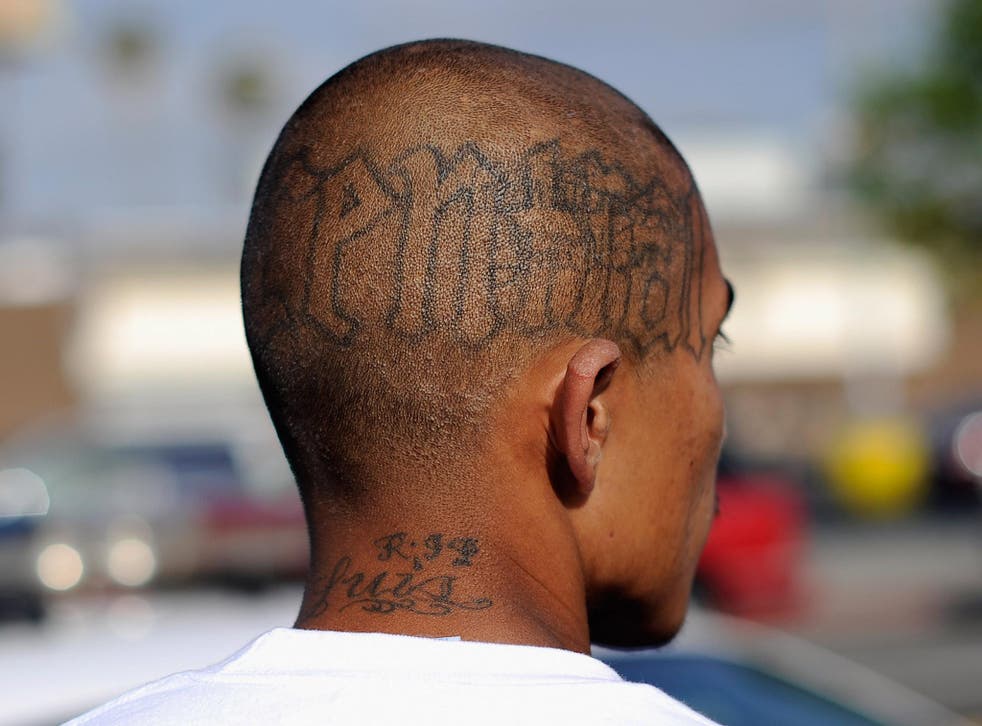 The doctor giving gang members a fresh start by removing their prison tattoos for free
Removing a tattoo can take seconds, but costs thousands of dollars 
Kashmira Gander
Wednesday 08 February 2017 14:48 Comments
When prisoners in the US are released, the lives of those who have jobs to walk into and those who don't are startlingly different. Those with jobs have a 10 per cent chance of finding themselves behind bars again. In stark contrast, those who don't are almost certain to return.
So, when a person not only has a prison record, but tattoos on their face, hands and neck - which tell of a life in gangs - scoring a job can be almost impossible. And so the cycle continues.
Enter David Ores, a doctor with a surgery in the lowest East Side of Manhattan, New York. A decade ago, Dr Ores used the tattoo removal laser in his office to zap away the body ink of clients and their friends for free. Even the smallest teardrop tattoo, says Dr Ores, could stand between a person rejecting a life of gangs and criminality and moving forwards.
But when tattoo removal costs $2,000 on average, even for the smallest design, price is often an impenetrable barrier. Laser machines themselves are around $100,000.
"The cost is prohibitive and people don't have a job to remove the tattoo so it's sort of a catch 22," says Dr Ores.
When the machine packed up in 2007, the demand of course remained. So Dr Ores decided to make his initiative more formal, and established the Fresh Start tattoo removal non-profit. Instead of inviting clients into his office, Dr Ores decided to enlist the help of tattoo parlours with laser removal machines. Now, Fresh Start acts as a service which matches those desperate for their tattoos to be removed with those willing to provide a simple procedure. Fresh Start currently has around 20 providers in the US, as well as in Canada, Germany and the UK.
And the need is obvious. Currently, over 2,000 people are on Dr Ores' waiting list.
To apply, potential clients send a photo of their tattoo. To highlight their need, they will describe whether they were a member of a gang, previously incarcerated of a victim of human trafficking branded by their captors.
"We connect them with a provider near where they live so they can get their tattoos removed and move on with their lives," says Dr Ores.
"For the people who were in prison or gangs oftentimes they had to get the tattoos to be in a group in order to survive," Dr Ores says. "Now they're at a point in their lives when they're going to job interviews to improve their lives and their tattoos on their face hands and neck can be a large obstacle for that."
"It's funny how such a small tiny thing like removing a tattoo can take 10 to 15 seconds but can change a person's life" he adds.
Dr Ores, who has dozens of tattoos himself, hopes to massively expand the project, and can see no reason why this wouldn't be possible. He sees his initiative working as a social version of sharing economy businesses like Airbnb.
"It falls under the sharing economy. If you have 500 laser tattoo providers in the US they could provide remove a tattoo under the auspices of Fresh Start once or twice a week to help people succeed in getting employment which is good for society."
Looking forwards, Dr Ores hope to raise $100,000 in order to replace the machine in his New York office.
Asked who has been the most memorable client, Dr Ores is reluctant to go into detail. The past lives of those who use the project aren't the main focus, after all.
"They are all memorable," he says. "It's nice to help people."
"If you think economically, it costs £60,000 to keep someone in prison," he goes on, instead using hard facts to illustrate the need.
"There are the million people in US prisons. We have highest population in the world. 2,000 people get out a year and if those people get jobs it's 10 times less likely they'll go back to prison. That's the most important fact. If a tattoo on their face is standing in between them getting a job it make to help them success because when they succeed, we all succeed."
Register for free to continue reading
Registration is a free and easy way to support our truly independent journalism
By registering, you will also enjoy limited access to Premium articles, exclusive newsletters, commenting, and virtual events with our leading journalists
Already have an account? sign in
Join our new commenting forum
Join thought-provoking conversations, follow other Independent readers and see their replies