Tesco becomes latest supermarket to stop using plastic bags for online deliveries
Move means 250m fewer bags will be delivered to customers' homes each year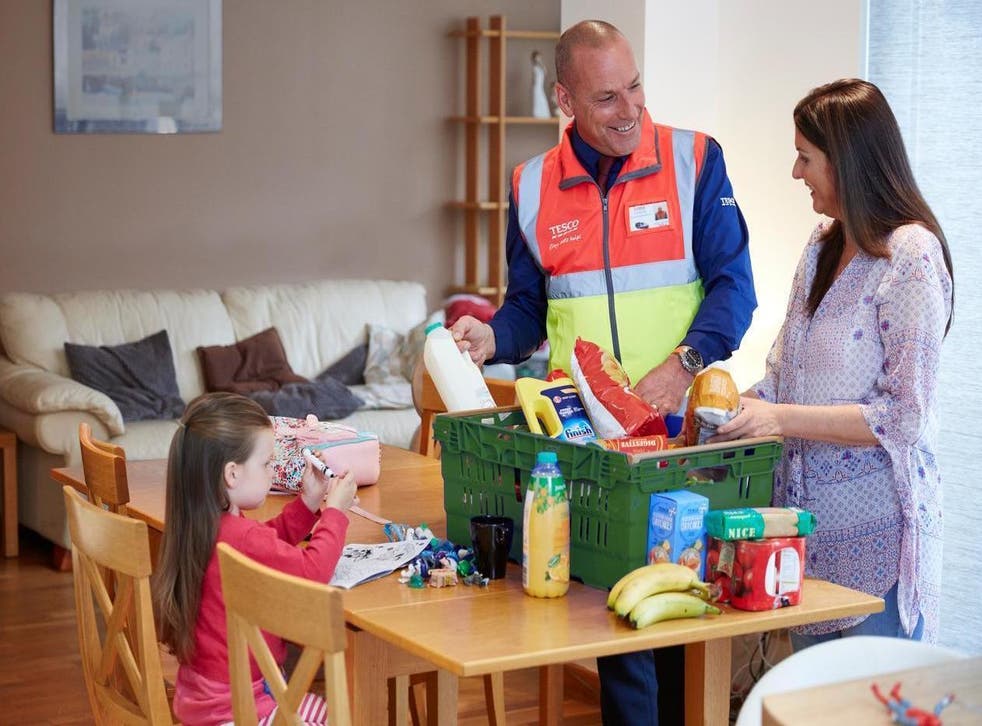 Tesco has become the latest supermarket to stop using plastic carrier bags to deliver online groceries in a move that will save around two tonnes of plastic a year.
The decision to roll out carrier bag-free deliveries follows 28 weeks of successful trials involving 33 stores.
The supermarket has assured customers that delivery drivers will be ready to offer them a helping hand with the changes by taking groceries out of the reusable green trays and into their kitchens.
For health and safety reasons, any raw meat or fish will still be placed inside a small plastic bag, but the supermarket said customers can ensure these bags are recycled by handing them back to their delivery driver.
The move, which will come into effect from August, will mean that 250 million fewer carrier bags will be delivered to customers' homes each year and is part of Tesco's work towards a closed loop system for packaging which uses as little plastic as possible.
Ways to reduce your single-use plastic

Show all 6
By the end of the year, Tesco states that it will have removed the hardest to recycle materials from its own brand packaging.
As a result, 570 more products now have widely recyclable packaging, and around 3,000 tonnes of "bad", hard-to-recycle, plastics have been removed in the process.
Sarah Bradbury, Tesco quality director, said the supermarket knows it has to do more to combat plastic pollution.
"Removing carrier bags from our online shopping is one of the many ways we are making changes to help customers reduce their use of plastic," Bradbury said.
"Right now, we're reviewing all our packaging, including plastic, looking to remove where possible. Where it's not right to remove we will reduce, help customers reuse and ensure all packaging can be recycled."
The decision to remove plastic bags from grocery deliveries has been praised by WWF UK – the world's leading independent conservation organisation.
Paula Chin, sustainable materials specialist at WWF UK, said the organisation "fully supports Tesco's move to reduce the amount of single use plastic going out to its customers".
Chin explained that while everyone needs to do their bit in the fight against plastic pollution, it is "vital" that businesses and the government play that part too.
"Which is why it's great to see Tesco supporting customers to recycle more effectively through closed loop collection systems such as the in-store soft film collection trials," Chin said.
Tesco is the second major UK grocer to announce it is banning carrier bags for its online business after Asda pledged to remove the option of "bagged" home deliveries earlier this month.
The supermarket said the move will save around 500 tonnes of plastic and 85 million plastic bags from production each year.
Support free-thinking journalism and attend Independent events
"We're working hard to reduce avoidable plastic wherever we can – because helping to reduce its impact on the environment matters to us, and we know it matters to our customers too," said Simon Gregg, Asda's vice president of online groceries.
"This is a simple change, but will have a significant impact on the amount of plastic we use as a business."
Register for free to continue reading
Registration is a free and easy way to support our truly independent journalism
By registering, you will also enjoy limited access to Premium articles, exclusive newsletters, commenting, and virtual events with our leading journalists
Already have an account? sign in
Register for free to continue reading
Registration is a free and easy way to support our truly independent journalism
By registering, you will also enjoy limited access to Premium articles, exclusive newsletters, commenting, and virtual events with our leading journalists
Already have an account? sign in
Join our new commenting forum
Join thought-provoking conversations, follow other Independent readers and see their replies