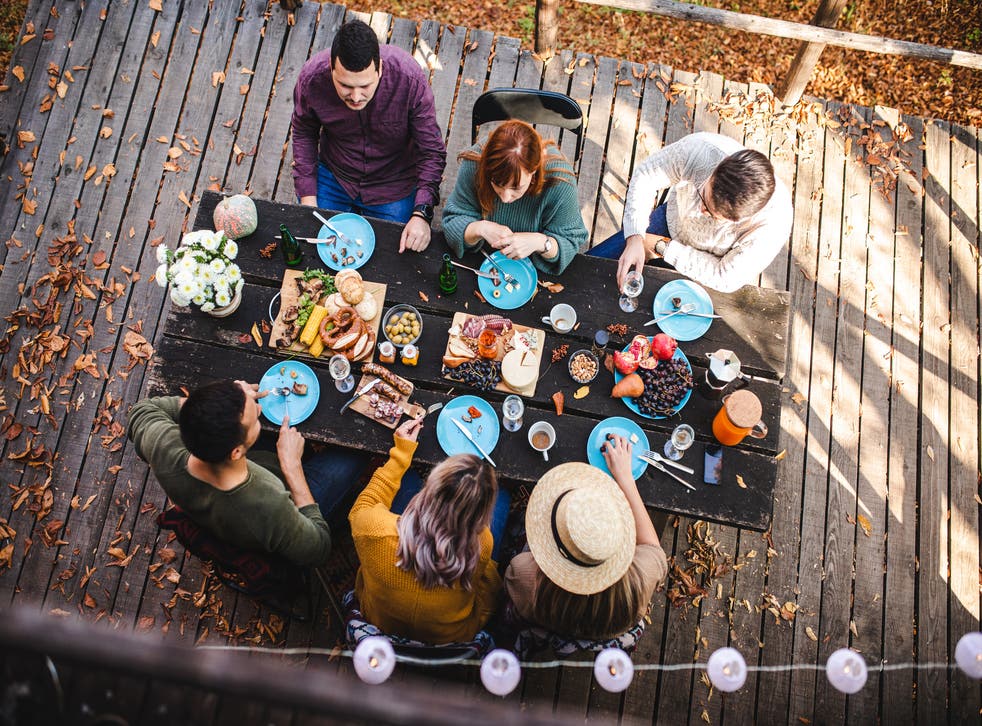 Americans told to have Thanksgiving meal outside because of coronavirus
'Take steps to make your celebration safer,' says Centers for Disease Control and Prevention
The Centers for Disease Control and Prevention (CDC) has urged Americans to celebrate Thanksgiving outside this year to prevent the spread of coronavirus.
On its website, the CDC has issued advice to those looking to celebrate the annual US holiday, which this year takes place on Thursday 26 November, safely during the pandemic.
The governmental health body states that the safest way to celebrate Thanksgiving is to do so with people you live with.
However, if you do plan on having people at your home (this will depend on the rules in your state), the CDC suggests having a "small outdoor meal" with friends and family who live nearby.
It also advises people to limit the number of guests and ask them to bring their own food and drink.
Other pieces of advice include having conversations with guests ahead of time "to set expectations for celebrating together".
Additionally, people should clean and disinfect frequently touched surfaces and items in between use during the meal.
If you do choose to celebrate indoors, the CDC suggests opening the windows.
And if you intend on sharing food, it advises having one person serving and using single-use options to do so, such as plastic utensils.
For those planning on attending Thanksgiving celebrations, the CDC suggests wearing a mask (except for when you're eating) and avoiding going in and out of areas where food is being prepared.
The CDC also suggests staying at least six feet away from others who do not live with you, while also washing your hands regularly.
However, for those who cannot celebrate Thanksgiving in person this year, the CDC has suggested several virtual options, such as hosting a virtual Thanksgiving meal with people outside of your household.
"Have people share recipes and show their turkey, dressing, or other dishes they prepared," the website suggests.
Another suggestion is to watch TV and play games with people you live with.
"Watch Thanksgiving Day parades, sports, and movies at home," it states. "Find a fun game to play."
Another way to mark the holiday is also to shop the online sales that occur every year after Thanksgiving, with Black Friday on 27 November, one day after the national holiday.
In the UK, people are still uncertain whether they will get to spend Christmas with loved ones this year, with the nationwide lockdown in England set to last till at least 2 December.
Register for free to continue reading
Registration is a free and easy way to support our truly independent journalism
By registering, you will also enjoy limited access to Premium articles, exclusive newsletters, commenting, and virtual events with our leading journalists
Already have an account? sign in
Register for free to continue reading
Registration is a free and easy way to support our truly independent journalism
By registering, you will also enjoy limited access to Premium articles, exclusive newsletters, commenting, and virtual events with our leading journalists
Already have an account? sign in
Join our new commenting forum
Join thought-provoking conversations, follow other Independent readers and see their replies