The 10 Best Halloween costumes for kids

Show all 10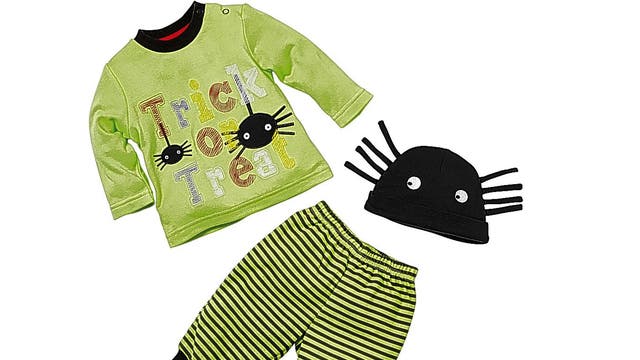 The 10 Best Halloween costumes for kids
From scary Draculas to cosy skeletons and cute little pumpkins, we select the best dressing-up clothes for your children
Nutmeg has some great costumes for newborns upwards, priced from just £2, and the good news for your baby is that all its clothes are free from rough, itchy labels. Our favourite is this three-piece, trick-or-treat ensemble, suitable for youngsters up to 18 months old.
£7, morrisons.co.uk (in store only)
Determined to spook out the neighbourhood? This Dracula costume comes from the reassuring household name of Mothercare and you get plenty of bits and pieces for your money – a cape, waistcoat top, trousers, mask and bat bowtie.
£12, mothercare.com
Available from six months to six years, this soft fleece two-piece pumpkin suit is simple but effective. It's beautifully made, with an elasticated hemline for an easy fit, so it will do nicely as a hand-me-down for future Halloweens, too.
£15, loubilou.com
4. George Witch
Asda really goes to town on Halloween costumes and accessories, which probably isn't surprising given that it's owned by an American company. This witch outfit for children aged three upwards, has plenty of detail, although you'll need to buy a separate broomstick.
£10, asda.com (in store only)
5. Angels Fancy Dress Lil Spitfire
When your child is running around as if possessed, due to the sugar rush they've got from all those Halloween sweets, it might feel like this outfit is particularly appropriate. Available for the terrible twos right up to troublesome teens, it comes from the UK's largest fancy dress retailer.
£15.99, fancydress.com
6. A2Z Kids Little green alien
Keep sight of your little extraterrestrial during trick or treating in this bright jumpsuit with attached gloves, separate feet covers, alien head piece and antennae. Suitable for four- to 12-year-olds. Don't forget to remind them: "We come in peace."
£14.99, a2z-kids.co.uk
Why not kill two birds with one stone with these all-in-one pyjamas made from supersoft pure cotton? Available from 18 months to eight years, it's perfect for after bathtime, sitting around in and, of course, trick or treating.
8. Angels Fancy Dress Howling Ghost
Available in three different sizes to suit ages three to 10, this good old- fashioned ghoulish ghost outfit is sure to make them scream this Halloween. It includes a moulded ghost mask, full-cut polyester hooded robe and black gloves
£9.99, fancydress.com
9. Fancy dress ball howling at the moon
With or without a full moon this Halloween, shapeshift your youngster into a werewolf with this high-quality and durable fancy dress outfit. It includes a tattered lumberjack shirt, fur werewolf hands and a mask with fangs. Will fit budding lycanthropes aged eight to 14.
£23.99, fancydressball.co.uk
10. Aldi Witch's Cat
All of Aldi's Halloween costumes – which include a pumpkin, skeleton, vampire and witch, among others - are under a fiver and are available in age 3-4, 5-6 or 7-8. This witch's cat costume comes complete with separate ears.
£3.99, aldi.co.uk (in store only)
Join our new commenting forum
Join thought-provoking conversations, follow other Independent readers and see their replies