The Independent's journalism is supported by our readers. When you purchase through links on our site, we may earn commission.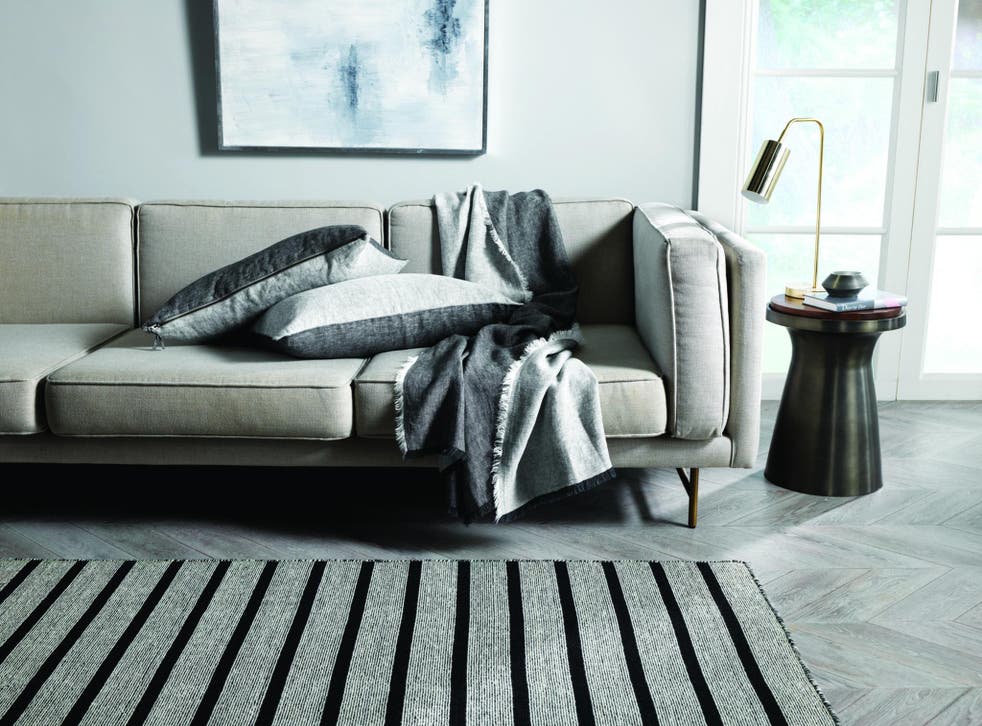 The 50 Best interiors websites
From high style to retro chic and chintz, we find the finest websites to inspire and indulge your love of design as you prepare to give your home a make-over
Blogs:
Sania Pell
Author and designer Sania Pell has a degree in textile design and has worked for the likes of Elle Deco, Marks & Spencer and The Conran Shop as a stylist and creative consultant. Her blog is an invaluable source of tips and advice from an experienced professional and a step beyond what most bloggers are able to offer.
Remodelista
Part magazine, part sourcebook, Remodelista has editorial contacts worldwide and its mix of stories reflect this global reach. Along with beautiful homes, it features new shops, the best products from lighting to loo roll holders, and plenty of get-the-look advice – all on a global scale. If you see something you like you can click and buy too.
Design Squish
This photographically led blog finds its inspiration in the natural world and has an emphasis on sustainable and eco-friendly art and design. US based, its images have a nostalgic retro quality. The blog's tranquil vibe is subtly inspiring; don't be surprised if you emerge from a trawl with a whole new aesthetic for making-over that troublesome space at home.
Bloesem Living
Visually adept blog by Dutch graphic designer Irene Hoofs, who now lives in Malaysia. There's a slight bias toward the clean lines and quirky style of Dutch design, which is no bad thing, and a mix of homes, stores and beautifully curated image galleries. There's also a sister site, Bloesemkids (bkids.typepad.com) dedicated to craft projects for children.
Houzz
Claiming to have more than 1.5 million images, this is the site to visit when you're looking for ideas and inspiration. With designs that cover every room in the house and a function that lets you save your favourite pictures for future reference, you can soon narrow down your personal style. If you can't find a bath, bed or bookcase you love here, then it probably doesn't exist.
Home Shopping Spy
Penned by Ideal Home's style editor, this is a good site to visit when you're looking for shopping inspiration. The blog features a nicely edited selection of new products, stores and decorating tips and is ideal when you've had enough of the personal updates to which some blogs are prone.
National Trust treasure hunt
One for those of you with a penchant for history and restoration, this site celebrates the homes belonging to the National Trust with a behind-the-scenes look at the objects in them, the stories behind them, and the renovation and work that goes into preserving them. All that marble, brass and paisley is also sure to inspire you to similarly grand ideas.
Fine Little Day
This Swedish blog has a handcrafted Scandi aesthetic. Forget blonde wood floors and white walls, this is more nostalgic, with plenty of vintage touches and a homely feel. Handmade objects do feature heavily but there's nothing church-fair about it; instead it's stylish, warm, inclusive and personal.
Abigail Ahern.
British interior style maven Abigail Ahern is also a prolific blogger, with regular updates and a personal style to her writing that matches her quirky approach to interiors. With lots of inspiring images and posts ranging from before and afters to 'how-tos' and source-book pieces, it's definitely worth a regular follow.
Design Sponge
The beauty of the internet is that you can now indulge your curiosity about other people's lives on a global scale. Design Sponge, with its readers' before and after DIY shots and broad mix of Stateside homes, is a great source of inspiration and a visit is pretty much guaranteed to evoke a moment of house and lifestyle envy.
Print & Pattern
This British-based blog does what it says on the tin. A site dedicated to all things print and pattern related, it's worth a visit if you're looking for inspiration to liven up a space with bright engaging products ranging across everything from textiles to wallpaper, tableware, books and illustrations.
Frolic!
Founded by Portland, Oregon-based floral stylist Chelsea Fuss, this lifestyle and interiors site is rooted in floral inspiration but avoids feeling twee. It has a laid-back vibe and its focus on using flowers in display, pattern, fabric or scent is perfect for those moments when you need a reminder of how beautiful and varied flowers can be.
Daisy Fay Interiors
daisyfayinteriors.blogspot.com
This UK based blog is all about shopping, with posts on stores, markets, sales and car boot sales and covering everything from furniture to arts and crafts. There are occasional international posts too and links through to online stores so you can buy those pieces that take your fancy.
Desire to inspire
With co-creators as far apart as Ottawa, Canada and Brisbane, Australia, Desire to Inspire knows no global boundaries and this is reflected in its content. With homes from Scandinavia to Australia and beyond and the benefit of two, rather than a single editorial eye on the content, there's plenty of style inspiration here.
Lobster and Swan
A UK based blog by a graphic designer-cum-stylist, Lobster and Swan is part personal diary, part styling haven and records the author's life and home renovation, along with a series of inspiring snaps and styling tips. There's also a link to the author's Etsy shop, if you want to buy into her style in your own home.
The 50 Best interiors websites

Show all 11
Interior stores:
Rockett St George
This site sells everything from tea-towels to sofas – via pineapple lamps. It does a nice line in industrial chic, has an element of the vintage to it and eschews ubiquitous minimalist styling for a more opulent, personal and lived-in feel. If eclectic urban luxury is your vibe, you really can't go far wrong here.
Loop the Loop
Run by Laura and Adam Norgan this website stocks contemporary pieces including an interesting range of vintage one-offs, industrial lighting, mirrors, shelving and storage. Much of their stock has a simpler look or industrial providence.
St Jude's Fabrics
This web shop from printmaker and textile designer Angie Lewin specialises in fabrics and printed items like wallpaper, though you'll also find some furniture upholstered in her signature prints. Along with Lewin's work you can also buy pieces by young designers she works with and products are of superior quality across the board.​
Bold & Noble
For affordable hand printed screen prints, many with a typographical bent, it's worth a visit to Bold & Noble. There's a broad selection of styles – we especially like the typographical maps of Britain and London – and an eco-conscious ethos, with all designs printed on recycled card.
Bodie and Fou
There's a stylish Scandi aesthetic to the products at Bodie and Fou with the odd quirky touch that adds a welcome hint of eccentricity as well. With a pleasing global mix and a tasteful yet not overtly designer feel, there's plenty you'll covet for your home.
Starling Store
Newly launched this summer, Starling Store offers a wide range of products with a contemporary aesthetic: think pops of bright colours, geometric patterns and natural materials. Founder Nicola Eslick has a background in fashion design that's evident in the on-trend feel.
Theo
Theo founder Thorsten van Elten has a nose for emerging young designers so you'll often find pieces by those set for the big time. Buy them up while they're still relatively inexpensive. Products range from lighting and furniture to textiles and accessories.
RE
Eclectic is the best word to sum up the personal and original pieces, with everything from a hanging bunch of shells to vintage glass and recycled cardboard lights. Browsing here is half the fun; we like the vintage tattoo brandy glass vases, from £25.
Not on the high street
A market place site selling the work of artists, designers and curators from across Britain. The quality of the work is generally good and the site is especially strong on artwork and personalised designs, making it good for wedding pressies and other gifts.
Rose & Grey
You'll find furniture, wallpaper, cushions, mirrors, prints and more at this online store. The style is a feminine mix of British with a hint of salvage and vintage about it too: choose vintage leather armchairs, heart-shaped glass dishes and Union Jack rugs.
Bargain hunters:
Ikea hackers
People from around the world share their improvements to Ikea pieces on this site, be it through adding new elements or simply changing the colour or upholstery. If you're feeling creative, are a dab hand with power tools and not fazed at the thought of constructing flat-pack furniture, this site is a great source of inspiration.
Etsy
With more than 900,000 stalls selling 18 million handmade and vintage pieces, this global online market place is diverse, good value and very addictive. Many overseas sellers will ship to the UK and there are UK retailers on board too. With its creative ethos it's a step above eBay in quality.
Oxfam
No need to brave the crowds at a car boot sale when you can shop here for second hand bric-a-brac. Items are predominantly ceramics, textiles and smaller objects, and while the days of finding designer cast offs at give-away prices are over, you can find interesting objects and support Oxfam's work at the same time.
Gumtree
Remember the days of browsing classified ads in newspapers and magazines? Well Gumtree is the online version, a fixed-price secondhand market place (there are no auctions or bids here) with sellers from 48 cities across the UK and 34,000 new ads every day. Good for buying and selling second-hand furniture, often at very reasonable prices.
Out of the dark
Out of the Dark is a social enterprise that works with young people from disadvantaged backgrounds to revamp and restore salvaged furniture. The pieces it creates are stylish and covetable – colourful recreations of mid-century items – and you can also commission specific designs on pieces of your own.
Specialist sites:
Surface View
If you're looking for a wall covering beyond the ordinary, Surface View is the site to visit. The company has a vast collection of images ranging from paintings from The National Gallery's collection to Getty Images photography and Haynes Manuals graphics and more. All can be re-mastered to your exact dimensions and then fixed to your wall in all their oversized glory. The biggest challenge is deciding on an image.
Labour and Wait
Cleaning the house is probably the least appealing part of being a grown-up homeowner, but Labour and Wait at least makes it feel a little more stylish, with utilitarian and timeless designs including wooden dusting brushes, ostrich feather dusters and linen floor cloths alongside kitchen, bathroom and outdoor items – all with a pleasingly practical feel.
Culture Label
The site to visit if you're looking for anything art and culture related, from limited edition prints to products by young and established designers. Prices range from under £50 to more than £500 and the site is well curated and worth an exploration even if you're not in the market for a specific piece.
Sofa
This site makes buying a sofa online simple and low risk. Choose your favourite style, see how it looks in different fabrics and then order. The company takes responsibility for getting the sofa into your house (if it doesn't fit it's not your problem) and will also take the sofa back on return within 14 days, no questions asked, if there's anything at all you don't like about it.
The Holding Company
Whatever you need to store and however large or small your storage space is, you will find an ingenious solution on this site. From storage baskets to hat boxes, shoe racks to shelving, the site has a wide selection across all price points. It may not always be the most uber.stylish but it is certainly functional.
Splurge out:
The Shop Floor Project
Founded by mother and daughter team Denise and Samatha Allan, The Shop Floor Project is an online shop-cum-gallery. The Allans are artists themselves and all the objects they sell have artisanal touches, from hand-woven textiles to hand-beaten metal sconces, beautiful ceramics and more. The design of the site, a two-dimensional meander through the actual store, is visually pleasing as well.
Darkroom
Strong graphic prints, bold coloured ceramics and designer pieces by British craftspeople predominate at Darkroom London. There's a confidence and very specific aesthetic to the collection – it's contemporary but not faddish and the pieces you find here will make a strong statement for years to come.
David Mellor
David Mellor is a key figure in British design. Born in Sheffield, he is (perhaps inevitably) especially famous for his cutlery design and this site does his beautiful ranges proud. It also features kitchen gadgets and glassware from the Mellor brand and others and is the go-to place for stylish, top-end kitchen accessories.
Rowen & Wren
Beautifully styled and photographed in a muted palette of blues and greys, homewares site Rowen & Wren is a feast for the eyes. The site and the products (predominantly textiles, ceramics and furniture) are all about understated, refined living and the site offers up a view of an aspirational lifestyle most of us can only daydream about.
Skandium
This is the place to go for all things Scandinavian, from the iconic Egg chair by Danish designer Arne Jacobsen to a piece of glassware by Finnish brand Iittala and textile creations by Stig Lindberg for Design House Stockholm.
Vintage:
Fears and Kahn
While many vintage sites focus on mid-century pieces that soon begin to blend into one another, Fears and Kahn rocks a different aesthetic: glam, gutsy, bright and bling: think 70s and 80s pieces with plenty of shimmering glass and brass. Alongside furniture there are design objects, lighting and art. Prices are high but the pieces are covetable.
Skinflint Design
If you're looking for vintage lighting and in particular lighting with an industrial heritage, Skinflint Design is the site to visit. There's a wide selection from across Europe, with a particular focus on eastern European factory pieces and vintage British industrial designs.
Source Antiques
Architectural salvage site Source Antiques specialises in reclaimed and reconditioned 1950s kitchens - bearing a striking resemblance to Paloma Faith's kitchen in her TV cookery show. All units are fully repaired, powder-coated and polished and there's a broad selection to choose from. Other items, including lighting, furniture, mirrors and garden pieces, are also available.
Winter's Moon
Winter's Moon is worth a visit for its broad range of furniture and smaller pieces of homeware as well. The nice thing about this site is that while some products are unadulterated vintage, others have been nicely tarted up; you'll find sofas with new upholstery and lamp shades in vintage fabrics which will save you the work of doing so at home yourself.
The OK Corral
The OK Corral is a good site if you're looking for a smaller item for your home or a vintage gift for a friend. Many products are priced under £10 and there is a wide selection available, including ceramics, kitchenware, paintings, books and glass as well.
Retrouvious
Salvage specialist, Retrouvious has an ever-changing stock of pieces including architectural salvage (fireplaces, windows, doors, metalwork) and reclaimed furniture. There is also a design service if you're looking for some professional help in achieving the stylish salvaged look at home.
The Modern Warehouse
If mid-century Scandinavian style is your thing pay a visit to The Modern Warehouse for a good selection by big name designers. All pieces are sold in tip-top condition and many have been re-upholstered in period tones and fabrics. You may pay extra for the big names but this furniture is certainly a cut above average in quality.
The Mint List
This online interiors store sells vintage furniture, antiques, home accessories, upcycled pieces and original art from a growing collection of independent sellers. The owners spend much of their time trawling flea-markets, galleries and dealers to present a unique collection of items with a vintage flavour.
Eclectic Chair Upholstery
Eclectic Chair does pretty much what its name suggests. You will can find a wide variety of vintage chairs here, all of which have been upholstered in unusual, often vintage, fabrics. There's also a range of cushions made from scarves, textiles and Welsh tapestries. Prices range from £25 for a cushion to £1,500 for a 1970s sofa.
Emma Mason
Visit the Emma Mason online gallery to find work by talented British printmakers. Although the gallery represents many contemporary artists, it actually specialises in post war prints, selling work by big names like Richard Bawden and Robert Tavener. As these are prints, prices are generally relatively manageable. You can expect to pay from around £300 for a piece by a more established name and £65 to £100 for works by lesser known yet emerging artists.
Best for... Wall coverings
Those after a bespoke wall-piece from a vast collection (National Gallery to Getty Images) need look no further.
Best for... Aspirational buys
This beautifully styled site is an understated feast for the eyes and boasts a refined collection of ceramics, textiles and furniture.
Best for... Keeping it simple
Makes buying a sofa online as easy as 123: simply choose your preferred style and fabric and click to order.
Best for... Unusual prints
The online gallery specialises in works from British print-makers – both emerging and more established.
Register for free to continue reading
Registration is a free and easy way to support our truly independent journalism
By registering, you will also enjoy limited access to Premium articles, exclusive newsletters, commenting, and virtual events with our leading journalists
Already have an account? sign in
Register for free to continue reading
Registration is a free and easy way to support our truly independent journalism
By registering, you will also enjoy limited access to Premium articles, exclusive newsletters, commenting, and virtual events with our leading journalists
Already have an account? sign in
Join our new commenting forum
Join thought-provoking conversations, follow other Independent readers and see their replies