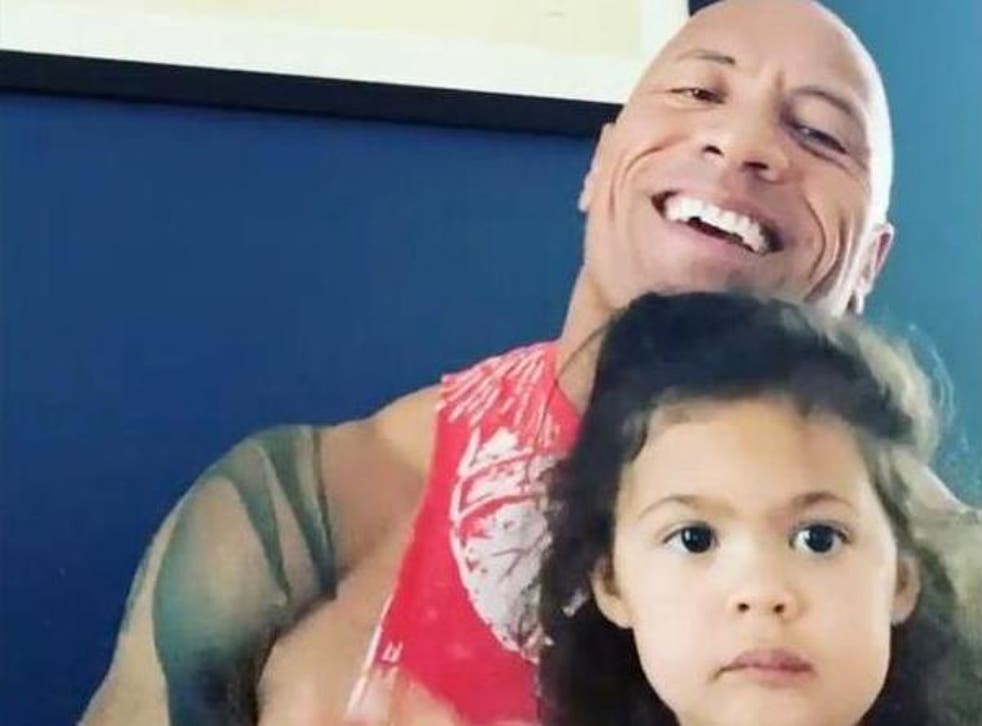 The Rock delights fans by singing Moana song to his young daughter
'And for the 937th time today she wants daddy to sing along with Maui'
Matt Mathers
Thursday 16 April 2020 17:17 Comments
The Rock has sung a Moana song to his young daughter during the coronavirus lockdown, much to the delight of his army of fans.
The former wrestling superstar, real name Dwayne Johnson, sang "You're Welcome" to his four-year-old daughter Jasmine in a video posted to Instagram.
"You're Welcome" is a song from the Disney movie Moana and was performed by the Rock's character, Maui.
The Rock, 47, said his daughter had been asking him to sing the song all day.
"And for the 937th time today she [Jasmine] wants daddy to sing along with Maui," he joked in a comment accompanying the short clip.
"She has no idea, we're the same person. And I have no idea what day it is anymore, but I am sure it's one that ends with Y.
"To all the mama and papa bears out there going thru it – we understand. 24hr parenting. Get your sleep and cocktails when you can."
In the video, which has since been viewed over 1 million times, Jasmine can be seen sitting on her father's lap as sings the lyrics to the song.
Jasmine can be seen laughing as the song picks up pace and her father begins to bouncer her on his knee.
And The Rock's fans appeared to enjoy the impromptu performance.
"Your daughter is absolutely adorable! This is literally my Dad and I when I was younger and he'd also dance around the house with me on his feet," one wrote in a comment under the post.
Moana is 2016 3D animated musical adventure film featuring the voices of Dwayne Johnson, Rachel House, Temuera Morrison, Jemaine Clement, Nicole Scherzinger, and Alan Tudyk.
The musical first hit theatres in the US before going on to gross over $690 million (£554m) worldwide.
Register for free to continue reading
Registration is a free and easy way to support our truly independent journalism
By registering, you will also enjoy limited access to Premium articles, exclusive newsletters, commenting, and virtual events with our leading journalists
Already have an account? sign in
Join our new commenting forum
Join thought-provoking conversations, follow other Independent readers and see their replies