Interview
A TikTok model made viral videos of her grandmother's choice to die. Here's why
Ali Tate Cutler tells Chelsea Ritschel her TikTok videos of her grandmother's decision to seek euthanasia are about being 'in awe of watching this person choose their own way out with dignity and with sovereign choice'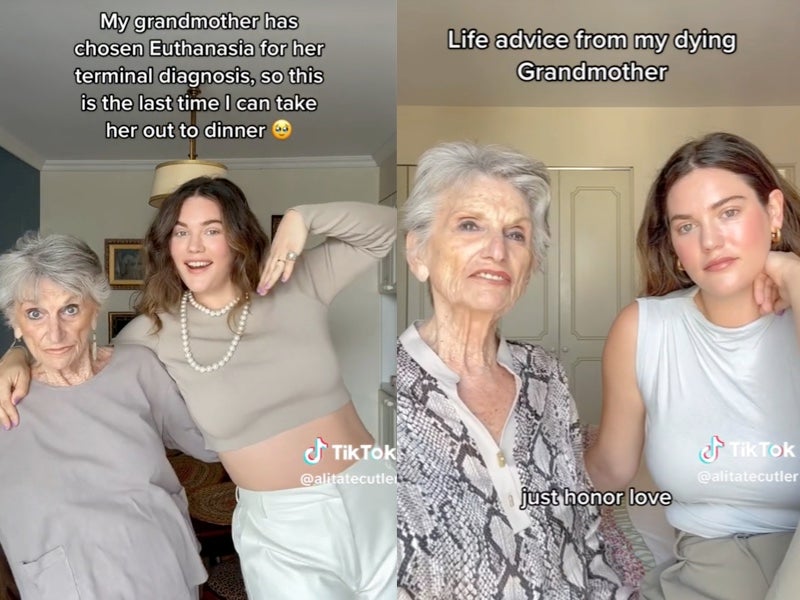 A Victoria's Secret model has revealed why it was important for her to document the last days she'll spend with her terminally ill grandmother after the 85-year-old decided to seek euthanasia to end her life.
Ali Tate Cutler, a Texas-based model, revealed her grandmother's plan to die by medical assistance on TikTok this week. In the first of a series of emotional clips, Cutler explained that her grandma, who lives in Canada and who she refers to as Bubbie, had chosen to seek euthanasia after being diagnosed with terminal cancer. In Canada, euthanasia and assisted suicide have been legal for people over 18 and who are eligible since 2016.
"Bubbie has entered her final chapter in life," Cutler wrote on a video of herself and her grandmother playing a game together. "After her terminal cancer diagnosis, she is choosing to be euthanised in Canada."
In the caption, Cutler acknowledged that "no one gets out of this life alive", before claiming that the best way we can "honour life is to be aware of death".
"Love to your elders. Love to those who have come before us," Cutler wrote, before adding: "Love you Bubbie."
In the caption of the video, which has since been viewed more than 441,000 times, the model poignantly wrote: "Only thing that is certain is death and taxes. So much love to those who have come and gone before us."
In another video posted during her grandmother's final days, which has since been viewed more than 12 million times, Cutler filmed the pair participating in a TikTok trend as they got ready for a dinner out. "My grandmother has chosen euthanasia for her terminal diagnosis, so this is the last time I can take her out to dinner," Cutler explained in a caption on the video, before noting that she has "so many emotions right now," but that her priority is making it the "most memorable week" for her grandmother.
Speaking to The Independent, Cutler revealed that her grandmother has always felt "strongly" in support of euthanasia, and that, by the time she'd received the terminal cancer diagnosis, she "knew that she kind of wanted to exit the world in this way".
"She just did not want to suffer in her final moments," Cutler explained of her grandmother's mindset upon learning that, even with chemotherapy treatment, she would only have six months left to live. "So she decided that she wanted to go out in her own terms."
According to Cutler, whose family has travelled to Canada to spend time with the 85-year-old in her final days, they were not necessarily proponents of euthanasia before they learned of Bubbie's decision.
However, Cutler said that her family has been "incredibly supportive" since learning of her grandmother's wish, a mindset that she said stems from their belief in "body sovereignty and autonomy".
"First and foremost, that's an overarching principle of pretty much all of our beliefs," she explained. "For us, it's about allowing the person to choose on their own terms, how and what they want to do with their body, and how they want to leave the world.
"You know, we come into the world alone, we leave it alone. It's a personal decision."
In one of her videos, Cutler acknowledged how "hard" it has been to spend the time with her grandmother, knowing that it will be the last time they spend together. However, she said that she is trying to "stay positive" for her Bubbie.
"These last four days have been so hard. I'm trying to stay positive for my Bubbie, but I can't handle that I'm about to say goodbye forever at the airport tomorrow," Cutler admitted as she filmed herself crying. In the caption of the emotional video, she added: "Being able to cry with her has been a blessing. But it's the finality of death that is repeating on a loop in my mind."
According to Cutler, she decided to share the videos to TikTok because she realised how "beautiful it was to watch someone die" as she was grieving her grandmother during their final moments together.
"It was less of a statement on euthanasia and more a kind of being in awe of watching this person choose their own way out with dignity and with sovereign choice," Cutler clarified.
The decision was also a statement about how we grieve, as Cutler noted that, usually she sees posts about death after someone has lost a loved one.
"Usually I see when people go through deaths in a family, they post a photo or a video when their loved one has passed saying, I miss this person, or, I'm really sad right now because of this. And I always thought that was kind of weird and out of order, like, we should be celebrating this person while they're still here," she said.
The model, who frequently uses her platform to discuss issues such as mental health and self-love, also acknowledged the way the videos approach death, which she said is a topic she doesn't see "talked about enough".
"The thing I don't see talked about enough is death, including for myself. And I haven't really healed my relationship to death or with death yet. And I know it's impending," she explained. "So when I saw someone I loved dying well and she was so clear in her decisions … it was an opportunity to open up discussion around death."
According to Cutler, this is what social media should be used for. "This is an experience that's a human experience for every single person," she said, while acknowledging the difference between her videos, which show a picture of "what it means to be human," and the videos of "relatively little substance" that she typically sees on TikTok. "Social media is such a powerful tool when used correctly."
Prior to her grandmother's decision, Cutler admitted that her views on euthanasia were divided, as she wasn't sure about the "ethical morality" of the assistance. However, she said her final moments with her grandmother changed her mind.
"Watching it up close and personal, I would say that I think now people should be given the option, the choice," she explained. "It's happening whether we like it or not, in many places of the world. So we kind of need to have a dialogue about it."
In addition to documenting her own handling of the situation, Cutler also took the opportunity to share her grandmother's feelings about choosing euthanasia.
In a video titled "Bubbie answering questions on euthanasia," Cutler asked her grandmother how she is feeling as she moves closer to the date when she will end her life.
In response to the inquiry, Cutler's grandmother revealed that the date is like the "light at the end of a tunnel".
The video was also informational, as Cutler asked her grandmother to elaborate on the process of seeking euthanasia in Canada, and how doctors are able to determine whether you are doing it for the "right reasons".
According to Cutler's grandmother, she was asked what her diagnosis is, whether it is fatal, and how many more months she has to live.
"They give you time to consider. They keep stressing the fact that you can always change your mind," the model's grandmother continued.
In Canada, there are two available options when it comes to medical assistance in dying (MAID), according to the government's website. They both include a physician or nurse practitioner, who either "directly administers a substance that causes death, such as an injection of a drug," or who "provides or prescribes a drug that the eligible person takes themselves, in order to bring about their own death".
As for who is eligible for euthanasia, the government states that an individual must be at least 18 years old and "mentally competent," which means "being capable of making health care decisions for yourself".
One must also have a "grievous or irremediable medical condition," "make a voluntary request for MAID that is not the result of outside pressure or influence," and provide informed consent.
As for what the process entails, Cutler's grandmother said it includes setting an appointment, then the initial injection, which "puts you to sleep".
"And the big pain is the prick in the hand to provide for the little valves. And then, once you're in a deep sleep, there are two other injections you get. At that point you don't know, so it's painless," the TikToker's grandparent explained.
Cutler's grandmother also revealed that she plans to end her life at the hospital, as she noted that she "came in quietly" and would like to "go out quietly".
In response to her granddaughter's question about whether she is nervous, the 85-year-old shook her head no. "I'm looking forward to it," she said, as she explained that she doesn't want to be "dependent" or have "no control" as her illness progresses.
"When I'll be ready, I'll know. I've always made my own decisions for myself in living, and I trust I will in death," she said.
She also expressed her belief that her husband is waiting to greet her. "I do believe my husband is there saying: 'It's about time'. And I'll say: 'Hi, I'm here.' That's it," she told her granddaughter.
In the caption of the video, Cutler acknowledged that it was one of the "hardest and most beautiful conversations" she's ever had, and that it was "healing" for both her and her grandmother.
"Having talked about it in depth and her feelings going into it and her decisions for why she was doing this, I feel like it was a cathartic sigh of release for everyone involved," Culter told us of the candid conversations she had with her grandmother. "Because we were talking about things that were normally unspoken, maybe it was a shame release.
"It just felt like a release. I can't explain it other than that. It felt like, we're talking about the thing that people don't talk about and it feels really good."
In their final video together, Cutler asked her grandmother to share her advice for a young person coming into the world now. "What's the biggest takeaway that you could tell anyone?" she asked.
In response to the question, Cutler's grandmother said: "Laugh. Have fun. Enjoy your loved ones as much as you can. Tell them you love them. Share. Be open, be honest. Talk. Just talk.
"If you have love in your life, hold onto it because it's so precious. Just honour love, express it, live it."
In the emotional clip, Cutler then added that her grandmother is a testament to the importance of respecting one another's decisions. "We all have our own decisions to make … and we need to respect and not have judgement for anyone's decisions they make about their own life. Especially when they're not hurting anyone else."
The poignant videos have sparked a debate around death and euthanasia on TikTok, where many have praised Cutler for sharing the emotional videos, while others have criticised the choice.
"Beautiful moments. Honouring her choice and your grace in loving her through it," one person wrote, while another said: "I'm so so so sorry about all of this. Losing somebody you love is the worst pain but so happy to see you get closure."
"This is beautifully tragic. No one wants to lose a family member but to be able to do it on your own terms? Surrounded by love? That's beautiful!" someone else wrote.
However, in her most recent video, which did not include her grandmother, Cutler replied to a comment from a viewer who'd asked why she'd decided to "publicise" the end of the 85-year-old's life, as they claimed it was "so wrong".
In response to the question, the model defended her decision, as she revealed that she has "always felt death was taboo and not discussed enough in the west".
"Death comes for us all. And seeing how triggered some people got on the matter of a stranger's dying choices, I know it was a heart-centred choice," she said. "That video got 11m people talking about death. I would say this is one of the more useful cultural conversations I have seen on this app. So I said what I said."
While reflecting on the viral, and divided, response to her videos, Cutler acknowledged the differences in how viewers have reacted, with the model noting that some have been "triggered" because we "don't talk about death" and "maybe people think death shouldn't be talked about and it should be something that's done privately away from prying eyes".
"I think there's a couple themes here that are living in the shadow, and that shadow is places that humans naturally recoil from," she said. "And the shadow is our mortality. That we're all going to die. But when we're young and we're living in health, we forget that for moments of time.
"So, highlighting that brings up a kind of primordial fear of what comes next."
According to Cutler, the second theme she has recognised is discomfort with the concept of euthanasia, as it raises questions about who is in "control" and about belief in the afterlife. "People have their moral beliefs cemented on the topic [of suicide]," she said. "And so to see someone choosing this way out of the world, it's bringing up a very under-discussed yet strong topic."
Cutler also admitted that, before her grandmother's decision, she would've counted herself among those who "strongly disagree ethically with medically assisted death".
According to Cutler, who identified herself as a "spiritual person," her previous disagreement with euthanasia stemmed from the belief that "we were put here for a reason and a time, and a place and a vision".
"And we were interfering with that plan or that faith by making this decision. I would have been extremely opposed," she continued. "But, at this point, I can say that that's no longer my feeling."
She gave the examples of lifesaving surgeries or life support, as she asked: "Aren't we playing God that way? You know, aren't we changing the outcome of fate? Aren't we keeping people alive that wouldn't be naturally alive?"
Although she acknowledged there's a lot more she needs to understand about the issue, and so many arguments that she needs to "flesh out," she said her mind is now "open" to the idea of euthanasia.
"Ultimately, for me, the main issue here is that I don't think anyone else gets to tell you what to do with your body," she said. "That's the main point, and that is my overarching principle. So everything has to flow from that."
Cutler is also extremely grateful for those who have shared their own stories about their loved ones in response to the videos, as she noted that it was "beautiful to receive all of that outpouring of love and care and grief".
As for those who have not made up their minds about the topic of euthanasia, Cutler encourages them to "be with dying people" and to "experience dying people".
She also wants people to ask themselves if they truly believe we "have the right to tell other people what to do with their body".
If their answer is yes, she said she respects their opinion. But, if their answer is no, she thinks it will ultimately lead to a discussion about euthanasia and how it correlates to a belief that we "shouldn't be allowed to tell people what to do with their body".
"My question is for people to be able to ponder their own mortality, their own deaths, and really think about, would they want this option available to them?" she said. "And if that answer is yes, then talk about it. Have those conversations. Get interested, because we all need to have some agency in our final days."
Cutler noted that, in America especially, the debate around the concept prompts parallels to other topics that are raised when we consider bodily autonomy, such as abortion rights or vaccine mandates. "We can't sleep on it. We can't just tuck this away. This is the reality for a lot of people right now who are dying. And do we want this option to be available to them? For me, that answer is yes," she said.
Physician-assisted suicide, which is when life-ending drugs are given to a patient who qualifies, is legal in 10 US states and the District of Columbia. To be eligible, individuals must have a terminal illness and a prognosis of six months or less to live. The topic has remained highly controversial in the US, however, due to debates around its legal, moral, religious and ethical impact.
In 2018, fewer than 1,000 individuals died by assisted suicide in the US, according to statistics from Statista. By 2021, the number had grown to just 1,300.
As for the current mindset of her grandmother, who is facing death head on and who will die on a date of her choosing in the coming weeks, Cutler confirmed that she has "no regrets".
"She has no regrets. She has no second thoughts about it. And so for me it's now become more of a celebration of her life rather than this heart-stopping grief about losing her," she said.
Join our commenting forum
Join thought-provoking conversations, follow other Independent readers and see their replies