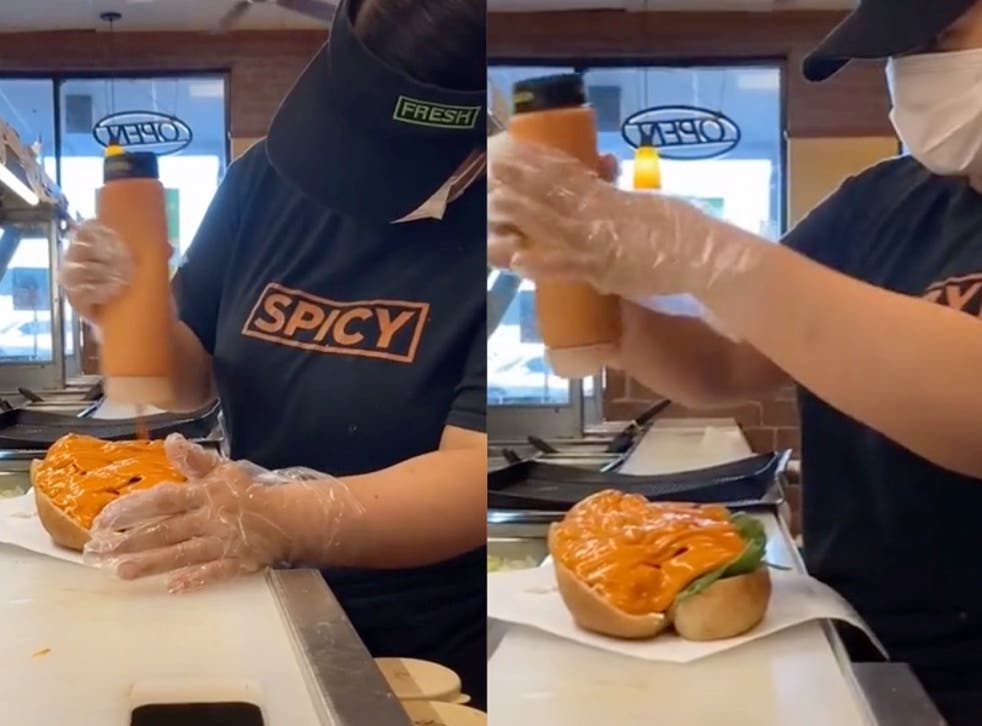 TikTok of a Subway customer asking for sandwich to be 'drowned' in sauce divides viewers: 'This can't be real'
'That's sauce with a side of sub,' one viewer commented
Leer en Español
People are divided after a viral TikTok video showed a Subway customer asking an employee to "drown" their sandwich with sauce, with some viewers disgusted by the order while others have defended the individual's unique request.
Last week, Summer Dawn, a TikTok user who goes by the username @immommyanddaddy2, shared a video from behind the counter of the sandwich restaurant, where a Subway employee is catering to the request of a customer.
In the clip, which has since been viewed more than 5.7m times, the customer can be heard telling the employee to "drown my sandwich" as the woman working behind the counter pours orange sauce, which appears to be Subway's creamy sriracha sauce, on the sub.
"It needs to be oozing," the woman continues as the employee pours more and more sauce from the squeeze bottle onto the incomplete sandwich. "Yes, more. More."
After a few moments of overturning the bottle to where it is nearly empty, at which point the sandwich is drenched, the customer concludes: "Alright that's good," before requesting the employee add "actually a little more".
Read more: Woman finds an entire apartment behind her bathroom mirror in viral TikTok
On TikTok, where Dawn shared the clip of the peculiar order along with the caption: "I hope this customer doesn't see this. But oh well," the video has been met with more than 17,000 comments.
Most of the reactions to the TikTok have been horrified, with many commenting criticisms of the order.
"This can't be real, I literally refuse," one person commented, while another said: "That's not a sandwich anymore, that's a whole drink."
"Today was my first day at Subway … I think I'm going to quit now," someone else wrote.
However, others defended the customer on the basis that she should be able to order what she wants without being judged, even if the order is unconventional.
"Ok but now 200-plus people are making fun of this person who is literally just ordering a sandwich and being themselves, not hurting anyone," one viewer wrote, while someone else claimed that they want nearly the same amount of sauce when they ask for "extra Sweet Onion".
Another said: "It takes a certain level of confidence to ask for more like that in a Subway."
There were also those that were confident that the order had to be a joke, with one viewer writing: "Plot twist: she's also doing this for a TikTok."
While it is not clear whether it was a prank or not, Dawn told one commenter that the customer declined a knife and fork to eat the sandwich because she said she "likes getting her hands messy".
Join our new commenting forum
Join thought-provoking conversations, follow other Independent readers and see their replies