Models of all sizes transform Times Square into body positive catwalk
'It was cold, but our determination was so strong that the cold couldn't break us'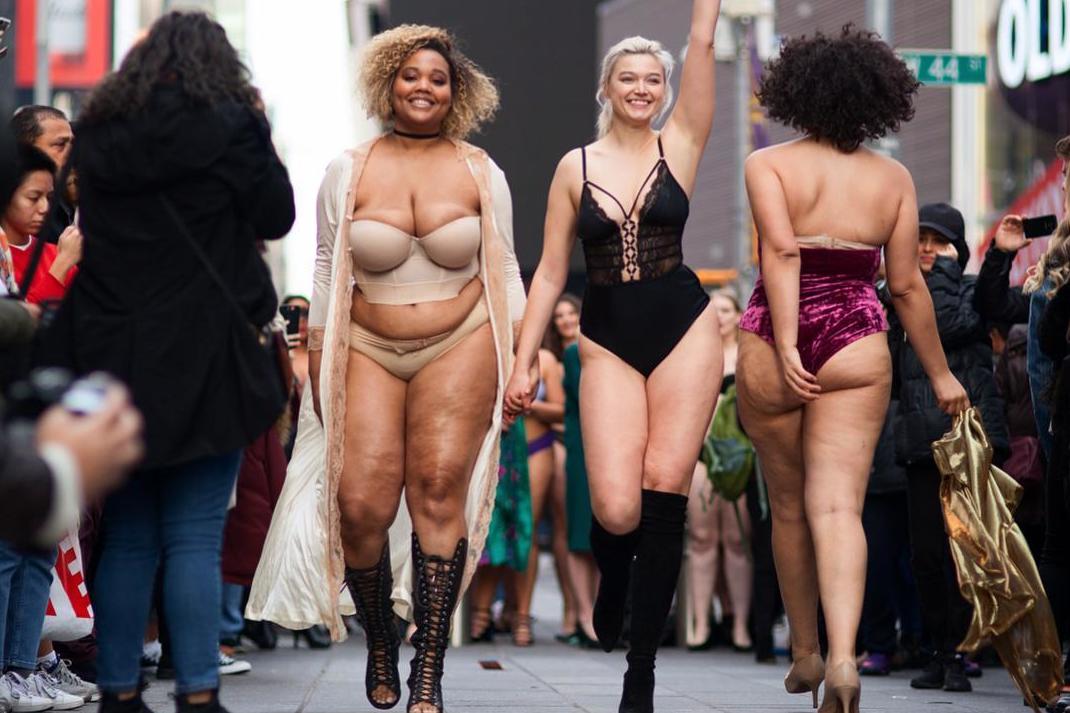 It is rare to get New Yorkers to stop and stare - but body positivity activist and model KhrystyAna did just that when she held a guerrilla lingerie fashion show in the middle of Times Square.
Despite the chilly temperatures in New York City, KhrystyAna and 25 of her model friends stripped off their clothes and braved the elements to walk in a fashion show she dubbed 'The Real Catwalk.'
Planning the entire event in just three days, she said: "I didn't sleep for three days," adding that she staged the event, which featured a diverse cast of models, because she believes "fashion and the public are ready to see the diverse types of beauty."
Deciding on a date for the fashion show with the help of a friend, KhrystyAna explained that although 'The REALCatwalk' body positive fashion show came shortly after the annual Victoria's Secret fashion show, "it is in no way anti-Victoria's Secret. It was just a way to support women who may not feel catered to."
However, KhrystyAna has noticed that the public opinion of beauty seems to be changing.
"New York is ready for the change and the chance to embrace all kinds of beauty," she said.
For KhrystyAna, "body positivity is not just about being curvy, it is about being yourself. It doesn't matter if you are curvy, petite, trans, athletic, over 40, over 50, it is just about knowing you are beautiful."
As for the public's reaction to half-naked women strutting through Times Square? Overwhelmingly positive.
Admitting she was a little nervous talking about the fashion show, KhrystyAna says she is overwhelmed by the outpouring of support her and the other models received during the show and since. According to KhrystyAna, "most of the audience were pedestrians just walking by, but I was surprised because a lot of women stopped."
During the final walk of the show, KhrystyAna realised just how impactful the show had been - "We held hands in the end and it gave us an opportunity to look at the faces of all the people. The women in the audience had genuine smiles and looked so happy. And so many different women were smiling. It really proved women are fed up with one stereotype of beauty."
Paige D'Avino, a fellow model who walked in the show alongside KhrystyAna, echoed these sentiments.
She said, "I am so overwhelmed by all of the love that we've received from the public. During the show, the energy was amazing and there was so much genuine joy from women in the crowd."
And since the show, D'Avino said, "I've received a lot of beautiful messages from both women and men on social media supporting our endeavours. A lot of messages thanking us. It means so much that we were able to inspire people to love themselves a little bit more."
When we asked if there were plans for another real catwalk fashion show, KhrystyAna said "This one was very spontaneous, we held the casting call on Instagram, but I definitely want to do another one. I would like to do something with women and men with disabilities. I want them to be inclusive. But I will use more than three days to plan the next one."
Summing up #theREALcatwalk experience, D'Avino said, "We simply walked to show women from all different walks of life that they are beautiful and loved. This was to lift up and empower women. This was to bring women together, because when we come together we are invincible and we just might change the world."
As for the great pictures spread on social media? Khrystyana said, "A lot of photographers just came out to support. I think that after the 'me too' campaign, women feel more powerful in their voices. Men photographers woke up also and are supporting women."
Join our commenting forum
Join thought-provoking conversations, follow other Independent readers and see their replies