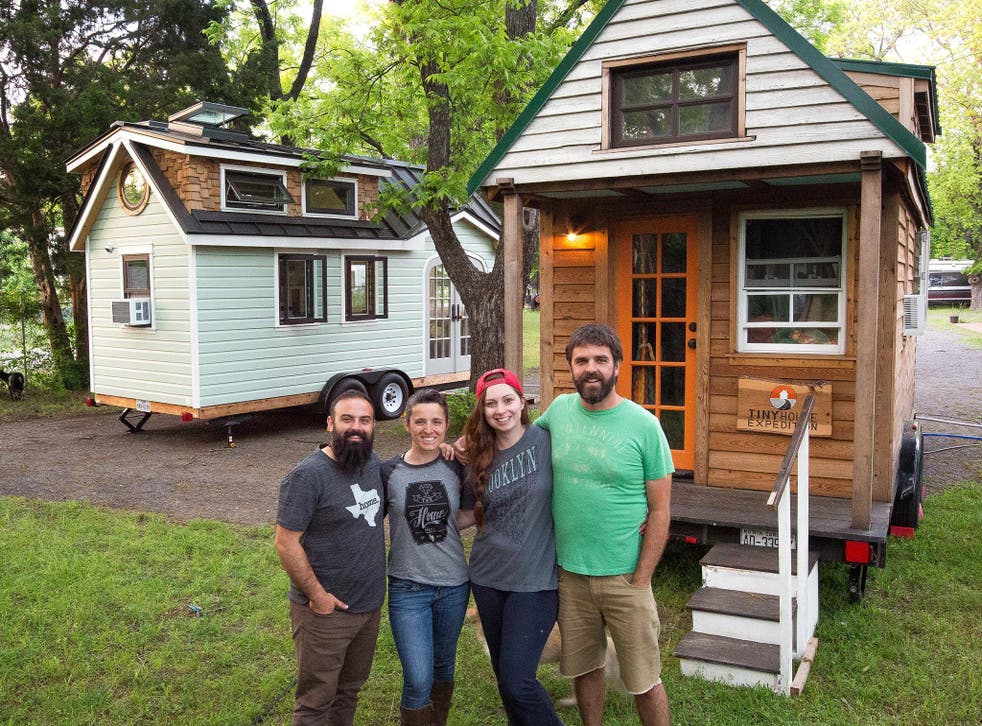 Tiny House movement: Meet the couple who live in home the size of a shed
Alexis Stephens and Christian Parsons have travelled over 25,000 in their home 
Alexis Stephens is like a part-time tortoise. Almost wherever she and her boyfriend go, their home goes with them. That's because Stephens and Christian Parsons are members of the tiny house movement.
Stephens, 32 and Parsons, 41, from Long Island - both documentary filmmakers - met and fell in love in North Carolina. Now, they're nomads. Their home on wheels - where they live on-and-off with Stephen's 10-year-old son - measures at just 130-square foot. To qualify, micro-homes have to be 400square foot at the most.
The Tiny House Movement - In pictures

Show all 13
The couple first considered downsizing from average American-sized homes at around 2,500ft when they finished a road trip together and knew they were hungry to keep travelling. Parsons introduced the idea not just down-sizing, but going super small.
"I was completely fascinated," says Stephens. "I have always loved small spaces like cabins. Cue a giant research binge on the tiny house movement. I found it deeply resonated with me, as I was in a major transitional period of my life and was looking for ways to simplify and take more control of my financial future."
Like many couples grappling to deal with a lack of affordable housing, it was a lifestyle that made sense.
"The fact is the American housing market is working against the majority of the American people," says Stephens.
But she was equally grabbed by the enthusiasm and inventiveness of the grassroots movement that was trying to re-think the waste and excess of the average American lifestyle both for individuals, but also on a community level. And as a documentary film makers, it enabled the couples to move quickly from project to project. They decided to capture the tiny house movement across the US, and the Tiny House Expedition documentary was born. "We have now travelled over 25,000 miles across the USA with our tiny home on wheels," says Stephens.
Starting in the autumn of 2014, it took the couple nine months to build their mobile home, or what they have dubbed their tiny house on wheels (THOW). That was also the moment the romance of the project started to wilt a little and the gravity of what they were committing to became clear.
"Construction was long and slow but very rewarding," recalls Stephens. Piecing together their home became Parosons' full-time job, but not without some help from friends including a master carpenter called Tom who leant them his tools and offered guidance.
"In our build, we used many salvaged and reclaimed materials—from an old farmhouse and trees fallen in a tornado. Processing these materials was labour intensive and time-consuming, but in the end, we saved quite a bit of money and added much charm and character to our tiny house. Everything in our home has a story behind it," says Stephens.
Creating such a small living space meant the couple had to be creative to the extreme.
"The style of our tiny home is eclectic and rustic. And just about everything is multi-functional, and every inch is maximised. Like every house, we have a kitchen, bathroom and living room. We also have two sleeping lofts. The "master suite" has a queen bed, and my son's loft has a folding foam bed, fold-down desk, a toy box and a special basket on a pulley system—perfect for bringing toys up and down."
Of course, living in a closed confines has its downfalls, but mainly because the infrastructure for this lifestyle is more than a little wobbly.
"When the closet door is open, you can't access the kitchen or bathroom. This issues was easily solved. Christian typically gets up about 10 minutes before me, and will go to the bathroom and get dressed. By the time I come downstairs, he's done and out of the way. Also we will bump into each other from time to time. But it's not a big deal."
"As a couple, open communication is incredibly important, more so in a tiny house. It's best to talk through disagreements right away and move on. If we really need space from each other, one of us can go outside or go into the loft—it really does feel like a separate, private space, out of sight and mostly out of earshot ."
"The main challenge for tiny houses especially those on wheels," she adds, "is legal placement or parking, especially on land outside of RV parks or campgrounds. This is a zoning challenge. A few US cities are creating tiny house specific zoning which allows for legal tiny house parking in backyards or the creation of tiny house communities. Progress is slow, and happens one city at a time."
But the hardest moment was not giving up her old home, but rather setting off on the road for the first time.
"Christian and I poured our hearts into the building of our tiny house, and it contains all of our belongings. The first time we took it on the road my heart was pounding, but the more we've done it, the less stressful it's become."
To those who are considering downsizing, Stephens suggests there will always be reasons not to do it, but fears can easily be calmed with deep investigation into the movement and being honest about your specific needs.
"There is absolutely no time like the present to prioritise your well-being and embrace a freer way of life. Start saving, and start researching. How tiny is right for you? Is building your own feasible? Access to available land, tools and a support group are crucial to success of DIY builds. There are many great online resources and many workshops. Do you want to travel occasionally or frequently?
"Ultimately getting to know yourself and identifying your priorities are essential to crafting a satisfying tiny lifestyle that's just-right for you. Shake off the mold and redefine what personal success looks like to you."
Despite the bumps on the road, in the end, Stephens and Parsons are happy with their radical decision. "Our tiny home is the lovely reflection of our personalities and tailored specifically for our needs. For us, living minimally does not mean depriving ourselves. We are surrounded by the things we most love or need. The beauty of minimal living is getting down to the essence of who you are."
Join our new commenting forum
Join thought-provoking conversations, follow other Independent readers and see their replies