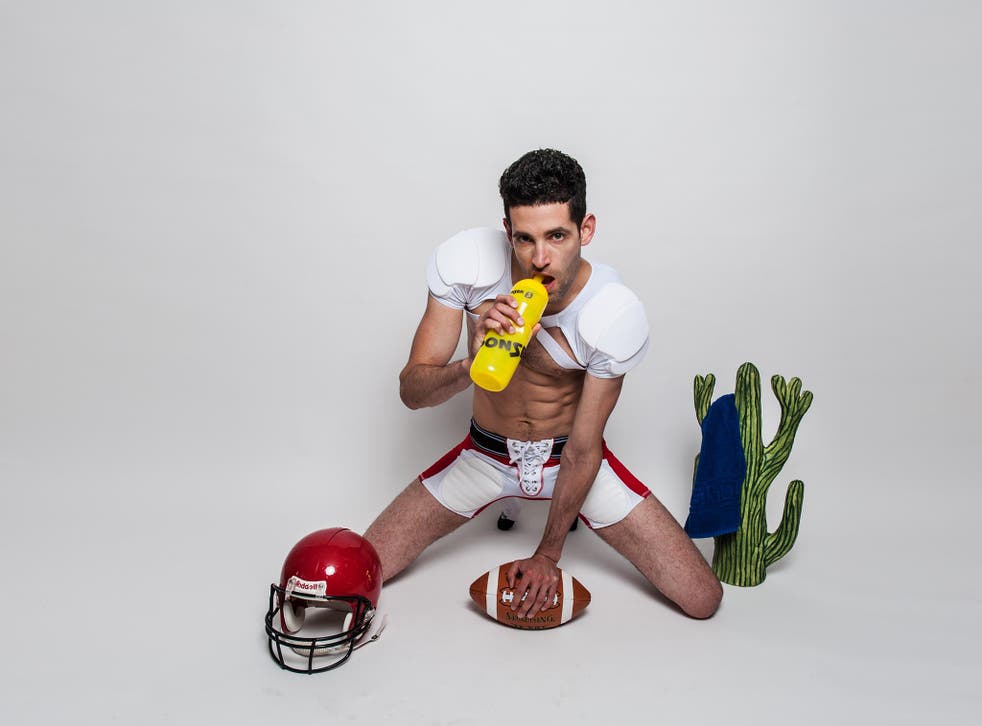 Traumboy: Sex worker turns his life into a play on laws, prostitution and men
The reality of sex work is being dissected in two new plays showing in Brighton - a city synonymous with sleaze 
Daniel Hellmann is a sex worker. He's also an actor, and so it was natural that eventually his two professions should come together. After all, he suggests, both jobs are all about performing.
"Me and my characters are totally entangled," Hellmann tells The Independent. With his play Traumboy, the 31-year-old who splits his time between his hometown of Zurich and Berlin is among performers bringing sex work to the stage in Brighton - a city synonymous with stag and hen dos, dirty weekends and seedy behaviour.
In Traumboy, which is showing at the city's bi-annual Sick! Festival, Hellman's semi-autobiographical character describes how rather than traumatic, his first time with a client is a forgettable blur, and how he divides his appointments so they last exactly 60 minutes long.
"For me, performing to be someone else is a really interesting practice, on the theatre stage, in daily life, or within sex work. It's a practice that can allow you to become more than 'only' one potential part of oneself."
As sex work is still a taboo - despite millions of people working in the industry around the world - how have audiences responded to Hellmann's honesty on stage?
"There are some quite polarising reactions," he says. "Mostly I feel very supported by the audiences. But there are also people, especially critics, who cannot accept the political position that I defend in this work. Then it can get very nasty. Somebody once wrote in an online comment: 'If he would be more successful with his art, he will stop sucking d****'".
The photographer who documents strippers - In pictures

Show all 12
"But in general people are touched after the shows," he says, adding: "By the way, I also got quite many job offers after the play." Like the blurring between where his character in the play starts and the "real" Daniel ends, it is unclear whether he's joking or which job he's referring to.
Director Grace Dyas, meanwhile, has pieced together the stories of six women who are and have previously sold sex for her play The Game. Each night, the show features five new men who have volunteered to appear alongside actresses performing as sex workers. Just like first-time customers, the men don't know what they are expected to do on stage. Because of the intensity and psychological risk of the show - the details of which Dyas can't reveal - the men are trained for weeks in advance.
"Life changing has been used by many of them to describe the experience," she says. "They have kept in touch with us and with the show, and yes many of them have changed their opinions, some from believing it should be legalised when they began their participation to thinking it should be abolished when it ended, and some believing it should be abolished then started to believe it should be decriminalised."
Dyas goes on that she wanted to include men because she feels they can feel excluded from conversations about feminism, and because they are also often not visible in discussions about sex work. "Men are half of this situation. Why are they buying it? Who are they? Why do they get to remain invisible as we discuss this essential issue? We wanted to bring men into full view," she explains.
Hellmann chimes that one of the biggest misconceptions about sex work surround his clients. "People think that it's evil, crazy guys or perverts," he says.
"But clients usually are just normal guys (and too rarely women), looking for connection or intimacy. We all need that in this terrifying world."
Both plays challenge audiences to assess what they believe about sex work, from whether sex workers are victims down to the terminology used.
"For some 'sex work' is empowering, a job like any other," says Dyas. "Others see it as commercialised sexual abuse, consent can't be bought. We felt this debate should be seen by audiences, as laws around the world change."
"And the terms are loaded. Using the term 'sex work' implies that sex can be labour, and legitimises the act. Prostitution implies exploitation, and offends those who think the industry should be regulated. Our play interrogates these questions through the use of language," she explains.
"I think that there are many possible power dynamics at play in sexual relations in general," adds Hellmann. "Within sex work, there is the money, which is added into this. So it makes things even more complex. Maybe it is more equal in homosexual relations, but that's the same when it comes to non-paid sexual relationships.
But he hits back at the idea that sex workers are automatically victims for selling their bodies. "I know many sex workers, male and female, who are in total control of their clients, they set the rules, they guide through the sessions, they decide when they work, where they work, with whom they work," he says. "But all depends on the working conditions. And within the fields of sex work, these can be very divergent. Some sex workers are in precarious situations, which then can create unhealthy power dynamics. The problem is not sex work itself, but misogyny or discrimination or a special vulnerability due to existing migration laws."
Hellmann hopes that his play will encourage people to see sex workers as complex beings, just like everybody else. "They are smart and courageous and generous people, who should not be underestimated. But the piece is about more than only sex work. It's raising questions about identities, and double standards."
The Game and Traumboy are on at the Attenborough Centre for Creative Arts in Brighton on 24 March
Register for free to continue reading
Registration is a free and easy way to support our truly independent journalism
By registering, you will also enjoy limited access to Premium articles, exclusive newsletters, commenting, and virtual events with our leading journalists
Already have an account? sign in
Register for free to continue reading
Registration is a free and easy way to support our truly independent journalism
By registering, you will also enjoy limited access to Premium articles, exclusive newsletters, commenting, and virtual events with our leading journalists
Already have an account? sign in
Join our new commenting forum
Join thought-provoking conversations, follow other Independent readers and see their replies