Family finds $46,000 hidden under attic floorboards with help from a hired treasure hunter
He previously warned family the locked box may contain items such as photographs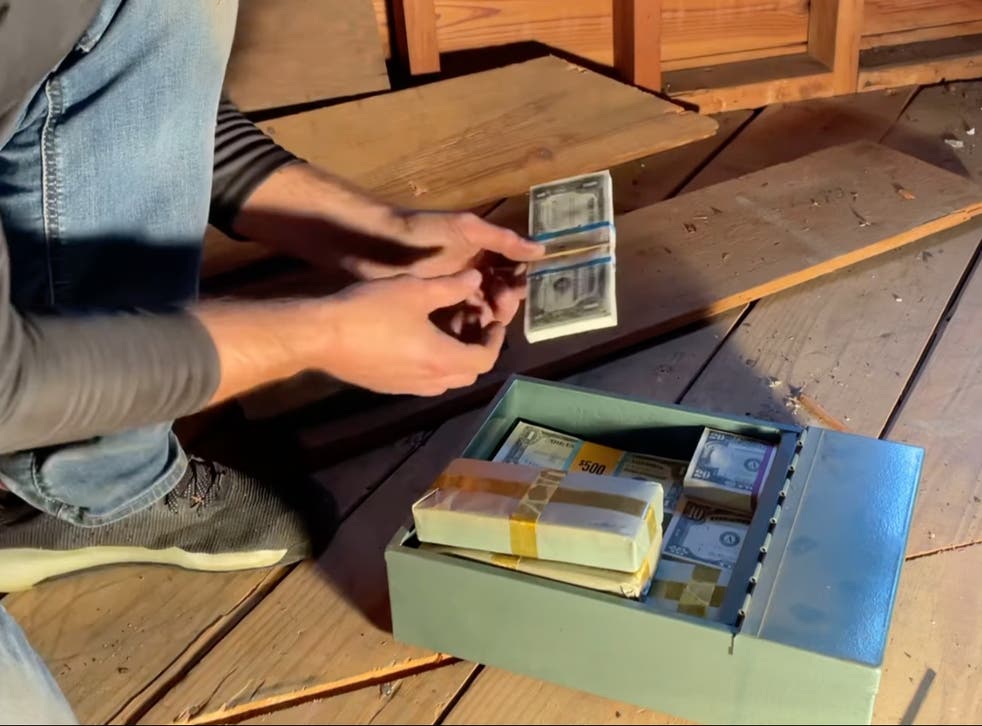 Leer en Español
A family has uncovered a box of $46,000 hidden in the floorboards of their home after enlisting the help of a professional treasure hunter.
Keith Wille, who lives in Groton, Connecticut, and refers to himself as a metal detectorist and treasure hunter, was recently hired by the Massachusetts family after they discovered him online and decided to seek his help in getting to the bottom of a family rumour.
According to the decades-old rumour, the family's grandfather had hidden a box of cash somewhere in the house in the 1950s, which the family hoped to find before they sold the home.
Although the family had previously hired carpenters to search the house, it wasn't until Wille arrived that they were able to discover the money hidden in the floorboards underneath the attic, due to his expertise in treasure-hunting.
In a YouTube video of the hunt, Wille can be seen searching around the attic, at one point stating: "I got a couple of signals over here. I'm going to take my endoscope camera and take a look under the floorboards and into the cracks in the corner."
The pursuit eventually led Wille to discover what a "small sliver" with numbers on it, which he identified as a keyhole, with the professional removing the floorboards in the corner of the attic to uncover a gray locked box.
As noted in the video, Wille typically encourages people to keep their expectations in check when finding an object such as this, as more often than not the box contains items such as family photographs.
However, in this case, the locked box contained $5,000 bundles totalling $46,000 in cash, which WFSB reports were all wrapped in their original bank straps and had been there since they were hidden in the 1950s.
"Oh look at that. I see 20s, I see 10s," Wille can be heard telling the family, who asked to remain anonymous, in the video as he pulled up the lid of the box before inspecting the findings. "This is old cash. This is depression-era cash."
According to Wille, each of the bundles was dated 19 December 1958 along with the bank teller's number, with the treasure hunter telling WFSB: "I think it was shock. I think we were all in shock."
As for the family's reaction to the discovery, one member told the outlet that they were happy the money was finally found, and that the rumour turned out to be true.
"All this story you believe it's true, you don't know if it's true. I'm just glad it was finally found," she said.
Register for free to continue reading
Registration is a free and easy way to support our truly independent journalism
By registering, you will also enjoy limited access to Premium articles, exclusive newsletters, commenting, and virtual events with our leading journalists
Already have an account? sign in
Register for free to continue reading
Registration is a free and easy way to support our truly independent journalism
By registering, you will also enjoy limited access to Premium articles, exclusive newsletters, commenting, and virtual events with our leading journalists
Already have an account? sign in
Join our new commenting forum
Join thought-provoking conversations, follow other Independent readers and see their replies