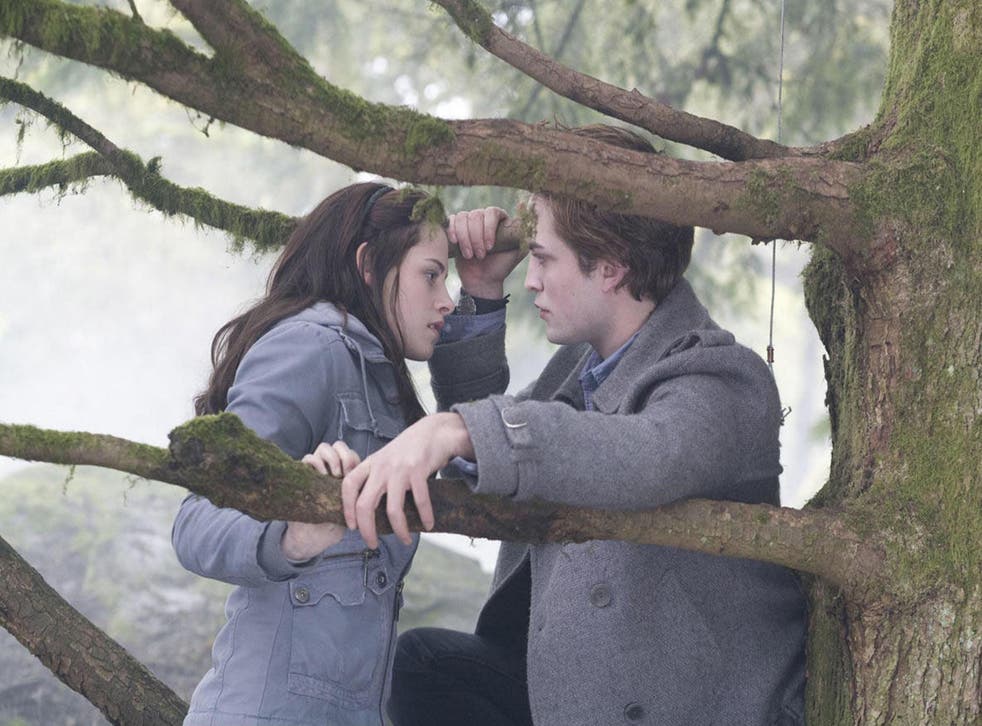 Twilight fans can rent Bella's home on Airbnb
Airbnb comes with cardboard cutouts of Bella and Jacob 
Chelsea Ritschel
New York
Wednesday 24 July 2019 19:14 Comments
While a vampire husband is still out of the question, Airbnb is offering Twilight fans a different opportunity to live vicariously through Bella Swan - by renting her home.
The "Twilight Swan House", located in the green, rainy Pacific Northwest and made famous when Twilight was released 10 years ago, is located in Saint Helens, Oregon, and is currently available on Airbnb for $330 a night.
Although the house is not actually located in the town of Forks, Washington, where Bella moves to live with her father Charlie in the Twilight saga, the white rental features all of the beloved details seen in the films.
In addition to the iconic green kitchen cabinets, Bella's purple bedspread and the dining table used by Charlie, the home also has five bedrooms, 1.5 baths, and can fit up to 10 guests.
Keeping with the theme of the vampire-werewolf love triangle, the owners of the house implore guests to choose their team while picking a bedroom.
Twilight: the world's richest bloody franchise

Show all 3
"Team Edward? Sleep in the 'lookout' room, overlooking the front yard, which is where Bella looks out the window to see Edward parked," the description reads. "Team Jacob? Sleep in the 'Jacob Black guest room', located off the main entry downstairs."
To complete the Twilight experience, the Airbnb, which dates back to the 1930s, also comes complete with cardboard cutouts of Kristen Stewart, who played Bella, and Taylor Lautner, who played Jacob.
According to the listing, the home is a short drive from Portland and guests are required to book at least a two-day rental.
From the five-star rating, and 21 positive reviews, it is clear other Twilight fans have enjoyed the experience.
"If you are a die-hard Twilight fan, then staying at the Swan House is a must (top of your bucket list)!" one guest wrote. "It was so surreal, amazing and awesome! Dean and Amber have made the house picture perfect."
Another person said: "Amber & Dean's Swan House will not disappoint. If you are a Twilight fan, it's a must visit. It's fun to watch the movies in the house knowing parts were filmed in it."
Support free-thinking journalism and attend Independent events
You can book the Airbnb here.
Register for free to continue reading
Registration is a free and easy way to support our truly independent journalism
By registering, you will also enjoy limited access to Premium articles, exclusive newsletters, commenting, and virtual events with our leading journalists
Already have an account? sign in
Join our new commenting forum
Join thought-provoking conversations, follow other Independent readers and see their replies