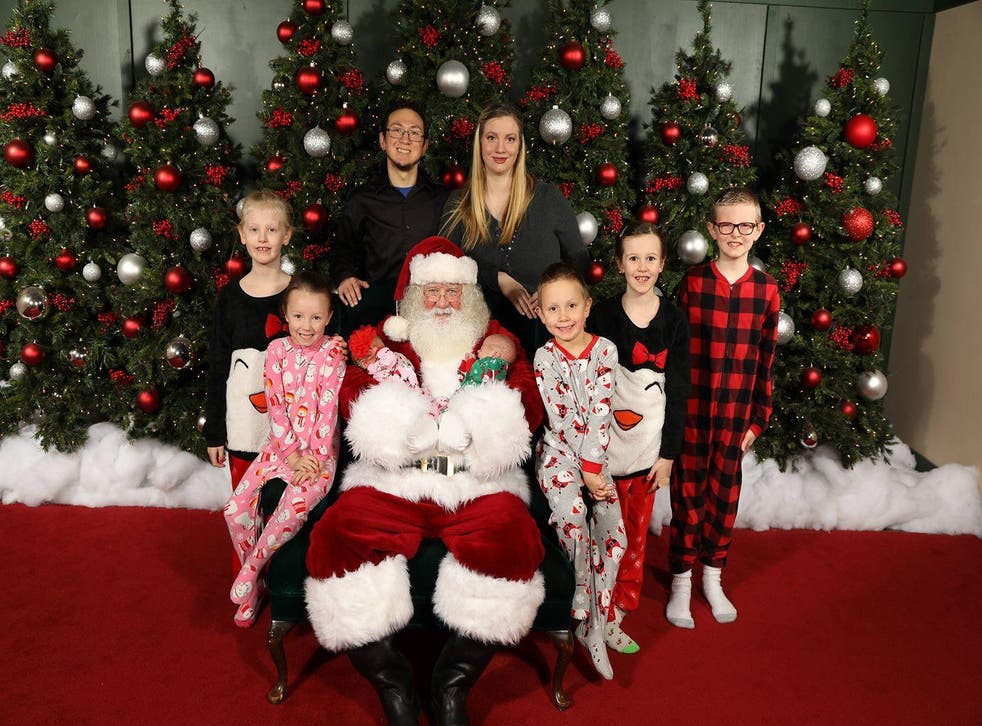 A mother has beaten one in 500,000 odds by giving birth to twins three separate times
A mum has beaten one in 500,000 odds after giving birth to twins - three separate times.
Misty Lang, 35, a twin herself, grew up in foster care and is not aware whether twins run in her family.
But judging by the three sets of twins she's given birth to, it seems likely.
Growing up, Lang imagined herself being a mother to one or two children - but instead, she has ended up with seven little ones, after hearing the words "It's twins!" three different times.
Lang's first set of twins, Alex and Lexie, are both nine, then she gave birth to a "singleton," Calista, seven, then twins Lacie and Nash, who are five, and just recently Lang gave birth to Lana and Phoenix, who are just ten weeks old.
And it doesn't appear Misty's partners have had any influence on the likelihood of twins.
Misty's first twin babies were born while she was still with her ex, and the second and third set of twins are her husband Peter Lang's.
According to Misty, "Peter is an only child, so was very eager to have children."
Finding out she was pregnant a week before their wedding in March 2010, Misty recognised the same extreme fatigue she had felt while pregnant with her previous twins - and suspected it was twins again.
"Happy and scared all at once," Misty said of the news, "We were going to have five kids under three. But, once the initial shock passed, we were incredibly excited."
Seven years later, Misty became pregnant with twins again - this time while juggling life as a working mum in school.
And although the pregnancy was planned, the twins were a surprise.
According to Misty, "basically every time I've tried to get pregnant it has resulted in twins!"
However, Misty was able to finish school, despite being pregnant - but has had to postpone medical school for the time being.
As the mother of seven children under the age of ten, life is understandably hectic. And according to Misty, the kids often increase her mum workload with their "incessant squabbling over some inconsequential issue."
But "aside from the fighting," Misty said, "I thoroughly enjoy my children."
Once Misty's children do get a little older, she plans to go back to school to become an OB/GYN.
And her advice for new twin mums?
"Accept any help you receive, ask for help, and make sure your husband or partner is contributing equally to the workload at home. And secondly, don't take anything seriously - unless it's actually serious, of course!"
As for whether her own children will give birth to twins, it isn't unlikely - according to Genetics.org, women with a fraternal twin are 2.5 per cent more likely to give birth to twins.
Misty answers other questions about life with three sets of twins on her blog: www.triple-twinning.com
Join our new commenting forum
Join thought-provoking conversations, follow other Independent readers and see their replies