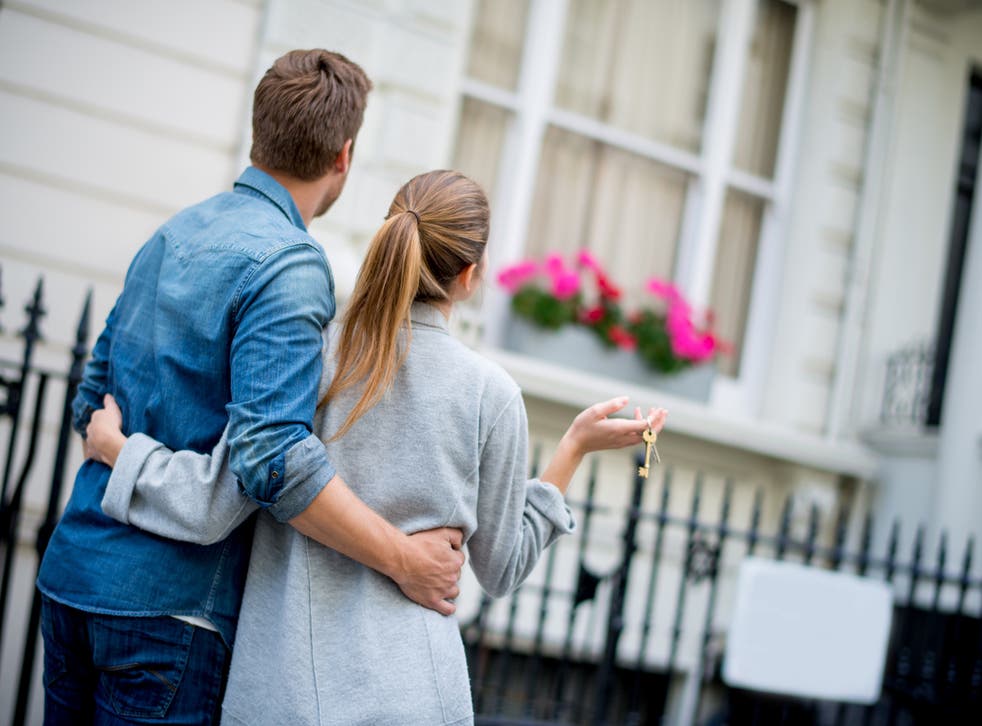 One third of single Brits think they need to couple up to buy a property, survey finds
One in 10 people don't think they'll get on the housing ladder at all
It appears coupling up is considered the only way to home ownership.
A study has found that a third (31 per cent) of Brits who are yet to buy property believe they will never get a foot on the property ladder unless they do so with a partner or spouse.
In fact, 10 per cent of Brits don't think they will ever own a home, the research by Skipton Building Society found.
However, 18 per cent of singletons are more optimistic, believing they will be fine to buy property by themselves.
Women are less confident than men about getting a foot on the property ladder, with 5.31 years being the average length of time women believe they will need before buying a home, compared to 4.51 years for men.
The researchers found that the most important aspect for would-be home-buyers is proximity to shops (46 per cent), which is seen as more important than being close to family (41 per cent), work (40 per cent), public transport (31 per cent) and schools (23 per cent).
However a quarter (24 per cent) of people who have successfully bought a home say the decision was based on gut instinct more than anything else.
But the study found that competitive offers (33 per cent), pushy estate agents (26 per cent) and paperwork (30 per cent) are the biggest frustrations people face when buying property.
The UK's best treehouses

Show all 11
For first-time buyers, practical additions to a home are more attractive than fun features - a garage (36 per cent) is considered a bigger draw than a pool (31 per cent), jacuzzi (17 per cent) or kerb appeal (12 per cent).
The statistics could make for depressing reading for singletons, however increasing numbers of millennials are buying their first properties with a friend rather than a partner - and at least that means you get the whole bed to yourself.
Register for free to continue reading
Registration is a free and easy way to support our truly independent journalism
By registering, you will also enjoy limited access to Premium articles, exclusive newsletters, commenting, and virtual events with our leading journalists
Already have an account? sign in
Register for free to continue reading
Registration is a free and easy way to support our truly independent journalism
By registering, you will also enjoy limited access to Premium articles, exclusive newsletters, commenting, and virtual events with our leading journalists
Already have an account? sign in
Join our new commenting forum
Join thought-provoking conversations, follow other Independent readers and see their replies