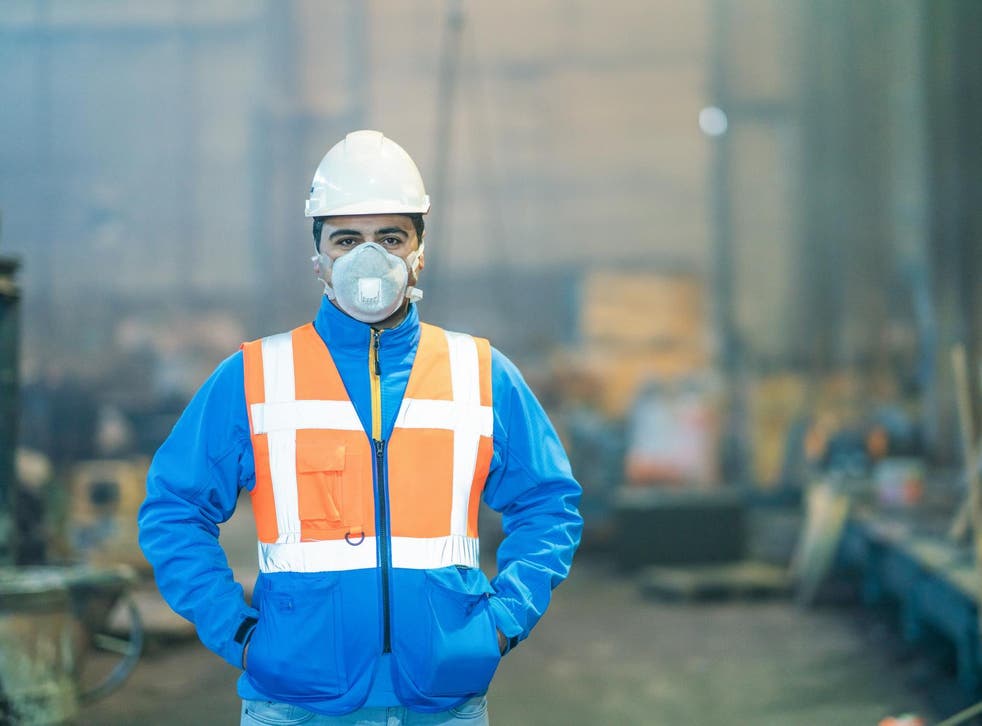 UK lockdown: What are my rights to leave work if I don't feel safe?
Boris Johnson urges people to return to work as schools reopen
Olivia Petter
Tuesday 01 September 2020 07:31 Comments
People in Britain have been encouraged to return to their workplaces as part of a major government campaign to kickstart the economy.
As of 1 September, a series of advertisements will appear in regional and national media outlets highlighting messages about making offices Covid-secure and encouraging safe means of travelling to and from work.
However, the campaign has come under scrutiny, with many criticising Boris Johnson of "abdicating responsibility" for making workplaces safe before urging people back to offices.
Meanwhile, Labour MPs have urged ministers to drop the campaign over fears that it is too soon for people to return to the workplace.
Additionally, the Independent Sage group of scientific advisors has called for a national system of inspections to make sure even the worst employers are complying with social distancing to keep workers safe.
The government's campaign could cause further conflicts between employers and employees who don't feel safe returning to work, and employment lawyers have expressed doubt over whether or not social distancing can be achieved in the workplace.
Here's everything we know so far about whether or not people can leave work if they feel unsafe.
Can I leave work if I feel unsafe?
It is only natural to have concerns over your health and safety upon your return to work.
Citizen's Advice says your employer has a duty of care towards you: "Every contract of employment has general 'implied' terms for employees and employers including...for example, your employer should provide a safe working environment for you and you should use equipment safely."
It says even if you don't think you have a contract in writing, a contract still exists in legal terms.
"There is always a contract between an employee and employer. You might not have anything in writing, but a contract still exists. This is because your agreement to work for your employer and your employer's agreement to pay you for your work forms a contract."
Grant Shapps: It is now safe to start returning to work
According to section 44 of the Employment Rights Act 1996, employees may not be subjected to a detriment because they have raised a relevant health and safety concern with their employer, such as the failure to provide effective social distancing measures in the workplace or the unavailability of PPE.
Dan Hobbs, an employment barrister at 5 Essex Court, said: "Employees may be rightly concerned for their own health and safety as well as that of their co-workers and others in their household.
"Accordingly, if an employee walks out of the workplace or refuses to return to the workplace in circumstances of danger which the employee reasonably believes to be serious and imminent, the employee cannot be subjected to a detriment by his employer as a result."
How does someone leave work if they feel unsafe?
According to Mr Hobbs, if you feel unsafe because the conditions at work pose a serious and imminent danger, then you have the right to walk out and not be subjected to a detriment.
However, he adds that it would be wise to raise the issue of concern with their employer in the first instance.
"If measures are not put in place to remove the serious and imminent danger, then the employee may elect to walk out and cannot be subjected to a detriment for doing so thereafter."
Can I face consequences for not returning to work due to feeling unsafe?
No, says Mr Hobbs. "If an employer were to take disciplinary action or withhold pay (or impose any other detriment) in such circumstances because the employee has raised a relevant health and safety concern, they will be in breach of s.44 and could face proceedings in the Employment Tribunal."
The same laws apply if an employee is dismissed for raising a relevant health and safety concern, which would constitute as unfair dismissal.
"There is no qualifying period of employment to bring such a claim and interim relief is available," Mr Hobbs added.
If I have concerns about the safety of my workplace, who should I report them to?
In the first instance, the employee's health and safety concerns should be shared with the employer, says Mr Hobbs.
"In the event that the employer fails or refuses to act on the concerns, the employee might wish to take further advice from the Citizens Advice or from a solicitor as to their legal rights and the best next steps."
What is a Covid-secure workplace?
The government has published guidance online for employers to make their workplace Covid-secure.
There are 14 guides in total, which cover a range of different types of workplaces, including offices and factories.
All of the guides advise workers to abide by social distancing where possible, this includes when arriving at and departing work.
In offices, employers are advised to use screens or barriers to separate workers from one another and to reduce the number of people each person has contact with every day.
It is also advised the workers stagger their arrival and departure times in order to comply with social distancing.
Rankin unveils portraits of NHS workers on the coronavirus frontline

Show all 12
One-way flow systems should also be introduced, the guidance states, and any lifts should operate at a reduced capacity.
You can read the government's guidelines on making your workplace Covid-secure here.
What if I'm concerned about travelling to work?
According to Citizens Advice, it is your employer's responsibility to ensure you feel safe travelling to and from work.
They could do this by allowing you travel at quieter times of the day to avoid rush hour.
The government has published guidance for travelling to and from work safely, which advises people to walk or cycle to work if possible.
Commuters should also keep their distance from others where possible and avoid taking the busiest routes.
Face coverings should also be worn at all times if using public transport.
You are advised not to travel at all if you are experiencing any coronavirus symptoms or if you are in quarantine as a result of travel restrictions.
You can read the government's guidance about travelling to work in full here.
Register for free to continue reading
Registration is a free and easy way to support our truly independent journalism
By registering, you will also enjoy limited access to Premium articles, exclusive newsletters, commenting, and virtual events with our leading journalists
Already have an account? sign in
Join our new commenting forum
Join thought-provoking conversations, follow other Independent readers and see their replies