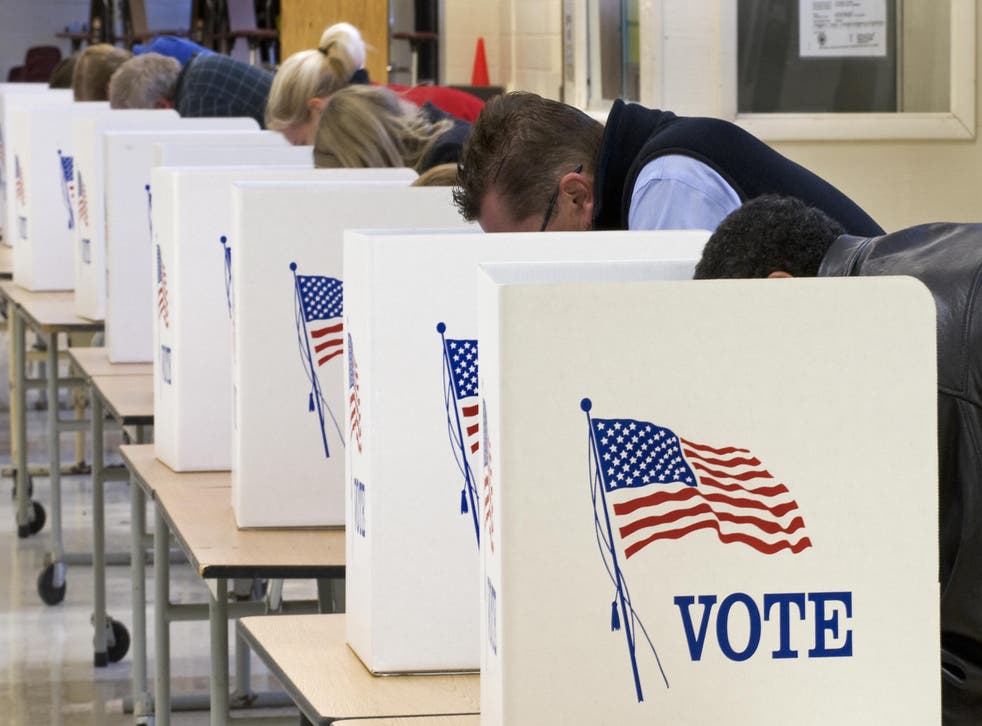 US Election: The good news voting stories you may have missed
There has been good news to come out of election night
The final results of the US presidential election may not be available yet, but that doesn't mean good news hasn't emerged from election night.
With a record number of Americans voting across the country, citizens have made their voices heard on a number of important issues – and proved that discrimination has no place in the country.
From voting to change Mississippi's confederate-themed state flag to electing the first transgender state senator, these are the good news voting stories to come out of the US 2020 election.
Mississippi's state flag has confederate theme removed
Voters in Mississippi have voted to replace the state's 126-year-old banner, which incorporated a version of the confederate flag, with a new, magnolia-themed flag.
Under the Measure 3 referendum, Mississippi voters chose to adopt the "New Magnolia", a flag designed by graphic artist Rocky Vaughan.
According to the Clarion Ledger, more than 69 per cent of voters chose to adopt the new flag, which features a magnolia surrounded by 21 stars to signify the states that joined the union before Mississippi, and bears the words, "In God we trust."
Lawmakers voted to replace the flag in June, with a law signed by Mississipi's governor, Tate Reeves, removing the flag from state buildings following protests against racism around the country.
The new flag will replace the banner adopted by the state in 1894, which featured blue and white stripes and a confederate emblem.
Sarah McBride will become the nation's first-ever transgender state senator
The Democratic activist will become the first openly transgender state senator after winning the race in Delaware.
Ms McBride beat Republican candidate Steve Washington with 73 per cent of the vote, according to the Delaware Department of Elections.
Ms McBride's win on Tuesday night also makes her Delaware's first openly LGBT+ person elected to the state's legislature, according to CNN.
Following her historic win, Ms McBride wrote on Twitter: "I hope tonight shows an LGBTQ kid that our democracy is big enough for them, too."
In a separate tweet, she wrote: "We did it. We won the general election. Thank you, thank you, thank you."
Additionally, Taylor Small will be the first transgender person to serve in Vermont's state legislature, while Stephanie Byers is likely to become the first ever transgender Native American woman to serve in the state legislature of Kansas once votes are fully counted.
Cori Bush becomes the first Black woman elected to Congress in Missouri
Cori Bush, a Democratic Black Lives Matter activist, has won a house seat in Missouri to become the first ever Black woman elected to Congress in the state.
Ms Bush, who is also a nurse and a pastor, beat newcomer Republican Anthony Rogers with 79 per cent of the vote to represent Missouri's first congressional district.
"Shirley Chisholm became the first Black woman elected to Congress 52 years ago. Today, I became the first Black woman elected to represent Missouri in Congress. It's 2020. I shouldn't be the first, but I am honoured to carry this responsibility," she wrote on Twitter after the race was called.
Two candidates become first openly gay Black men elected to Congress
Ritchie Torres and Mondaire Jones, from New York, will become the first two openly gay Black men elected to Congress, after winning their house races.
Mr Torres will represent New York's 15th congressional district, while Mr Jones will represent the state's 17th congressional district.
US Election 2020: As it happened

Show all 56
"Tonight, we made history," Mr Torres wrote on Twitter after the win. "It is the honour of a lifetime to represent the essential borough, the Bronx."
According to Out magazine, there were 17 LGBT+ candidates who won on election night, including Kim Jackson, who will become the first openly LGBT+ state senator in Georgia's history, and Torrey Harris, who will become the first openly LGBT+ member of the Tennessee state legislature.
Marijuana is legalised in more states
Voters in New Jersey, Arizona, Montana and South Dakota all voted to legalise the recreational use of marijuana.
Additionally, South Dakota and Mississippi passed ballot measures to legalise the medical use of marijuana.
Recreational use of marijuana will now be legal in 15 states plus Washington DC, while medical use will be legal in 35 of the 50 states.
Florida votes to raise minimum wage
On election day, Florida voters approved an amendment that will see the state's minimum wage raised to $15 an hour in the coming years.
The ballot initiative was approved by 61 per cent, according to the Associated Press, with the initiative amending the state's constitution by 2026.
The minimum wage was $8.56 an hour before the vote.
Pitbull ban removed in Denver
Voters in Denver, Colorado, repealed a 31-year ban on pitbulls and other terriers in the city.
According to Denver's election results page, 64 per cent of voters were in favour of overturning the ban, which means that residents can now own up to two pitbulls if they obtain a breed-restricted permit.
Join our new commenting forum
Join thought-provoking conversations, follow other Independent readers and see their replies