Veganism grows by 360 per cent in Britain: David Haye, Novak Djokovic and Venus Williams among athletes choosing to go meat-free
It's one of Britain's fastest-growing lifestyle choices and the meat-free diet is increasingly popular among leading sports stars...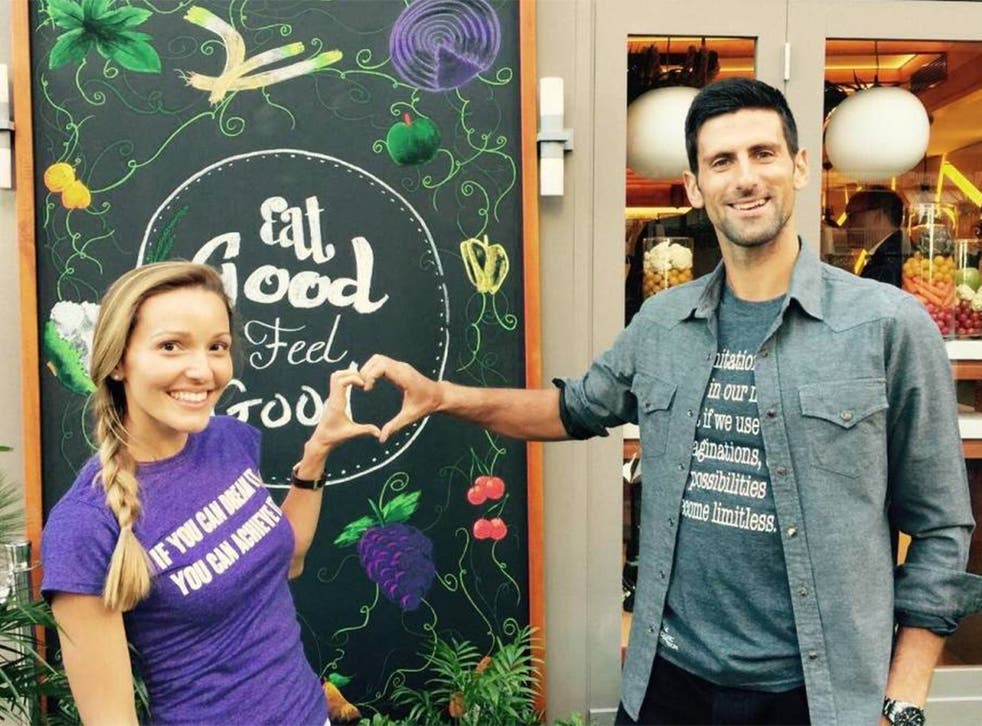 The number of vegans in Britain has risen by a staggering 360 per cent over the past decade, making it one of Britain's fastest-growing lifestyle movements, according to a new report by The Vegan Society and Vegan Life magazine.
There are now more than half a million vegans in the UK, typically city dwellers, aged between 15-34 and motivated by ethical and compassionate reasons.
World tennis No 1 Novak Djokovic credits a vegan diet with transforming his health and fitness levels and last month opened a vegan restaurant in Monte Carlo.
British former world heavyweight boxer David Haye, 35, who is due to fight at the O2 this weekend, turned vegan two and a half years ago.
Speaking to The Independent six months after making the lifestyle choice, he said: "I watched a TV documentary about how animals are farmed, killed and prepared for us to eat... I saw all those cows and pigs and realised I couldn't be a part of it any more. It was horrible. I did some research to make sure I could still obtain enough protein to fight and, once satisfied that I could, I stopped. I'll never go back."
Former Wimbledon champion Venus Williams calls herself a 'cheagan' (a cheating vegan) and Barny Du Plessis is the world's first vegan bodybuilder and former Mr Universe titleholder. He used to consume 20 egg whites a day, his diet now largely consists of protein shakes, bananas, pulses and oils.
These athletes are at the forefront of changing attitudes towards food and exercise. They prove that you can be fit and healthy on a plant-based diet and go against the long-held belief that you need to eat huge amounts of chicken and eggs to bulk up – or slim down.
At the same time, documentaries such as Leonardo DiCaprio's Cowspiracy are raising awareness of the negative effects of meat production on the environment.
The Netflix cult classic's hard-hitting approach holds animal agriculture, and our individual food choices, responsible for more than 50 per cent of human-caused climate change.
But by enlightening viewers, it's engaging them, and promoting more vegan-friendly lifestyle choices in the process.
"The public perception of veganism is changing fast. It's no longer an extreme lifestyle, it's easy and accessible. You can walk into any supermarket and be confronted by a huge range of dairy-free milks and other vegan-friendly products," says Keth Coomber, the publishing director of Vegan life magazine.
Around half of Britain's 1.68 million vegetarians now say that they want to reduce their consumption of animal products. As such, veganism's spectacular growth is showing no signs of slowing.
Lizzie is the author of London's ethical food website, bicbim.co.uk. Follow her on Twitter @LizzieRivs and @bicbim.
TWO VEGAN RECIPES TO TRY:
Simone Remoli's fresh, handmade vegan pasta with arrabiata sauce
For the fresh pasta 
Ingredients:
2/3 cup all purpose flour
2/3 cup of water
1/2 to 3/4 tsp salt
1. Get a large mixing bowl and combine the flour and salt - then add the water.
2. Stir the mixture with a fork until it starts to form a ball. Then you can use your hands to combine the dough. If it's too dry, add more water (very little at a time) or if it's too wet, add a touch more.
3. Turn the dough ball out onto a well-floured cutting board. Flour your hands as well. You'll need to knead the dough for about 10 minutes, or until it becomes smooth and pliable. If the ball or board is too wet, dust them with flour.
4. You should be able to work with the ball without having it stick to anything. You may have to add flour occasionally whilst you are kneading. To knead, push the dough away from you with the heel of your hand. Then fold it over on itself, turn it and repeat.
5. Covered the dough in plastic wrap and let it rest for around 10 minutes.
6. Once you've rested your dough, divide it into eighths. Take one of the eighths to work on, and put the others aside, covered so that they don't dry out.
7. Flour your surface again, and flour your dough section. Using a rolling pin, roll the pasta out, rolling from the middle to the outside.
8. Then turn your pasta strip and repeat. Lift the pasta off the board as you turn it to ensure it's not sticking, and add more flour if you need it. When the dough is as thin as you can comfortably get it (preferably between 2 and 4 mm thick) you're ready to cut your spaghetti.
9. Flour your rolled spaghetti well all over. Then loosely roll it up. Next, with a sharp knife, make cuts along the roll. Unroll the strips and you have your fresh vegan spaghetti!
For the sauce
Ingredients:
2 finely chopped cloves of garlic 
2 chopped green chilies 
1 small onion 
5 stoneless green olives 
800g fresh plum tomatoes  
300g tinned tomatoes 
Handful of salt 
Handful basil and parsley mix 
1. Place your chopped garlic and onion in a pan, and allow them to sweat with half a glass of good extra virgin olive oil over a medium heat for 10 minutes. Add in your green olives.
2. Chop your fresh plum tomatoes and add to the pan. Cook for at least 15 minutes. You will eventually see that the tomatoes will release some juices, when this occurs add your 300g of tinned tomatoes, then add salt and bring to boil in a slow heat.
3. Leave the sauce cook for 45 minutes until it becomes thick.
4. Add the basil and the parsley and mix with the hand blender until the mixture becomes creamy and smooth.
5. Boil the pasta for 3 minutes in salted boiling water. Join them in the hot sauce and stir it with a spoon and then plate them up. A drizzle of olive oil on top and ENJOY!
Summer vegetable paella with saffron and lemon
Serves two
Ingredients:
sunflower or light olive oil, for frying
1 onion, finely diced
2 garlic cloves, finely chopped, grated or crushed
1 red pepper, deseeded and cut into 5mm-thick slices
1 yellow pepper, deseeded and cut into 5mm-thick slices
200g paella rice – calasparra paella rice if you can get it
100g mushrooms, finely sliced
3 tomatoes, diced
¼ tsp smoked paprika
¼ tsp paprika
2 pinches of saffron threads
1 litre of good veg stock
100g green beans or sugar snaps, or a mixture of both (if using beans, top, tail and chop into thirds)
good handful of parsley, chopped
1 lemon, cut into wedges
salt and pepper
1. Heat two tablespoons of oil in a heavy-bottomed paella pan or large frying pan or flameproof casserole. Add the onion and fry gently on a low heat for 10 minutes, stirring now and then.
2. Add the garlic and peppers to the onion and stir for two minutes. Add the rice, mushrooms, tomatoes, both types of paprika and saffron.
3. Pour in three quarters of the stock and season with salt and pepper. Bring to a gentle simmer and cook for 30 minutes, stirring occasionally. Keep an eye on the liquid and top up with a little more stock or water as needed (you might not need it all).
4. The paella shouldn't be sloppy at the end so add liquid sparingly during the last 10 minutes.
5. While the paella is cooking, boil the green beans for three minutes, then refresh them in a bowl of very cold water. If you are using sugar snaps, you can simply throw them in raw towards the end of cooking.
6. After 30 minutes of cooking, check the rice is tender and cook a little longer if needed. If there is any excess liquid, turn up the heat and stir to boil it off. Then cook very gently without stirring, to create a crust on the bottom (it's not very easy to achieve without a proper paella pan, though).
7. Stir in the beans and parsley. Turn off the heat and leave to stand for two minutes, then check the seasoning and serve with wedges of lemon.
Variation
You can use any sort of green beans in this; try double-podded broad, sliced runners or flat green beans.
Register for free to continue reading
Registration is a free and easy way to support our truly independent journalism
By registering, you will also enjoy limited access to Premium articles, exclusive newsletters, commenting, and virtual events with our leading journalists
Already have an account? sign in
Register for free to continue reading
Registration is a free and easy way to support our truly independent journalism
By registering, you will also enjoy limited access to Premium articles, exclusive newsletters, commenting, and virtual events with our leading journalists
Already have an account? sign in
Join our new commenting forum
Join thought-provoking conversations, follow other Independent readers and see their replies