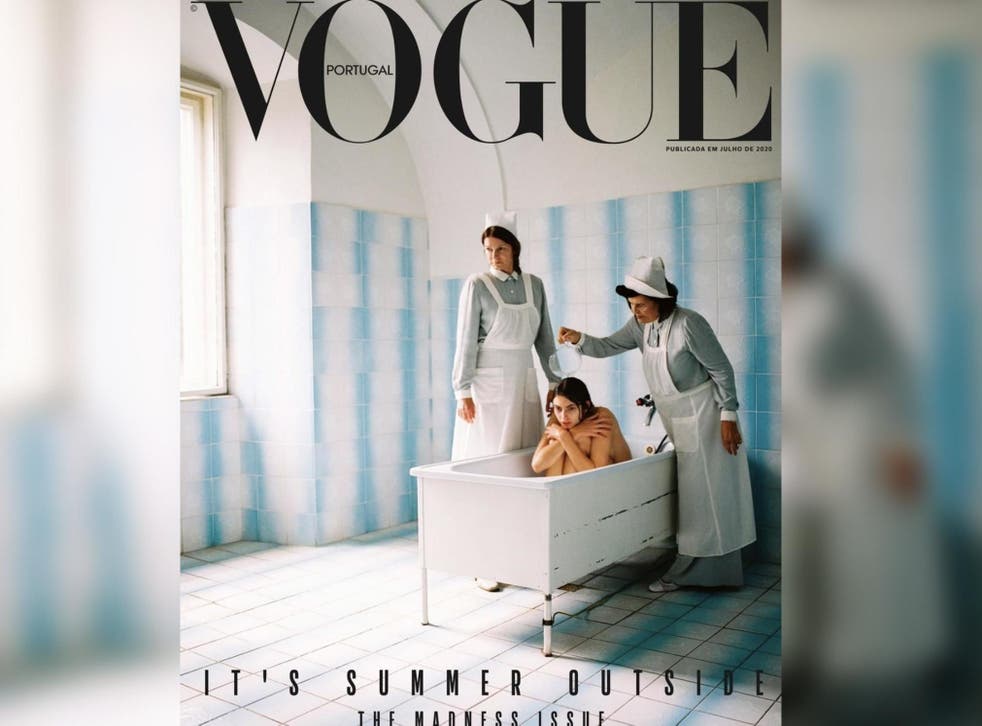 'Disappointing and outdated': Vogue Portugal criticised for portrayal of mental health on cover
Controversial cover appears on magazine's 'madness issue'
Vogue Portugal has been criticised for one of its covers for the July/August issue that has been dubbed the "madness issue".
The cover in question features a photograph of a woman crouched down in a bathtub with two nurses either side of her.
The image, shot by photographer Branislav Simoncik, has been accused of romanticising mental illness and has been likened to Sylvia Plath's novel The Bell Jar and the 1999 film Girl Interrupted.
Jo Loughran, director of Time to Change, the mental health anti-stigma campaign run by Mind and Rethink Mental Illness, told The Independent that the cover was "disappointing" and "outdated".
"Today, in a time where there is arguably more awareness of mental health problems than ever before, it's disappointing to see this outdated depiction of a psychiatric hospital – especially on the cover of such a high-profile magazine," she said.
"Ultimately, misrepresentations such as this can make life even harder for people experiencing a mental health problem to speak out and seek support. Furthermore, we know that compounding negative attitudes towards mental health problems can lead to negative behaviours and discrimination.
"While it's great to see that Vogue Portugal is trying to raise awareness of mental health in this issue, doing so behind this cover is not acceptable."
Loughran added that this is not the first time they've seen mental illness glorified in this manner.
"We know that people's attitudes towards mental health are improving, and while this cover is incredibly disappointing, it's encouraging to know that the public will no longer stand to see mental illness used as a gimmick," she said of the backlash to the cover on social media.
"When people feel empowered to call out stigma it can send a powerful message to the world – that stigmatising mental health problems is never acceptable."
Social media users have been equally critical about the cover.
"Mental health isn't a fashion trend," one person commented on Instagram. "This is disgustingly insensitive and inappropriate. Shame on you."
Another person accused the publication of modelling the image on a mental asylum.
"So Vogue Portugal's July/August 2020 issue is titled 'The Madness Issue' and uses the aesthetic of a psychiatric hospital as it's cover. Who is approving this s***???" they tweeted.
Writer and mental health campaigner Poorna Bell tweeted: "On behalf of anyone who has ever been in a psychiatric hospital or had a loved one who has been in one, honestly @VoguePortugal, f*** you."
The magazine has created a total of four covers for its "Madness Issue".
One cover features a close-up shot of a woman holding a model of a human heart while another shows a woman in a black ballgown with a billowing skirt that has several legs popping out from underneath.
A third cover shows a model at a photoshoot, slumped on a chair in front of a picture of the sea while a woman wearing a mask crouches behind her.
In a caption promoting the issue, Vogue Portugal writes: "It's about love. It's about life. It's about us. It's about you. It's about now. It's about health. It's about mental health."
Vogue Portugal later released a statement regarding the cover, which read: "Our July/August issue is themed 'The Madness issue', with four different covers each designed to address different dimensions of human behaviour, during a time when the global pandemic has brought people to confinement.
"One of the covers portrays a hospital scene where the model is being taken care of by her real life mother and grandmother, shot by photographer Branislav Simoncik. Our intention is to open up the topic of mental health, and bring to the discussion the institutions, the science and the people that are involved with mental health today."
The magazine stated that the cover "explores the historical context of mental health and is designed to reflect real life and authentic stories, inspired by deep research of hundreds of reportage photographs from some of the most relevant and famous documentarists who have captured mental health hospitals".
"Inside the issue, features interviews and contributions from psychiatrists, sociologists, psychologists and other experts in the field. Mental health forms just one of the topics explored within the issue and is not linked to the theme of madness but instead covered as an aspect of human emotions and behaviour," the publication said.
"We acknowledge the significance of the topic of mental health and our intention, through visual storytelling, is to shine a light on the important issues of today."
If you have been affected by any issues mentioned in this article, you can contact The Samaritans for free on 116 123 or any of the following mental health organisations:
Join our new commenting forum
Join thought-provoking conversations, follow other Independent readers and see their replies