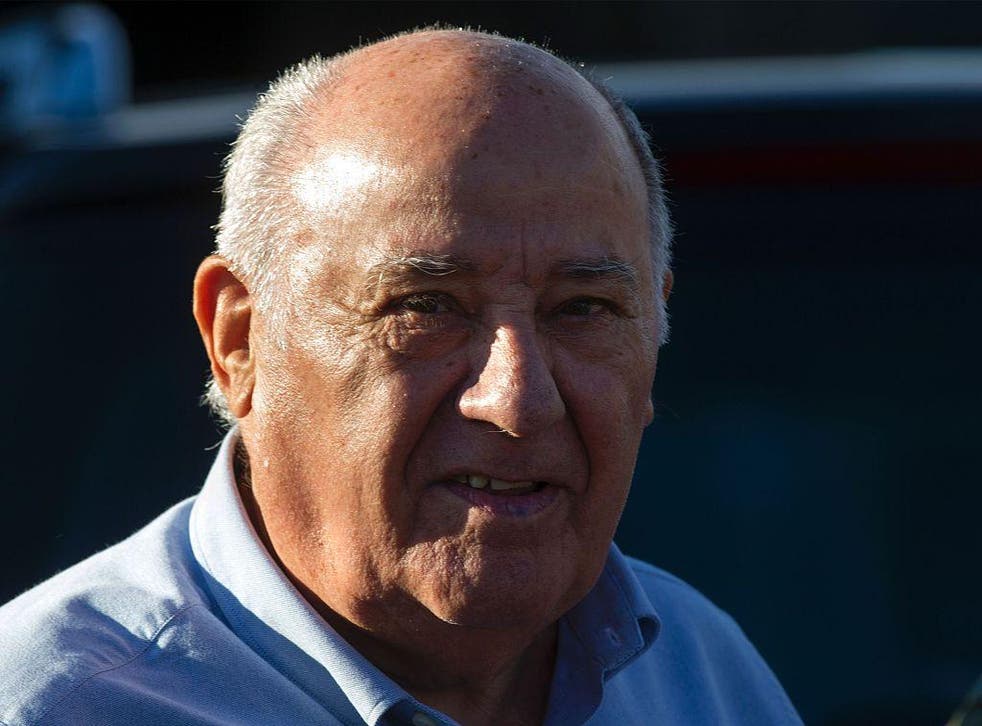 Who is Amancio Ortega - the richest man in the world?
Here's the scoop on the secretive billionaire
Kate Taylor
Business Insider
,
Will Martin
Friday 01 September 2017 13:45 Comments
Despite claiming the title of the richest man in the world, Zara's founder, Amancio Ortega, is a man of mystery.
On Wednesday, Ortega beat out Bill Gates to become the richest person on Earth, Forbes reported. Ortega currently has a $200 million edge over Microsoft co-founder Bill Gates, due in part to a particularly good week for the stock of Inditex, Zara's parent company.
According to Forbes, Ortega has crowded the world's richest person three other times — but has always surrendered the No. 1 position within a day.
Despite Ortega's enormous net worth, many people have never heard of him. He is an incredibly private man, is rarely seen in public, and has given just a handful of interviews throughout his incredibly successful career.
That career began when Ortega founded fast-fashion giant Zara with his then-wife Rosalia in 1975. Today, his retail company Inditex SA — which owns Zara, Massimo Dutti, and Pull&Bear — has 7,385 outposts around the world.
While Ortega is immensely private, we do know a fair amount about him. Here's everything you need to know about the richest man in fashion.
Amancio Ortega is the richest man in the world, with a net worth estimated at $85 billion.
In the last few months, Bill Gates and Jeff Bezos have battled with Ortega for the No. 1 spot.
Ortega was born in the town of Busdongo de Arbas, Spain, in March 1936.
This is his second wife, Flora. The couple has been married since 2001.
In August 2013, his ex-wife and Zara cofounder, Rosalia Mera, died at 69. She was Spain's richest woman. Ortega and Mera married in 1966, and were divorced in 1986.
This is one of his daughters, Marta. The socialite is married to Spain's top showjumper, Sergio Álvarez Moya.
Ortega and his wife live in a discreet apartment building in La Coruña, Spain, near a major port of the Atlantic Ocean.​
The Duchess of Cambridge is a huge fan of Zara's designs and is often photographed in its clothing.
Ortega is known for being immensely private. In 2012, Bloomberg noted that he had only granted interviews to three journalists.​
He also dresses modestly. He usually wears a simple uniform of a blue blazer, white shirt, and grey trousers — none of which are Zara products.
He goes to the same coffee shop every day and eats lunch with his employees in the company cafeteria.
In his free time, Ortega is known to enjoy horseback riding and owns an equestrian center in Finisterre in Galicia, Spain.
On the weekends, Ortega reportedly raises goats and chickens at his country home in the Spanish province of Galicia.
His immense wealth has allowed him to hobnob with celebrities and royalty. Here he is pictured with Princess Letizia and Crown Prince Felipe of Spain in 2008. The pair are now King and Queen of the country.
He also bought one of the tallest skyscrapers in Spain, the Torre Picasso in Madrid. The building stands at 515 feet and cost $536 million.
He also bought the Epic Residences and Hotel in Miami, considered to be one of the best luxury hotels in the US.
Ortega drives an Audi A8 luxury sedan that is said to be more about comfort than luxury.​
He also owns The Global Express BD-700, a private jet designed by Bombardier, one of the leading manufacturers of luxury private jets. The plane carries a price tag of $45 million.
But he rarely jets off on vacation. He says he loves working too much to take time off.
• Personal trainer reveals why he has never touched a protein shake
• A massive Italian food theme park is on the verge of opening
• What the Game of Thrones cast looked like years ago
Read the original article on Business Insider UK. © 2017. Follow Business Insider UK on Twitter.
Register for free to continue reading
Registration is a free and easy way to support our truly independent journalism
By registering, you will also enjoy limited access to Premium articles, exclusive newsletters, commenting, and virtual events with our leading journalists
Already have an account? sign in
Join our new commenting forum
Join thought-provoking conversations, follow other Independent readers and see their replies